Family hopes to speed up progress of Lyme disease research
Nina Fairbairn, AB '17, played on Harvard's golf team all four of her undergraduate years, deftly mixing athletics with academics to ultimately graduate cum laude.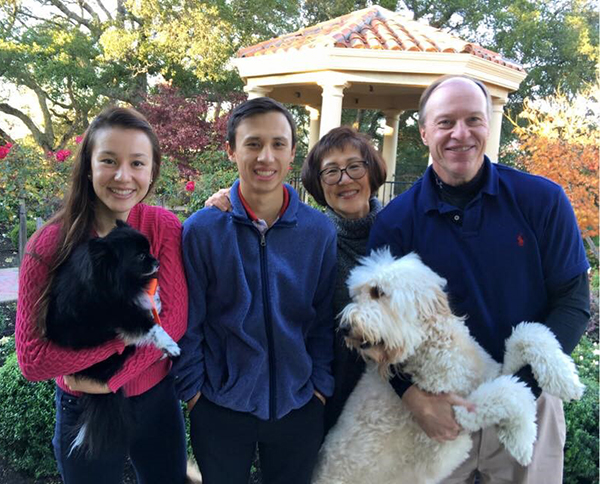 But during the summer between her junior and senior years, Nina, usually full of energy, became chronically tired, even after sleeping nine or more hours a night. When she returned to school, she started slipping away between classes to nap, despite consuming up to seven cups of coffee a day. On top of her extreme fatigue, she had shooting pains in her joints and back, persistent low thyroid hormone issues, and a pervasive brain fog that made it difficult to think or concentrate.
It was only after Nina's mother, Emily, ran into another Harvard golf mom that she finally gained some insight. The woman, whose son was taking time off to recover from Lyme disease, started describing symptoms that were frighteningly similar to Nina's. Not only that, but the health problems the woman described were similar to health issues plaguing Emily, her husband, Malcolm Fairbairn, MBA '94, and their son, Grant, a Harvard College student (Class of 2021).
Emily decided to request testing for the whole family. "We all had it. Every one of us, even the dog," she says.
After reading more about the disease, Emily says she was shocked to find out how few federal research dollars are spent on Lyme research. In 2018, the National Institutes of Health (NIH) will spend about $23 million on Lyme, a disease that the Centers for Disease Control and Prevention estimates 330,000 Americans contract each year. In contrast, the NIH will spend nearly double that amount on West Nile virus, which infects only about 2,000 Americans annually.
To spur change, Emily and Malcolm gave $250,000 to Harvard University's Department of Athletics to fund tick bite prevention efforts. But to help those who already have the disease, they wanted to give more. So, they made a $1 million gift to the Harvard Medical School labs of Chao-ting Wu, AB '76, PhD '85, professor of genetics, and George Church, PhD '84, Robert Winthrop Professor of Genetics.
Church says that he, Wu, and their colleagues plan to use these funds to study both individuals who contract Lyme and those in high-risk settings who have never had symptoms or used antibiotics to prevent an infection.
"We hope that we might find examples in Lyme analogous to our experience with HIV, for which a small fraction of people are resistant either because of rare neutralizing antibodies or genetically missing HIV receptors on T-cells," he says. "Both of these observations have transitioned to therapeutics in clinical trials."
Emily says she hopes her family's gift will encourage other donors—especially those who might also be personally affected—to contribute to the fight against this disease.
"The tide is turning against Lyme. But for me, it's not turning fast enough."