Family helps build momentum toward bipolar disorder breakthroughs
When two of his four children were diagnosed with bipolar disorder in their late teens, Kent Dauten, MBA '79, says it was "like a lightning bolt to our family."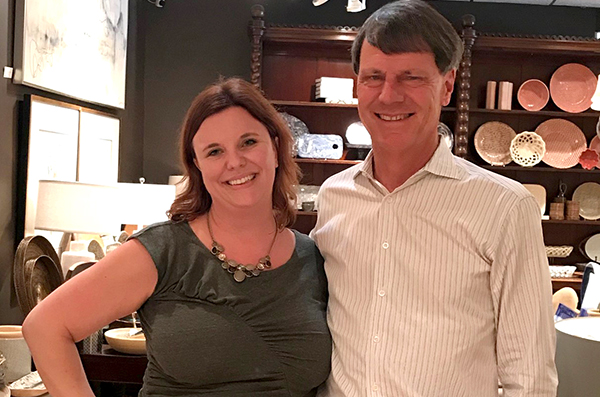 He and his wife, Liz, have no known family history of the disorder. "It was an illness that frankly I knew nothing about," he says.
After working firsthand with doctors, exploring community resources for their children, reading up on the disorder, and attending seminars, the Dautens have become very knowledgeable in the field. But the more they've learned, the more they've discovered is still unknown. The best drug in the field, lithium, was discovered 70 years ago. Of the few pharmaceutical advances since, most carry side effects that can be untenable for patients, limiting compliance. And far too little is known about the disorder's biological underpinnings, which has stymied innovation.
That's where the Dautens have stepped in. "It's become our family's number one philanthropic priority," says Jenna Toan, the Dautens' eldest daughter, who serves as executive director of the Dauten Family Foundation.
To encourage discoveries that might benefit the estimated 5.7 million Americans—and millions more around the world—suffering from this disorder, the Dautens have made gifts targeting specific research goals. They've backed studies through Massachusetts General Hospital testing new pharmaceutical regimens, as well as research at the Broad Institute of MIT and Harvard investigating the genetic underpinnings of bipolar disorder.
Three years ago, the family began supporting the Harvard Brain Science Initiative (HBI) Seed Grant Program, a joint initiative between Harvard University's Faculty of Arts and Sciences and Harvard Medical School. The Dautens gave $3 million over three years to improve the basic understanding of bipolar disorder, building a foundation that could eventually be used to discover new treatments.
HBI Co-Directors Joshua Sanes, AM '76, PhD '76, Jeff C. Tarr Professor of Molecular and Cellular Biology and Paul J. Finnegan Family Director of the Harvard Center for Brain Science, and Michael Greenberg, PhD, Nathan Marsh Pusey Professor and chair of the Department of Neurobiology at HMS, lead a team of neurobiologists from Harvard University and Harvard Medical School that distributes $100,000 seed grants to 10 scientists each year through a competitive grant process. These grants have funded a diverse array of projects, such as creating mouse models, studying circadian rhythms, and using neuroimaging to look for subtle brain changes before manic and depressive episodes.
Kent Dauten says that with so much success generating interest among researchers in such a short amount of time, the family decided to renew its commitment with another $3 million gift this year.
"This is a problem that will take many years to solve. With this second round of funding, the Dautens have shown that they're with us for the long haul, helping us continue to build momentum."
Michael Greenberg, PhD, Nathan Marsh Pusey Professor and chair of the Department of Neurobiology at HMS