Bertarelli Foundation reinvests in promise of translational research to tackle sensory disorders
Neuroscience has reached an extraordinary inflection point.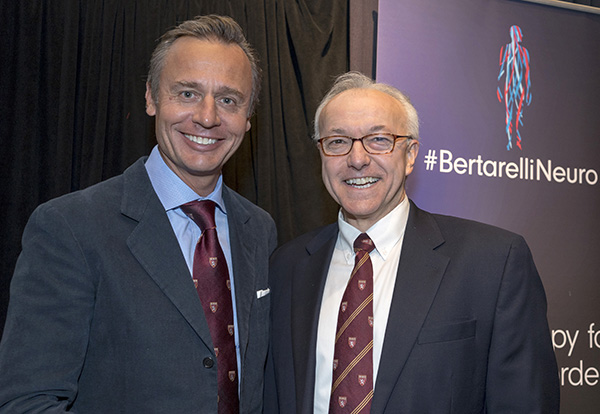 Knowledge gleaned from decades of fundamental research on the brain can now be leveraged to treat some of the most devastating neurologic and psychiatric conditions.
Experts believe that sensory disorders—those affecting vision, hearing, smell, taste, touch, and pain in tens of millions of people across the globe—will be at the forefront of this revolution, in part because the sense organs are more accessible and more easily studied than deeper parts of the brain.
Now, the Bertarelli Foundation has announced that it is redoubling its investment in this area of research, with a gift of $6.35 million to Harvard Medical School to build on the previous successes of the Bertarelli Program in Translational Neuroscience and Neuroengineering.
Established in 2010, the program aims to help bridge the gap between basic and translational neuroscience and to help address important issues that, once solved, will have life-changing outcomes for patients.
"In terms of scientific and medical research, Harvard Medical School remains at the pinnacle, and I am very pleased we are able to develop our partnership with this new program," says the Foundation's Ernesto Bertarelli, MBA '93, who is a member of the HMS Board of Fellows.
"The School's openness to exploring new ideas and collaborating with others for the benefit of patients is very important. This new gift aims to support fresh thinking and enable scientists to take forward new ideas, through effective partnership and innovation," he says.
Of this new gift, $5 million will support collaborative research projects focused on understanding and treating sensory disorders, as well as core facilities that will serve as technology incubators. These facilities will develop new instruments and methods that enable previously impossible investigations.
"I am confident that the next five to 10 years will see many new treatments for deafness, blindness, and pain, and I think the projects of the Bertarelli Program, which encourage cross-disciplinary solutions, will be among the most exciting and effective," says neurobiologist David Corey, PhD, the Bertarelli Professor of Translational Medical Science at HMS and the program's director.
The remaining $1.35 million will support the continuation of an international fellows program, bringing five graduate students from École Polytechnique Fédérale de Lausanne—a research university in Switzerland that specializes in science and engineering—to Boston to complete yearlong academic projects in labs at HMS and its affiliated hospitals.
"The Bertarelli Program embodies our quest as physician-scientists to catalyze discovery from bench to bedside."
HMS Dean George Q. Daley, AB '82, MD '91, PhD