Play Me, I'm Yours!
Play Me, I'm Yours!
Global piano festival comes to Boston, and HMS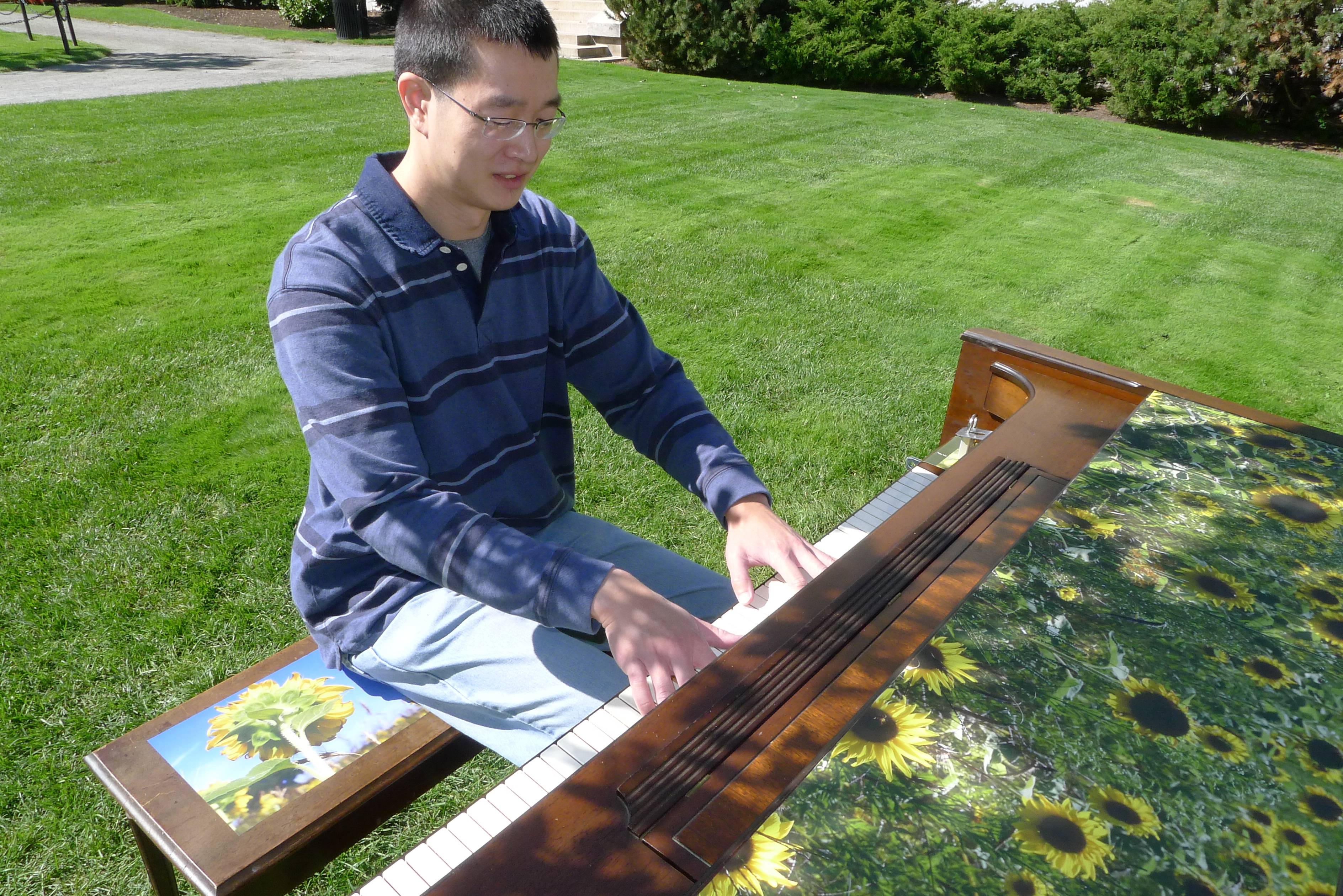 A beautiful, hand-painted piano was rolled onto the grass of Harvard Medical School's quad on September 27. The piano, available for public use over the next two weeks, was delivered with simple instructions: Play me, I'm yours.
Created by artist Luke Jerram, "Play Me, I'm Yours!" is a an art installation that places pianos in public spaces for all to enjoy. The Celebrity Series of Boston has installed 75 pianos in public spaces across Boston, Cambridge, Brookline and Somerville in celebration of the organization's 75th season.
The pianos are designed to bring the community together through a shared love of music, and each city has a unique website where the people can upload and share their photos of and stories about their interaction with the pianos.
First-year HMS medical student, Gabriel Friedman from Skokie, IL, is a fan of this new addition to the campus.
"I think it's a great idea. I love that it's so close to the sidewalk," he said between playing Lizst's "Un Sospiro" and Chopin's "Ballade No. 4" during a lunch break on Friday, September 28.  "It's great to play after coming from a two-hour lecture on amino acid metabolism."
Fellow HMS medical student, Benjamin Matthews, agreed that having the piano on campus creates community.
"What I like is that so many strangers stop and listen," he said.  "Strangers came and sang with us. I consider that magical."
Since 2008, "Play Me, I'm Yours!" has placed more than 900 pianos in 35 cities across the globe, reaching more than 4 million people.
After realizing that he sat in silence each week next to the same people at his local launderette, Jerram was inspired to bring people together.
"I suddenly realized that within a city, there must be hundreds of these invisible communities, regularly spending time with one another in silence," said Jerram on the Street Pianos website. "Placing a piano into the space was my solution to this problem, acting as a catalyst for conversation and changing the dynamics of a space."
This Street Pianos Boston Festival runs through October 14, 2013.  For more information and additional piano locations please visit: http://streetpianos.com/boston2013/
@HMS
Editorial Staff
Editor: Katie DuBoff
Contributors: Shannon Patterson, Chelsea Keyes, Linda Miklas, Tania Rodriguez, Susan Vomacka