HMS Brings Comfort and Convenience to New Mothers
HMS Brings Comfort and Convenience to New Mothers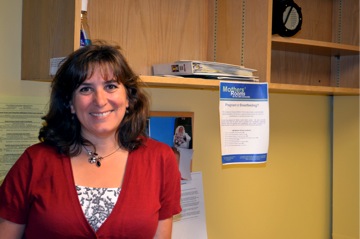 When Lindsey Burghardt, instructor in pediatrics at Harvard Medical School (HMS) and attending physician in the Division of Emergency Medicine at Boston Children's Hospital, returned to work after giving birth to her daughter, she was looking for a convenient way to do her job and provide breast milk for her newborn.
HMS seeks to ease this transition back to work for new moms like Burghardt by offering "Mother's Rooms" around campus. Each year, the Harvard Human Resources department processes 80 to 100 maternity leaves on the Harvard Longwood Campus and these designated spaces provide nursing mothers with a private and comfortable space to breastfeed or express breast milk.
Each of the nine rooms on the Harvard Longwood Campus supplies instructions on using the breast pumps, where to purchase necessary personal accessories, books and pamphlets on breastfeeding, and contact numbers for professional lactation consultants who can provide advice and education. They also supply journals that the mothers can use to write to the HR staff about possible improvements, questions or concerns.
Nina Dickerman, work/life program manager for HMS and HSPH, and her team in the HR department manage the Mother's Rooms, making sure the pumps and rooms are in clean, working condition. 
"I support the 'Life' part of Work/Life, and all the different programs that help ease the stress of being a parent," said Dickerman. In addition to overseeing the Mother's Rooms, Dickerman coordinates educational seminars that address parenting needs, caring for aging relatives and self-care. She also provides private consultations for anyone who is looking for additional information on parenting, childcare networks and re-location services.
When Dickerman started her position two years ago, she worked to upgrade the pumps and supplies because many of them were nearing the end of their lifespan. Dickerman partnered with ISIS Parenting, a Needham-based business that focuses on prenatal care and sells products parents need up to the first three years of a child's development. The pumps being used today are all of hospital grade.  Currently, any Harvard ID holder can join ISIS Parenting's annual membership at the discounted rate of 50% off.
"ISIS are parenting advocates," said Dickerman. "It was just the right fit. They had the bandwidth and the expertise. They're the ones who do all of the prenatal classes for every hospital here."
Dickerman is testing shared Mother's Rooms in order to reduce the wait time during lunch breaks, and between the peak hours of 10 a.m. and 1:30 p.m. On average, the Mother's Rooms are used 100 to 200 times per month.
"That's about five to ten people per day, at approximately twenty to thirty minutes per individual," said Dickerman.
For Burghardt, the Mother's Rooms have made a significant difference in her workday. "They make pumping very convenient because of their location," she said. "Since I typically have very limited time, it's great that they are so central."
Currently, the Harvard Longwood Campus has nine Mother's Rooms: Gordon Hall, TMEC, Harvard Institutes of Medicine, NRB, Department of Global Health and Social Medicine, Harvard School of Dental Medicine, Kresge, FXB and Landmark Center.
Dickerman hopes to expand to even more locations around campus. "I'm excited about what's to come for the next year," said Dickerman. "It's a renewed kind of energy around the Mother's Rooms and bringing them up to date."
"Accommodating moms seems to be a priority and everyone has been very understanding about the challenges of trying to balance work life and motherhood," said Burghardt.
For more information about the Mother's Rooms and to find locations on the Harvard Longwood Campus, please visit: http://hms.harvard.edu/content/mothers-rooms.
@HMS
Editorial Staff
Editor: Katie DuBoff
Contributors: Shannon Patterson, Chelsea Keyes, Linda Miklas, Tania Rodriguez, Susan Vomacka