Spotlight Stories
Spotlight Stories
Learn about programs/initiatives happening across our campus through these @HMS spotlight stories!
---
Spotlight on the LGBT Community at HMS
Celebrating the Past, Preparing for the Future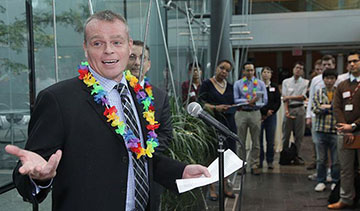 LGBT community gathers for inaugural advisory committee reception
Donning bright, rainbow-colored leis over their crisp collared shirts, Robert Coughlin and Robert Kitts, stood side-by-side in the lobby of the Joseph B. Martin Conference Center shaking hands with old colleagues and welcoming new acquaintances.
"Why the leis? We're celebrating the launch of the LGBT advisory committee and what it symbolizes, which represents the medical school's support of our community," said Coughlin, who is HMS director of financial aid and a co-chair of the newly formed LGBT Advisory Committee at Harvard Medical School and School of Dental Medicine.
Each member of the advisory committee wore a colorful lei—a stark contrast to the rainy day outside—but in perfect unison with the mood of the more than 100 attendees at the September 30 inaugural reception.
"We want people to clearly know that we're part of the committee, and the leis are a sign of celebration that we're comfortable to be openly gay or in support of LGBT people," said Kitts, assistant professor of psychiatry at Boston Children's Hospital.
Past Successes, Future Plans
Coughlin and Kitts are two of the 17-member LGBT Advisory Committee at Harvard Medical School and Harvard School of Dental Medicine, who greeted their gay, lesbian, bisexual, transgender, queer and allied colleagues at the reception—the goal of which was to celebrate past accomplishments and to forge a new path for the future.
"There are many of you with us today who have worked tirelessly to provide health care, conduct research and advocate for the well-being of our richly pluralistic world, and I thank you for all that you have done," said HMS Dean Jeffrey S. Flier, who addressed the gathering. "Building and nurturing a diverse, inclusive community is imperative to the work of Harvard Medical School, and I am proud to see this diversity in our LGBT staff, students, faculty and trainees."
Flier was joined in addressing the crowd by Bruce Donoff, dean of the Harvard School of Dental Medicine; Alvin Poussaint, HMS faculty associate dean for student affairs; and co-chairs of the LGBT advisory committee, Robert Coughlin and Mark Schuster, William Berenberg Professor of Pediatrics and chief of general pediatrics at Boston Children's Hospital.
During his remarks, Schuster recounted the effort that went into establishing the advisory committee and credited many in attendance at the event with working together to create a report and recommendations which helped inform Dean Flier on LGBT issues. The result of the recommendations was the establishment of an LGBT Office in May 2014.
"It's easy to say you care about an issue, but at a time of fiscal restraint at medical schools across the country, assigning dollars and hiring someone who has the time and responsibility to take action and make things happen is really terrific," said Schuster, who went on to thank Flier for his support. "That's not an easy thing to do.  I think that's what the expression 'Putting your money where your mouth is,' is all about," he said.
"It's About to Get Really Gay"
The newly established LGBT office will be spearheaded by program manager Jessica Halem, who is charged with helping the committee to identify concerns, needs and resources across the LGBT community at HMS and HSDM. She will also work with Harvard University and affiliated hospitals to move the LGBT agenda forward.
"I really hope that listening comes across as the clear focus of this event," said Halem, who has been an organizer in the LGBT community for nearly 20 years. "The committee, the staff in the Office of Diversity Inclusion and Community Partnership (DICP) and I, want to hear about what's going on for students and staff, and for faculty and trainees in the hospitals. This is our chance to gather even more information about LGBT life at HMS and HSDM."
Halem, who is also pursuing an MBA at Simmons School of Management, calls herself "a loud, out, proud lesbian," said visibility is a key first step in representation.
"I mean it's about to get really gay because it's my job to make space. It's my job to ensure a welcoming environment, so that all staff, students, faculty, trainees and postdocs feel more safe and welcome."
Halem said she is proud of the many years of work that have already gone into LGBT issues, and that the formation of the new advisory committee and LGBT Office are important next steps in the work.
"Housing the LGBT Office inside DICP—that has for years been working on issues of people of color and historically underrepresented individuals at HMS—puts us inside the mix, where we can learn from what other minority groups have tackled and how we can support people in bringing all of their identities to the table," said Halem. "We want to make sure that people of color who are also LGBT don't have to pick a reception."
Joan Reede, dean for diversity and community partnership, who leads the DICP, said she is pleased that LGBT work will fall within her team and excited for what an energized advisory committee can bring to the HMS community.
"Diversity inclusion means everyone, regardless of race, ethnicity, LGBT status, disability or ability, or economic status," said Reede, who served as the MC for the event. "It's really recognizing that it's the entire community that makes HMS successful."
A Healthier Future for All
One of the unique aspects of the LGBT Advisory Committee is that faculty and staff will work alongside students and trainees as part of the new initiative.
Cary Crall, an advisory committee member and HMS student, said that he is personally interested in improving health care for LGBT patients.
"I've had many experiences of receiving health care in which I felt like my specific needs as an LGBT person were not being met. Those experiences have motivated me to try to enact change," said Crall. "I think you start with medical students and staff here at HMS and hopefully that trickles all the way down to the patient in the clinic."
Crall said that he thinks the establishment of the advisory committee will help encourage involvement from LGBT students, and will highlight LGBT research pursuits and clinical interests as an area of focus for medical education and advancement.
"If we want to really impact what happens in the daily lives of people in LGBT populations who are affected by health disparities, then it needs to start being a priority in medical schools," said Crall. "The formation of this committee and of the LGBT office are both steps in the right direction in meeting this challenge."
@HMS
Editorial Staff
Editor: Katie DuBoff
Assistant Editor: Angela Alberti
Contributors: Shannon Patterson, Chelsea Keyes, Linda Miklas, Tania Rodriguez, Susan Vomacka