Tax Filing Tips
Question and Answer Archive
Tax Filing Tips
Tax filing season is just around the corner.  Here is some information to help you get ready.
When will Harvard send out the 2013 W-2 forms?
Your 2013 W-2 will be mailed to the home address on file in PeopleSoft on or before January 31.  
Can I view my W-2 online?
Yes! Your 2013 W-2 will be available on Monday 2/10/14 in PeopleSoft Self Service to review and print. Look in the 'Benefits and Payroll' section under the "Quick Links - Self Service" menu on the PeopleSoft home page. W-2s for 2012 are also posted there.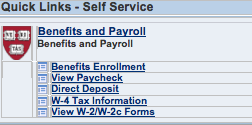 What if I need a copy of a W-2 that is prior to 2012?
W-2s for tax years 2011 and prior are not available in Self Service. Use this link to request prior forms.
I am a postdoctoral fellow paid a stipend. Do I get a W-2 or a 1099?
If you are a U.S. Citizen, Permanent Resident or a resident alien for tax purposes in the U.S, you will NOT receive a W-2 or a 1099 on the stipend income. Use the year to date (YTD) totals on your December 2013 paycheck for your tax reporting purposes. Remember to add the employer paid portion of any benefits you received to your total fellowship income for the year. These payments are under the Employer Paid Benefits section of your paycheck and are indicated as "RE".
I am a non-resident alien postdoctoral fellow paid by Harvard.  What form will I receive?
If you are a non-resident alien paid either a stipend or a salary that is exempt from taxes due to a treaty benefit, you will receive a 1042-S form. The 1042-S will be mailed by March 15 to the home address on record in PeopleSoft.
What about the 1099-HC from that confirms my health insurance coverage – who sends that and when?
Harvard does not issue this form. Form 1099-HC, which is necessary for tax filing, is provided to the taxpayer by the taxpayer's health care insurance provider. As with the W-2's, the 1099-HC by law must be mailed no later than January 31. If you do not receive this form within a week or two, you need to contact your health care insurance provider directly, using the contact numbers below: 
Blue Cross/Blue Shield MA: 1-800-262-BLUE (2583)
Harvard Pilgrim Health Care: 1-888-888-4742
HUGHP: 1-617-495-2008
How can I change my federal and state tax deductions for 2014?
You can complete a new Form W-4 using PeopleSoft Self Service as well.  Just click on the W-4 Tax Information, also on the home page in the Quick Links section. 
If I wait until April to change my W-4, will the change be retroactive?
No. Any W-4 entry will take effect for the payroll period following when the form was submitted online.
@HMS
Editorial Staff
Editor: Katie DuBoff
Contributors: Shannon Patterson, Chelsea Keyes, Linda Miklas, Tania Rodriguez, Susan Vomacka