Terry Galuszka
Faces of HMS
We regularly feature an HMS community member on the main landing page for @HMS.  Below are members of our HMS family who have been featured in the past.  Get to know them by reading their story or watching their video.
Talking with Terry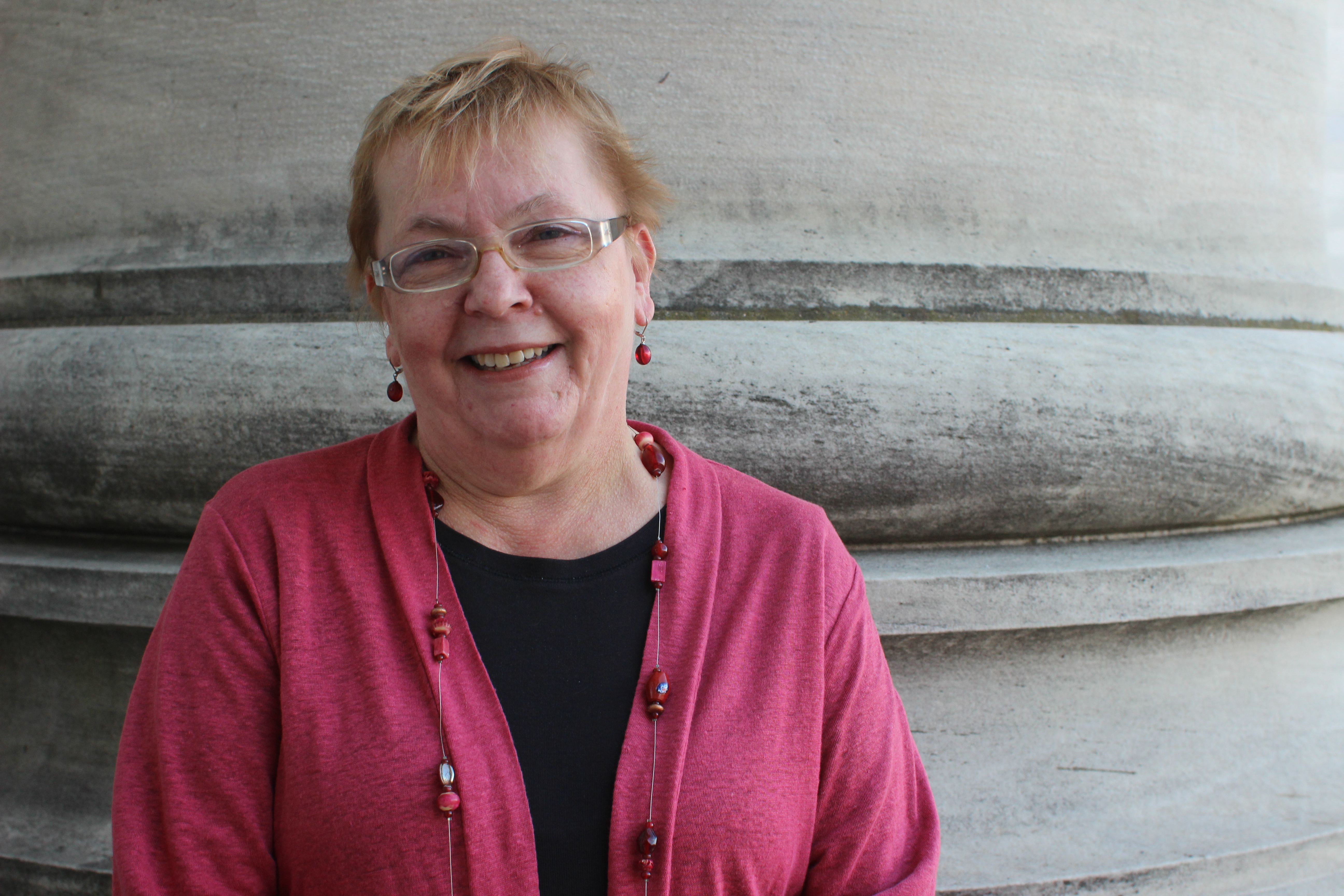 HMS Registrar Terry Galuszka sees her role as a giant puzzle in which every piece fits together. She sat down with @HMS to chat about her work, her pug and mystery novels.
@HMS: Tell us a little bit about your job.
TG: The registrar's office is a key office to providing student services, as we are the official keepers of student records at HMS. It encompasses any number of activities in the process - everything from student transcripts, to verifications of enrollment, to managing the course catalog, to registration and health insurance. This job requires that you try to maintain a sense of a humor and depends on accuracy, working with numbers and being a detail-oriented person.
@HMS: So you do a lot of record keeping for HMS?
TG: We do a whole range of things that probably most people don't even know about. We do term billing, we do a variety of activities that are all directed at ensuring the students' enrollment status while they're here, and then following them through their careers. From the day they matriculate until long after, even if they've passed away. We will often get requests from grandchildren of somebody asking: "I believe my grandfather graduated from Harvard Medical School in the 1930s. Do you have any record?" We have hand-written records that go back to the 1890s.
@HMS: Do you work mostly with students?
TG: We see ourselves as a student service office that deals with a number of constituencies. Our primary constituency is students, but we also interact with faculty. We interact quite a bit with all the clinical affiliates because we do the clinical scheduling through this office. We deal with hospital-based staff, as well as the faculty. We also interact with the rest of the school community. We are a data source for a lot of reporting, whether it's for the accreditation reports or anyone who needs student numbers, graduation rates, ethnic distribution of students, any kind of bio data pretty much comes through us.
@HMS: You won the Richard Gillis Award this year. What did that mean to you?
TG: It was very touching to me because I had worked with Rick. We worked very closely together and he was a wonderful, wonderful person so it was particularly meaningful to receive the award. It was very humbling and very sentimental. It was mixed emotions, and heartfelt. It's great but, my goodness, I thought, this is what it means and Rick isn't here to share it with you. I'm just proud of the fact that I was acknowledged that way because he meant a great deal to me. I enjoyed very, very much working with him.
@HMS: What is a typical workday like for you?
TG:  A typical day is atypical. There are the predicable things. I personally sit on committees, which meet throughout the academic year. By the same token, students will drop in to ask for things so there is a lot of impromptu activity. We also interact with any number of offices around campus. There is a lot of interaction with the societies as well as with the university.
There's always something going on. We're a very student-centric medical school. We invest a lot of energy in working on behalf of students so there is a lot of effort put into individuals, a lot of contact with societies and faculty to ensure that students are getting the maximum benefit of being here. There's a lot of contact and interaction with students in an effort to get them to where they need to be.
I may have the privilege of being the registrar, but it's a team effort in this office. We are currently a staff of six altogether: Debbie Fitzgerald, Brenda Lindsey, Andy Omann, Isin Ugur-Bastepe and Susan Zapatka. It really requires all of us to be working as a team to be able to do what we do.
@HMS: Do you work with other medical students as well as HMS?
TG: We do all of the scheduling for visiting students who come here from across the world. We also coordinate visits for students at other U.S. medical schools. They come in their fourth year for clinical clerkships to see what programs are like in the Harvard-affiliated system. Similarly, our students go to other schools, as well, as they're exploring where they may want to go eventually for their residences. So there's a lot of crisscrossing in that last year.
As you can imagine, Harvard is a very popular place for students to want to visit and we have a number of international guests.  It's very meaningful for them to be able to have an experience here.
@HMS: How long have you worked at HMS?
TG: I actually just marked my 10th year in April. It's flown by. It's hard for me to believe it has been 10 years. I often still think of myself as the new kid on the block, as there are many folks across the school who have been here for many more years than I.
@HMS: What do you like best about working here?
TG: Some of the things that I like involve problem solving and puzzles. I like to do word puzzles, and things that are problem solving, like KenKen, from an analytical point of view. That's what a lot of this job is. Looking at numbers of students, numbers of slots, what are you doing to make all of these things fit?
I think it's not always evident externally, but what we do is ultimately for the students. It is gratifying when you see that all come together. It's how we are able to work collectively that makes this work well.
@HMS: What is your career background?
TG: I've been in medical education for a long time. My position prior to coming here was across the street at the Mass. College of Pharmacy and Health Sciences. I had been there for a number of years in other capacities but the last position I had there was as registrar for eight years. I then transitioned here.
@HMS: What do you enjoy doing when you're not at HMS?
TG: I have an adorable pug, little Miss Hattie, who just turned seven years old. She grew up here. For the first six months, she came into work with me every day. Students loved to see her. I enjoy walking my dog and being outside. I live near the Arboretum and enjoy walking there. In the spring and summer, I have a garden that I enjoy puttering around.
I also enjoy spending time with my nieces and nephew. Two of them are in Connecticut and one in New Hampshire.
@HMS: Are you originally from the Boston area?
TG: I'm Massachusetts born and raised. I grew up in Chicopee. I've been in Massachusetts for a large part of my life. I went to Tufts for undergrad. I also lived in Colorado when I went to graduate school, and lived in D.C. for a few years. I loved D.C; it's still one of my favorite cities. I lived by the zoo. The apartment building abutted the birdhouse, and every morning you could hear the birds at sunrise. After Washington, I came back to the Boson area.
@HMS: What is an interesting fact about you that others might not know?
TG: I come from a family that has had many medical people in it, so it's no surprise I ended up working at a medical school. My dad was an obstetrician, my mom was a nurse, my uncle was a urologist and my sister is a psychiatrist. It's been a subtle influence always.
@HMS: Did you do any traveling this summer?
TG: Every year in July, I go to a remote part of Maine that's totally unplugged. You go to the town library during library hours to log in to your email. It's a very nice getaway for me. I've been doing that for many years. It's a nice way to spend two weeks and read and just enjoy life.
@HMS: What do you like to read?
TG: I love to read mysteries. I don't read as much as I would like to during the academic year, but I make up for it by setting aside time during the summer, which is really nice.
@HMS
Editorial Staff
Editor: Katie DuBoff
Contributors: Shannon Patterson, Chelsea Keyes, Linda Miklas, Tania Rodriguez, Susan Vomacka