Rosa Hernandez
Faces of HMS
We regularly feature an HMS community member on the main landing page for @HMS.  Below are members of our HMS family who have been featured in the past.  Get to know them by reading their story or watching their video. 
May I See Your ID, Please?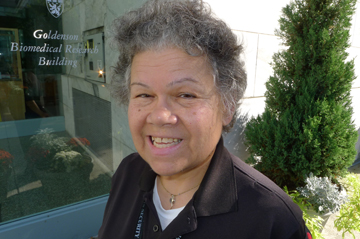 @HMS asks security officer Rosa Hernandez a few questions of our own
by Caitlin Portrie
The smiling face you see when entering the Armenise building belongs to Rosa Hernandez, one of the many all-star security officers here at HMS.  With 16 years under her belt, Hernandez spoke with @HMS about her time here, her family and her love of sports.
@HMS: Can you tell us a little bit about your position?
RH: My position here at HMS is to control access into the building. I have to keep myself alert and attentive. I keep an eye on checking people's credentials. If they are a guest, I have to call the person they are visiting and confirm. I give them a visitor's pass and direct them to their destination. It can be quite easy to get lost and I don't want that to happen!
I am the first impression people get when they come in so I want them to be at ease and know that everything is secure.
@HMS: What do you enjoy most about working at HMS?
RH: The people. You see a lot of faces and get to know everyone. Seeing new faces and making sure that they are comfortable. The people on this campus are fabulous—kind and generous.
It's a great community here. Harvard has amazing diversity and seeing everyone here work together. We come from all different and dynamic backgrounds.  I celebrated sixteen years at HMS this summer.
@HMS: Have you always been in this line of work?
RH: Security is in my blood. My grandfather and his brothers were cops and my older and younger brother are also in security. I feel as though it's my calling in life.
I have two families: my family when I'm at home and my Harvard Medical School work family. I protect both of them.
@HMS: Did you spend a lot of time with your brothers growing up?
RH: Definitely. We all loved music and learned how to play piano and violin together. My brothers and I got to play at Symphony Hall here in Boston a number of times. We love music of all kinds and played a lot of classical. It was such a great experience growing up.
@HMS: What do you do when you're not here at HMS?
RH: I love being home with my two sons—they're twins! Home is where I get to relax and get my energy back after a long day at work. I love watching sports.
@HMS: Boston sports?
RH: Let's put it this way: I love all of them—Bruins, Celtics, Patriots, Red Sox, the Revolution. I could go on and on. I really enjoy going to the college games with my sons.
@HMS: How would you describe yourself?
RH: I'm outgoing and I love sports and dancing. I try to keep myself as busy as possible—I love having a lot to do.
@HMS: Where are you from? How long have you been in Boston?
RH: Originally, I am from Puerto Rico. My family came to this country when I was six years old.  I've been in Boston for a long time! I've had five children including two sets of twins. They were definitely a challenge, but they are a blessing and have given me a four-year old grandson who I love seeing. My twin daughters went to Boston Latin, so I love being in this area again.
@HMS: Do you get to see them a lot?
RH: My daughter is in the process of moving to Virginia. Luckily she and her family will be a bit closer and I'll be able to see my grandson more often!
@HMS: What did you do this summer?
RH: I went to Puerto Rico to see my father. My father is 87; it was great to spend some quality time with him and visit home again. While I'm down there I really want to do some investigation about family roots. I'm fascinated with genealogy and I want more information about where I come from.
@HMS
Editorial Staff
Editor: Katie DuBoff
Contributors: Shannon Patterson, Chelsea Keyes, Linda Miklas, Tania Rodriguez, Susan Vomacka