Jim Lowell
Faces of HMS
We regularly feature an HMS community member on the main landing page for @HMS.  Below are members of our HMS family who have been featured in the past.  Get to know them by reading their story or watching their video.
Man Behind the Media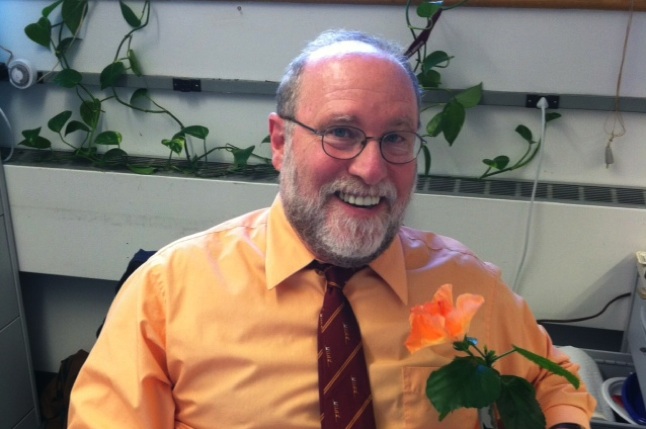 Interview with Jim Lowell by Lindsey Bourcier
Jim Lowell (fondly known to some as J-Lo) is passionate about all things media.  Below, he discusses his many years in the business, his work at HMS and his penchant for plants.
@HMS: Could you tell us a little bit about yourself?
JL: My name is Jim Lowell, but I have assumed the nickname J-Lo, which is a little J-Lo and J-Lowell!  You could see how one would get confused with me and the other J-Lo! [laughs]. I've worked at HMS for a little over three years. I'm the Media Services Supervisor.
@HMS: What does a Media Services Supervisor do?
JL: I do most of the room scheduling. I work mainly with the Program in Medical Education folks. They're usually the first to have their classes in. I work very closely with the room-scheduling people. They wait until all of their scheduling conflicts are done, then they turn the rooms over to the course managers who in turn email me with, "Here's my class for the entire six weeks/seven weeks/ two months."  So that's a lot of detailed data entry. But I need to go through that process in order to know what our daily schedules are going to be.
@HMS: What areas of the campus does your group oversee?
JL: We have four technicians that work with me, and we run the whole campus from Countway all the way down to T-MEC, including Gordon Hall. We do a lot of off-site rooms, too—we are over in Goldenson 122; we're over in the Modell Center. But all of the rooms are evolving; they're becoming more self-service. So now our job is really to maintain them; to make sure they're in working condition, both before and after.
@HMS: Tell us more about that. What does the evolution of the rooms entail?
JL: Last summer, our two major venues were completely gutted of all media and replaced by high definition cameras and projectors, as well as Smartboard technology, which has greatly improved the viewer experience.  We relocated and enhanced the resolutions of the projectors in both the Armenise and TMEC amphitheaters, physically moving them out of the room and into the control booth.  This, along with several audio adjustments including doubling the number of microphones, has greatly improved the acoustics in those spaces.  We also introduced "Smartpodiums" enabling presenters to annotate their slides and create instant notes to accompany their presentations. The beneficiaries of all these changes is of course our HMS students who have experienced the much higher resolution and clarity that high definition offers.
We are also moving ahead with our self-service model classrooms, adding more Smartboards to replace the traditional computer/projector set-ups. As we continue to renovate the TMEC building this fall, we are expecting to roll out the new Patient/Doctor tutorial space. Things are happening very quickly here.
@HMS: Is it difficult keeping up with new technology that's constantly changing?
JL: What it comes down to is that you're telling a story; you have a visual, and it's just how you tell it. There's constantly an evolution, and it's a learning curve that I have to be involved in and the techs have to be involved with.  Most of the guys have been around a long time, but they're all up for the change. I feel like we're on the edge.
@HMS: Where are you from? Have you been in the Boston area long?
JL: I went to school at Emerson College. I was in Boston and then I was out in the 'burbs, and kind of moved around.  I've been up in Rockport, MA for the last twenty-two years.
@HMS: Did you go to Emerson with the intention of doing this line of work?
JL: I went to school for TV production, and I had a previous career at WCVB Channel 5 down in Needham. Another one of my careers was in hotel audiovisual services. From there, I came to Harvard and it was an interesting transition because I used to sell all the audiovisual equipment. It was horrible. Here, I'm not selling anything, I'm just saying "I think you need it, we're going to give it to you."
@HMS: What do you like best about working at HMS?
I've always liked working with people.  And here, I work with everyone from administrators to deans to students. I enjoy that aspect—I'm a people guy.
I think Harvard is a great place to work. I feel a little bit like a mentor because I think I'm a lot older than many of the others here, but I enjoy that, too. It's a nice place to be.
@HMS: What's a typical day like for you here at HMS?
JL: I leave the house at 5:30 a.m. and get into the office by 6:40 a.m. I'm in here ahead of my techs by about 40 minutes. It gives me a chance to water my plants. I've gained a lot of good relationships here by sharing my plants, and it's been kind of fun.
The techs and I service the HMS community from 7:00 a.m. to 7:00 p.m. We get calls during the day; sometimes calls from people who forgot to request our services. We are mindful of that, and so we have a B-Plan, a C-Plan and a D-Plan. Equipment goes down—it's inherent; it's part of the business—and we have to be ready to replace it, fix it and find some way around it.
I hit the Vanderbilt treadmill around 1:00 p.m., for about 45 minutes, and that wakes me up and gets my head straight again.  At 4:30 I pick up my wife, and we negotiate Route 93, and we hope to get home around 5:30-6:00. It's a full day here.
@HMS: Can you tell us more about your plants and plant sharing?
JL: The plant sharing is more like a plant resuscitation station where I've had unnamed plants dropped off at my desk with no ID.  It's like a lost and found, only people have neglected their plants to the point that they will leave them with me in hopes of giving these plants new life. Some live, others, not so much! 
I've always enjoyed gardening; I love a good flower garden. I've picked up hints from my wife who is fabulous at gardening, too! [At HMS] I have a window at my cube for the first time in 20 years, so I knew immediately how I would fill the sill. 
@HMS: What do you enjoy doing when you're not at HMS?
JL: Some people will say gardening, and I'll agree. My wife and I love Rockport. After a long drive, we come over the Annisquam Bridge, and we say, "That's why we live here." I love home; I love my family, I love my wife. We took a family cruise last summer, which was incredible.  Having everybody there, no agenda, not having to plan for everything – it was kind of awesome.
@HMS
Editorial Staff
Editor: Katie DuBoff
Contributors: Shannon Patterson, Chelsea Keyes, Linda Miklas, Tania Rodriguez, Susan Vomacka