Dominic Hall
Faces of HMS
We regularly feature an HMS community member on the main landing page for @HMS.  Below are members of our HMS family who have been featured in the past.  Get to know them by reading their story or watching their video. 
A Night at the Museum with Dominic Hall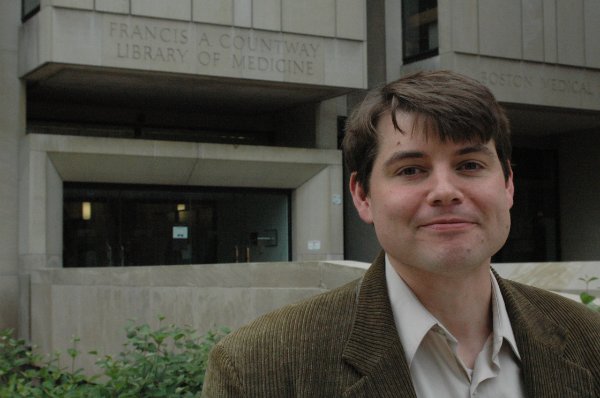 Sitting in his office in the lower level of the Countway Library of Medicine, Dominic Hall, curator of the Warren Anatomical Museum, talks about his fascination with historical artifacts, his favorite items in the collection and how we might be able to find him singing a capella in his spare time.
@HMS: Can you tell us about your position at the Warren?
DH: I'm the curator of the Warren Anatomical Museum, which is a division of the Center for the History of Medicine at the Countway Library. My main function is to serve as the primary steward of the museum's collection. I do a lot of work cataloguing and inventorying the artifacts and specimens, developing policy and infrastructure to make the collection accessible, and pursuing opportunities and actively planning to grow the museum for future audiences. I also conduct a fair amount of educational programs in the museum's gallery in the Countway and, more and more, have been helping people with research requests. Every day brings something new. 
@HMS: How long have you worked at HMS?
DH: I started in September 2007, a little bit over 6 years ago.
@HMS: What is your favorite part of your job?
DH: For me, it's really about taking a singular case history or object history, researching that individual or object, and then finding ways to take that narrative and communicate it to scholars or the public so they can get the same enjoyment or engagement from it as I do. That's far and away the best part of my job. One of the great things about working here with the collection is that the Warren is this very tangible historical record of greatness in many regards. In some ways it allows me to touch that greatness and few people really get to do that and that's an amazing thing. Every single specimen, every single artifact will teach me something I don't know, which is really exciting.
@HMS: What do you like most about HMS?
DH: There're two things – one, probably the most important thing as it relates to my job is that the collection is unique.  It could almost only exist here. There are other historical anatomy collections but this is really the last one that is associated with a medical school. There just aren't many of these collections left in the world and HMS has preserved one.
Secondly, the staff at the Center for the History of Medicine and the Countway are truly wonderful and so mission dedicated. It's a privilege to work with them.
@HMS: How did you become interested in being a museum curator?
DH: I've always been a great consumer and lover of museums. When I was a little kid, they were one of my favorite places to go. When I realized that someone could work in museums and have first-hand access to all those stories and artifacts that's really when I became interested in museums as a career. There's this very wonderful thing in that you get to be close to the rarest and most amazing things and that never gets old. It's hard to turn an interest in history into a career, but museums are one of the ways to do it, and most of my professional life has been working in museums.
@HMS: Do you have a favorite item in the collection? If so, what is it and why?
DH: That's tough. I'm indebted to Phineas Gage, a well-known 19th century brain injury case, as he has gotten me involved in so many wonderful opportunities.
[More information about the Gage case: https://www.countway.harvard.edu/menuNavigation/chom/warren/exhibits.html]
There's an 1821 malpractice case called the Lowell Hip that I really like. Charles Lowell dislocated his hip after being thrown from his horse. After receiving treatment, he reinjured himself and sued his physicians, and the case goes through three separate trials. The extent of the dislocation and fracture were critical in the trial, and Lowell asked that a post-mortem be performed at his death. The injured hip joint has been preserved in the Warren and is a permanent testament to the case.
@HMS: That really is a unique artifact.
DH: There's a bullet probe that was unsuccessfully used to locate the bullet that was shot into President James Garfield's spine. The museum has a collection of several hundred beautiful anatomical watercolors that Henry Jacob Bigelow used in his HMS classroom in the 1850s. The Program in Medical Education recently donated a 6.5 foot tall papier mache skull that Parkman Professor of Anatomy Thomas Dwight had built in the 1890s as a lecture hall teaching tool. Both the Bigelow watercolors and the Dwight skull model are excellent representations of the 19th century HMS classroom. It's hard to pick just one as we're always discovering new things.
@HMS: What goals do you have for the Warren in the coming year?
DH: We're really in a great position now to start growing the collection - not in terms of size, but in terms of utility, which is exciting. We're currently migrating our artifact database into a robust professional collections management system called The Museum System, which is widely used in other Harvard museums. That process should be completed by year's end. We're hoping to add several hundred new object records to the Center for the History of Medicine's online catalogue "On View" in FY14, allowing us to reach new audiences.
@HMS: Can the HMS community find artifacts from the Warren anywhere else?
DH: We've had a couple of dynamic loan projects this year. The Warren curated an exhibit of historical diagnostic and teaching artifacts now on display in the new Clinical Skills Center. The Center for the History of Medicine, Harvard's History of Science Department and the Collection of Historical Scientific Instruments are collaborating on an exhibit on the history of anatomical teaching entitled "Body of Knowledge." It will open in March in the Science Center in Cambridge and will include approximately 50 objects from the Center's collections. That's been an exciting project. We'll be conducting a pilot cataloguing project of the museum's historical fluid specimen collection in the coming months. These types of collections are seeing renewed research utility and we're excited to develop the infrastructure to open the Warren to the academic community.
@HMS: There must be a lot of detailed record keeping that goes with the collection.
DH: It's fundamental to the position. Once an artifact or specimen enters the museum it begins to generate a robust paper and digital file. These records become the story of the object, establishing its provenance before entering the museum, marking its use and movements while in the museum and building its case file of research and publication. The records establish the object's importance. The University has a specific Record Schedule for its museums. Being part of the Center is incredibly helpful in developing the Warren's archive. I work with many talented archivists and records managers that I rely on for guidance and support.
@HMS: What do you enjoy doing in your spare time when you're not at HMS?
DH: Well, I have a five year old son and a two year old daughter, and they keep me pretty busy. I've been taking history of science classes at the extension school—a great Harvard benefit. Before my children were born, I performed in an improv comedy group for a long time—it was a lot of fun. In college I was in an a cappella singing group and I still get together every once in a while and sing with a group of alumni.
@HMS: Do you have any funny or interesting stories about working here?
DH: It's funny, that's pretty commonplace—the unusual, really dynamic and interesting happens a lot here.
Once there were these high school students who re-wrote the words to every song from the musical Grease, according to the life and times of Phineas Gage. So instead of "Summer Loving" it was "September Mining."
The Boston Phoenix magazine once named our museum as the 8th least romantic place to spend Valentine's Day.
@HMS: Do you get a lot of media interest about the museum?   
DH: Yes – particularly for Phineas Gage. There was a Smithsonian article written about the museum when the Phineas Gage pictures came out, and I was on NPR's "All Things Considered, Weekend" talking about the picture and Gage. The museum was also highlighted on Chronicle HD as one of the most interesting places along Huntington Avenue. The Travel Channel show "Mysteries at the Museum" highlighted the Gage case and interviewed me. Phineas and I were part of the Harvard professor David Cox's recent HarvardX course. We get a lot of media requests, and consider each one carefully before saying yes.
This interview has been edited and condensed.
To learn more about the Warren Anatomical Museum, please visit: https://www.countway.harvard.edu/menuNavigation/chom/warren.html.
@HMS
Editorial Staff
Editor: Katie DuBoff
Contributors: Shannon Patterson, Chelsea Keyes, Linda Miklas, Tania Rodriguez, Susan Vomacka