Chirelle Hitt
Faces of HMS
We regularly feature an HMS community member on the main landing page for @HMS.  Below are members of our HMS family who have been featured in the past.  Get to know them by reading their story or watching their video. 
Meet Chirelle Hitt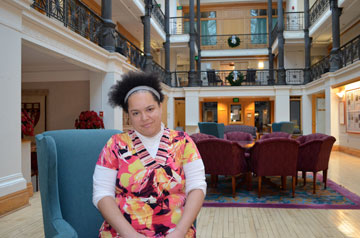 If you haven't yet communicated with Chirelle Hitt, you may be new to Harvard Medical School.  This keeper of time, labor and absence management reflects on her nearly 12 years at HMS, the joys of boxing and why she only bakes with butter.
@HMS: Tell us a little bit about your job.
Chirelle Hitt (CH):  I oversee PeopleSoft's time and labor and absence management, making sure that everything is reported the way that people expect.  The employee has an expectation of what Peoplesoft should do; managers have an expectation of what PeopleSoft should do, and I just want to make sure that that matches what PeopleSoft does. It's mostly looking to see if there's anything missing that should be there or if there's anything that shouldn't be there.  For example, if somebody doesn't have enough hours, or has too many hours, or should be moved to a different group, or does not have the correct manager approving their time – that's where I make sure managers can see the time they need to approve, employees can see what they need to submit, etc.  Since time and labor directly impacts an employee's paycheck, it's making sure that their paycheck is what they expected, instead of being short or too much.
@HMS: How often in a week do you chase people down to submit or approve time? 
CH: Well, 3 days a week but for the most part our managers are seasoned and know me well enough that if I tell them things are a certain way, they trust me – which is really lovely. I'm always meeting new people, but I've been in this job for about 12 years, so it's usually just the new managers. I'm talking to just about everybody.
Usually if I have to hunt people down for approval it's because I assume there's an issue with that particular person's time.  But since the new Peoplesoft system was adopted in April, I don't have to track down people as often as I used to.  Most of it is just helping a few stragglers.
@HMS: You said you're talking to people all day long.  Do people often ask you to explain the system?
CH: If someone has a question, I try to answer as quickly and honestly as I can because the more frustrated they are with the system, the harder it is to educate them.  I'd rather have them ask a question when they have it than try to answer the question for them when they're at their wits end.
@HMS: Where could we find you at 9 a.m., 12:30 p.m. and 3 p.m. on any given day?
CH: At nine a.m. I'm usually getting coffee, fueling up for the day. in the beginning of the day, it will be responding to emails that I got after 5 p.m. and anything that I need to follow up on from the previous day.  At 12:30 I'm usually at my desk.  I'll run a series of reports throughout the day, and that's when I start emailing people to let them know that their time is short, that they've entered too much time or that they have absences that need to be approved.  I get daily emails where people want to reverse an absence or want to know how to find something in PeopleSoft.  At three o'clock, I'm usually at my desk because that's usually the time that somebody gives me a call. 
@HMS: What do you enjoy most about working at HMS?
CH: It is pretty awesome to meet all these people. You email all these people on a daily basis, and you get into a situation where you finally get to meet them.  I'm contacting them for being at their vacation max or because they haven't entered their time and then I'll be at a party and introduce myself, and they say, "Oh, that's YOU! I know you!" It's pretty cool.  So, that's the fun part.
@HMS: What did you do before HMS?
CH: I was a sales associate at MVP sports, and before that, I was a sales associate at Ameritech Cellular.  So, it was a lot of sales and customer service, which is what I think of my current job — it's more customer service than anything.  I was out on the floor, moving around a lot, standing up and selling.  The office environment was quite a change but, on the flip side, I didn't have to work weekends [laughs].  So, I was pretty excited about that. 
@HMS: You mentioned that a large part of your job is providing customer service.
CH: Well, it's making people's lives easier.  That's what I think everybody would like their job to be, to be able to be of assistance to someone.  I don't believe that there is any job that doesn't require customer service of some sort. 
@HMS: What do you like to do when you're not helping people here at HMS?
CH:  My roommate and I do yoga two to three times a week.  You can find me with boxing gloves on Tuesday nights.  My department knows me very well for my baked goods.  This is the time of year when I bake the most because it's the holiday season, so instead of giving gifts, I bake and give that away.
@HMS: Is there a particular dessert that you're known for or that people like the best?
CH: It depends on the person and what they tasted last.  I've made three different types of chocolate cake and people tend to like those.  But, I'll make oatmeal raisin cookies, and then I'll get a request for them for the next time I bake.  Or if I I make sugar cookies, I'll get a request for those the next time.  Then I'll come in with something new and all of a sudden it gets requested.
@HMS: Have you been baking for a long time?
CH: I started off being the family baker.  I have two sisters and my mother, so I would bake for them.  As a matter of fact, I think when I was like two, I was so into being in the kitchen that I made mess cookies – I couldn't tell you what's in them now.  My mom baked them for me; I don't know how they tasted.  I just remember being in the kitchen and baking and measuring things out.  Then, I would come home from school in middle school and high school and watch my aunt bake cookies and help her out every once in awhile, so, it's always been a lifetime kind of thing.
@HMS: Do you have any baking rules?
CH: I never bake with shortening.  It doesn't taste the same!  I'd rather use butter or a combination of butter and oil.  It hasn't disappointed me yet.  If I have a choice, I usually use unsalted butter, to preserve the consistency of whatever I'm baking.  And you can usually get better quality butter if it's unsalted.  The better the quality of the ingredients, the more happy faces you get.  You really can taste the difference.
@HMS: You mentioned that you box.  What kind of boxing do you do and how long have you been practicing?
CH:  I've actually been boxing since 2003.  It started off with Sweat Box, which is a fusion of martial arts, boxing, kickboxing, kung fu, hip hop dance –, it's pretty awesome!  There's only one instructor in the entire world, K.L. Brown, the person who created Sweat Box.  I trained with K.L. for three or four years.  He is a strong advocate of women training together and women empowerment, which is amazing to me because he's doing something that you don't normally see men do.  Twice a week I would train with him alone, and then two or three times a week I would do Sweat Box – once a week I would do it with the gym members, and then once a week with just the girls that he has trained.  I was in awesome shape!  It was a lot of work.
I tore my ACL in 2007 so I'm just doing traditional boxing now. 
Part of the incentive of working out is the community part of it, so if I haven't seen people at the gym for awhile, they're all like, "You're back!" and I think, "Oh yeah, I remember – these are my friends!" That is priceless to me. 
@HMS: How would you describe yourself?
CH: I feel like I'm really shy. I'm an introvert but because I know that, I go out of my way to overcome it, and that's kind of why I went into sales.  I was nervous talking to new people, and I figured the best way to talk to new people was to go into sales, because you either talk to people or you don't get a paycheck – and that's a really good incentive [laughs].  Now I talk to at least 1400 people within the School and University-wide.
@HMS: Is there something people don't know about you?
CH: There was one time I had written a parody for my family to sing that my department requested that I sing in a department meeting.  And I did!  It was well received, just like it was well received within the family.  It was pretty special.  It was about my grandfather's brothers and sisters and the house that I think his father had built for his wife. The song was for a Hitt reunion and not just my cousins and aunts and uncles, but my grandfather's siblings — so it was huge.  It was sung to the "Battle of Hymn Republic."  When I sang it to my family, there were tears.  It was an emotional moment for some folks.
@HMS: So, you wrote a whole song? 
CH: For special events – births, weddings, anniversaries, birthdays – if we feel inspired, my family will take a random song we already know, and we'll change the words to relate to that event. I don't remember all of them, but my aunt was pregnant, so we did a song for her; it was my mother's birthday, so we did a song for her; my sister just got married and I did a song for her.  I think they did another one for my grandparents for their 50th wedding anniversary.  And then the saddest one was for my aunt Mary Ellen who passed away from Non Hodgkins so they did a song for her before she passed.
@HMS: You don't sound like an introvert!
CH: [Laughs] I think I feel like I'm an introvert compared to my family.  I am the oldest but my mom is a talker and my sister, Jenny, who's the second oldest, is also a talker.  My joke is that they talk so much that my youngest sister and I don't get a word in edgewise. 
@HMS: What did you do over the holidays?
CH: That time of year is when I do my big baking event.  I call it the "Iron Chef Baking."  I start at Thanksgiving – that's when I go home to Wisconsin to celebrate with my family.  Usually when I get there I will have 24 hours to bake whatever cookies I need to make.  When I get there I'll start with three…and then I'll get a request, and then I'll get another request and then another.  So, by the end of the day, I might have five or six cookies that I need to bake.  My mom is one of 10 and whoever can come celebrates with us– so that gives us a good 30 people sometimes.  It's not all in the same day, it's over a weekend, so we kind of take over the town for a weekend [laughs].  When I got back to Boston, I did something similar for my friends because they're family, too.
 
@HMS
Editorial Staff
Editor: Katie DuBoff
Contributors: Shannon Patterson, Chelsea Keyes, Linda Miklas, Tania Rodriguez, Susan Vomacka