Faces of HMS
Faces of HMS
HMS Professor Haiden Huskamp explores how policy changes affect individuals
By AMY MAGIN     September 27, 2016

"It's a fascinating time to be in this field," said Haiden Huskamp, HMS professor of health care policy and a health economist. "So much has changed in health policy in the last few years, and understanding the implications of these changes is very important as we move forward as a country and think about our priorities for the health care system and how to continue to increase the value of the services that are delivered."
Huskamp specifically explores how policy changes affect individuals with mental health and substance use disorders—conditions that have traditionally been covered by insurance plans less generously than other types of medical conditions. However, the recent passage of a federal parity law requires insurance plans to provide equal coverage. By studying how insurers manage their plans, Huskamp is seeking to learn how the changes will affect the cost and quality of care these individuals receive, as well as the types of services they use. She is optimistic that the new law, together with the Affordable Care Act, will mean many more treatment opportunities for people who suffer from these ailments, as well as improve their financial access to care.
Another branch of Huskamp's research focuses on understanding how policies affect the care individuals with terminal illnesses receive as they approach death. Her team has identified numerous ways in which the current rules inhibit or prevent patients from obtaining hospice and palliative care services. "We need to figure out how to increase access to this care," Huskamp said. "Studies have shown it can be associated with improved quality of life and better outcomes for family members and caregivers. In some cases, it even can result in longer life."
Huskamp has documented substantial changes in the composition of the hospice industry in recent years, noting a shift toward more for-profit and chain providers. Her team is now looking at how patient care and cost might be affected by this shift. One area of concern is the increase in joint ownership between nursing homes and hospices. "What does it mean if one organization owns both?" she asks. "Are their nursing home residents more likely to get hospice? We're trying to understand how the market is changing and what that means for patients."
In addition to her research, Huskamp serves as co-director of the HMS course Essentials of the Profession and co-leads the health policy component with Ateev Mehrotra, HMS associate professor of health care policy, and Barbara McNeil, acting dean of HMS and the Ridley Watts Professor of Health Care Policy. This new course combines health policy, social medicine, clinical epidemiology and ethics. Huskamp said the first part of this two-part course is designed to give students a basic foundation in these topics before they go out into their clinical experiences. The second half is taught in their third year, after they have had an opportunity to put these integrated perspectives into practice. She believes that these real-world experiences will enable students to push their understanding of the topics to a higher level.
Originally from Louisville, Kentucky, Huskamp first came to HMS in 1992 as a graduate student and has been here ever since, joining the faculty in 1997. She appreciates the collaborative work environment of her department. "I have had the chance to work with a large majority of the faculty," she says, "and really enjoy projects where it's a multidisciplinary group. There's a clinician on my team, a statistician, an economist—people bringing different perspectives and expertise. That's part of the fun of being in a place like this."
Huskamp believes that informing the policy process through research and understanding how changes are made in our system is vital to improving people's lives. "Ideally, you hope that the system is efficient and delivers the care that people need when they need it."
@HMS
Editorial Staff
Editor: Katie DuBoff
Contributors: Shannon Patterson, Chelsea Keyes, Linda Miklas, Tania Rodriguez, Susan Vomacka
2016
White Coat Day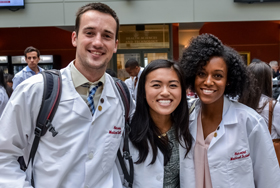 Members of the HMS and HSDM Classes of 2020 accept their white coats as they prepare to embrace the challenges of medical school.
Dimensions of HMS
Photo Exhibit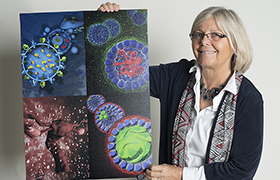 The "Dimensions of Harvard Medical School" photography exhibit features more than 100 photos of HMS and HSDM faculty, staff, administrators, fellows and students.