Faces of HMS
Faces of HMS
We regularly feature an HMS community member on the main landing page for @HMS.  Below are members of our HMS family who have been featured in the past.  Get to know them by reading their story or watching their video. 
From Snow to Sunshine...Caring for Our Campus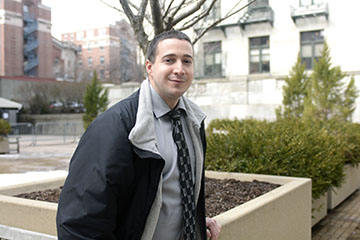 You have probably seen Louis Mello all over the HMS campus. Here, the custodial supervisor tells us more about his responsibilities and why he loves HMS.
@HMS: Please tell us about your background and how you came to work at HMS.
LM: I have been working in custodial services for over 14 years and prior to joining HMS, I worked in the Boston public schools in a similar capacity for 10 years.
@HMS: How long have you been working at HMS?
LM: I have worked at HMS for four years this August.
@HMS: What drew you to HMS?
LM: HMS has great prestige and a history that first caught my eye. After looking into the positions that were available at the time, I realized the benefits and the opportunities that HMS had to offer went far and above those of other institutions I researched.
@HMS: What do you enjoy most about working at HMS? 
LM: I most enjoy my colleagues and the community as a whole. Everyone within HMS has always been very welcoming. HMS is like a second family to me.
@HMS: Tell us a little bit about what you do in your position.
LM: I am responsible for overseeing many of the buildings on campus and maintaining cleanliness of the buildings for all the students, faculty and staff. I have also become more involved in campus services as a whole over the past few years. This includes helping to manage landscaping and snow removal.
@HMS: Can you tell us a bit about what goes into the snow removal on campus? We've just faced an historic winter for snowfall and your team had to clear the campus and make sure it was safe for our community.
LM: Snow removal on campus is typically the clearing of all walkways, entrances and exits. It is most important that all icy areas are treated with ice melt, to avoid accidents, and that all unsafe areas are blocked off. Snow is removed by a company called Greene Construction, which removes much of the snow in the Longwood Medical Area. Depending on the amount of snow, Greene will either melt snow on campus or remove it off campus via trucks. If the snow is removed in trucks it is then brought to a designated area to be disposed of in an environmentally safe manner.
@HMS: What is a typical day like for you?
LM: This is an interesting question, because there is no typical day for me here at HMS. Each day brings its own adventure. In my position you must always be on your toes and be ready for just about anything. Custodial services is comprised of three shifts that work together as a team to make sure the campus is safe and welcoming for all members of the community.
@HMS: What are some things you enjoy doing when you're not at HMS?
LM: Fitness is very important to me, so the thing I enjoy most is going to the gym. Also, I always enjoy spending time with my friends and family.
@HMS: What is your favorite memory or most rewarding moment from your work here?
LM: My most rewarding moment is being an integral part of Commencement each year. It is always great to know that you helped make a student's last day at HMS a memorable one.
@HMS: What is an interesting fact about you that others might not know?
LM: An interesting fact about me that others might not know is that I was diagnosed with cerebral palsy when I was 10 months old. I know some people do know this, but it's not something I broadcast. I don't use my handicap as an excuse in any way in my job responsibilities. Although I might work harder at some tasks, I've always had high expectations for myself, and I will not consider a task complete unless I am satisfied I have completed it to my expectations.
This interview was edited for length and clarity.
Dimensions of HMS
Photo Exhibit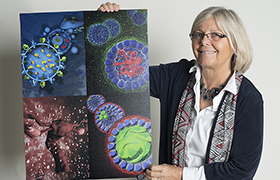 The "Dimensions of Harvard Medical School" photography exhibit features more than 100 photos of HMS and HSDM faculty, staff, administrators, fellows and students.
@HMS
Editorial Staff
Editor: Amy Magin
Assistant Editor: Angela Alberti
Contributors: Shannon Patterson, Chelsea Keyes, Linda Miklas, Tania Rodriguez, Susan Vomacka