Graduate and External Education
Graduate and External Education
Graduate Education
Learn about what PhD, Master's, and Collaborative and Joint Degree programs are currently offered at Harvard Medical School.
 
External Education
Learn about the Office for External Education, which includes:
 

Continuing Education
Learn more about course offerings taught by Harvard Medical School faculty within the clinical departments of HMS's affiliated hospitals.

Global Education
Learn more about the skills-based career development programs offered to medical professionals, scientists and health care leaders throughout the world.
FREE
Online Resources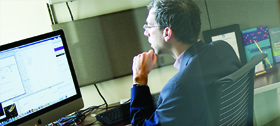 Alumni can now access thousands of peer-reviewed journals and more than 2,000 online seminars. Learn more »
Videos & Podcasts
Visit the Video Library regularly for fresh scientific discoveries, trends in biomedical research and education, profiles of thought leaders, conversations on health policy, and more.
Download our podcasts to go behind the scenes at Harvard Medical School. They highlight cutting-edge research, innovative education programs, and trends in biomedicine through interviews and analysis.