Unlimited Opportunities
Unlimited Opportunities
---
In addition to excellent academic programs and a faculty comprised of experts in every field of medicine, you'll discover that an HMS education offers an incredible variety of learning and service opportunities that extend well beyond the Harvard campus and to different continents across the world.
The Scholars in Medicine Office (SMO) at HMS is the gateway through which HMS students access an exciting array of local, national, and international out-of-the-classroom experiences.
The student services provided by the SMO include:
staff and faculty mentors to help students develop new projects, inform them about past projects, and match them with current projects that have positions available
awarding stipends for local and international research, service and service learning projects, and advising students on funding options
assisting students with Spanish language learning
helping coordinate for-credit and extracurricular service learning projects and classes
hosting informational workshops and seminars on topics related to specific areas of service, international work, language learning, and service learning
HMS students participate in a multitude of basic science and clinical research projects locally, nationally, and sometimes internationally. They travel to Russia to work with AIDS patients. They help in the treatment of asthmatics in Chinatown. They work with underprivileged kids in Appalachia and serve at community health centers in Vietnam.
Once you become part of our community, you'll quickly discover that to be an HMS student is to enjoy access to an unlimited world of possibilities.
---
The Practice of Compassion
In a profession where most days are spent racing against time and making life-and-death decisions, the ability to remain compassionate can make a significant difference in how medicine is practiced and directly affect the quality of patient care that physicians are able to offer.
HMS students acquire an education where the fundamental importance of compassion is continually reinforced through an extraordinary variety of community service experiences in community health centers, multiservice nonprofit agencies, schools, and public health sites in Boston as well as across the nation.
Through the many partnerships between these local organizations and HMS—established and nurtured by the Community Service Program through the Office of Enrichment Programs, as well as by the Office of Diversity and Community Partnership—HMS students and faculty frequently collaborate on projects designed to improve the health of the community and address issues of health and health care disparity as well as the underrepresentation of minorities in the health care and biomedical professions. Funding for such projects comes from a variety of sources, including the Ghiso Fellowship offered by the Neil Samuel Ghiso Foundation (NSGF).
The best practitioners of medicine distinguish themselves by touching the lives of patients, their families, and their communities in ways that extend beyond the clinical domain. This is precisely the kind of physician an HMS education prepares you to be.
---
Healing Beyond Borders
The commitment to service that permeates every aspect of an HMS education extends well beyond the borders of Boston to a multitude of underserved communities across the country, and the world.
HMS students assist in enhancing infection control in Russia. They travel to Taiwan to observe how different medical systems determine clinical practice. They learn to effectively merge the low tech and high-tech worlds of medicine in India, and undergo intensive medical Spanish language training in order to participate in community service projects in Guatemala, Chile, or even in Boston.
Through the international program offered by the Scholars in Medicine Office (SMO), HMS has established and continues to develop innumerable partnerships with a large number of social service, nonprofit, and medical organizations in Asia, Africa, the Middle East, Europe, Central America and North America. The SMO funds more than 30 HMS students for summer or year long research, or service, in over 25 different countries.
Guided by faculty mentors in Boston and site mentors in the specific countries they travel to, HMS students conduct research, serve populations struggling under a disproportionate burden of illness, and develop a strong foundation in primary care and community medicine at a large number of destinations across the world.
Not surprisingly, HMS physicians graduate exceptionally well-equipped to play a leading role in confronting the complex challenges of international health care.
---
Learning At Harvard 
Harvard University is organized into ten principal academic units, or faculties. These faculties oversee the operation of the eleven Harvard Schools. The work of a number of allied institutions and University-wide initiatives further expand Harvard's academic reach. HMS students are encouraged to explore Harvard's academic resources to examine medicine from an interdisciplinary perspective.
Students at HMS are encouraged to take advantage of the resources of the larger Harvard University community. Many of the organizations, facilities, and activities located at Harvard's Cambridge and Allston campuses welcome the participation of medical students. The Harvard Graduate Council, a University-wide organization, sponsors activities that bring together students from all of Harvard's graduate programs.
---
Explorers and Discoverers 
Regardless of their fields of interest, medical and dental students at HMS enjoy access to an extensive array of research opportunities that are created by the unique synergy between the world-class resources and facilities of HMS, MIT, the many institutions affiliated to HMS, and other renowned medical centers around the world.
Once they have identified their area of research and filled out an application through the Scholars in Medicine Office (SMO), the application is submitted to the HMS Faculty Committee for Student Research, which is responsible for the evaluation and funding of all student proposals. The Committee also includes two research fellows from every Academic Society. These are advisors who provide student applicants with valuable input in the development of their research proposals.
As part of an institution that is continually engaged in groundbreaking research in the medical sciences, it is not surprising that a majority of students choose to participate in the diverse research experiences available at Harvard Medical School, and gathering to share their experiences and findings every year at the Soma Weiss Student Research Day.
They are the explorers and discoverers whose work may one day shape the future of medicine.
1st Year Students
Make an Impact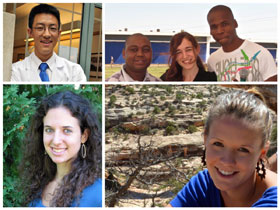 Debut Scholars in Medicine master medical research basics.
Read about their experiences here.