Life at HMS
Student Life: What It Means at HMS
Student life at Harvard Medical School is a celebration of diversity.
It is the coming together of extraordinarily talented individuals from a wide variety of ethnic, cultural, social, and educational experiences and backgrounds who share an intense ambition to be leaders in everything they do. It is about discovering a culture of support that respects difference and an abundance of resources to nurture talent. It is about being inspired by a history of achievement to transform your potential into achievements that can make a difference to our world.
Beginning with early orientation events like the White Coat Ceremony, FEAT (the First-Year Education Adventure Trip), and FUNC (the First Year Urban Neighborhood Campaign) — through your participation in the many HMS student groups, through conversations in your society offices, passionate debate in your discussion groups, shared experiences in the Vanderbilt residence hall, and time spent discovering Boston together — at HMS, you will develop rewarding relationships, learn about the world, and create memories that last a lifetime.
---
A Culture of Support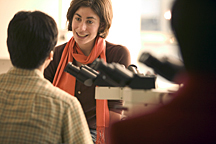 Every aspect of an HMS education is designed to encourage collaboration rather than competition. Our innovative curriculum allows students to focus purely on learning—in their first two years at HMS, for example, they are awarded no grades beyond a "pass" or a "fail." This commitment to the intellectual and professional growth of our students is also reflected in the wealth of faculty, academic, research, professional, personal, and social support services that HMS offers.
At the Student Affairs Office, you will find faculty and staff dedicated to meeting various student needs—from issues of career path, specialty choices, and residency matches to the coordination of all the major student events such as Orientation, Family Day, Match Day, and Class Day. You will build mentoring relationships with faculty within your Academic Society through the student advising program. You will seek the help of experts at the HMS TechLab in order to learn to apply the various evolving technologies used in the medical sciences.
To help meet your personal and health needs, HMS also offers a range of services, including a student health plan that provides coverage for hospitalization and care on and off the HMS campus; dental insurance; disability insurance, and services for students with disabilities. HMS students also enjoy access to the many student services available to all Harvard students.
Beginning your first day at Harvard Medical School and continuing until you are successfully matched with a residency program of your choice, HMS offers an empowering culture of support that will allow you to develop into the extraordinary physician you have always aspired to be.
---
Student Activities
There are multitudes of student organizations at HMS. In addition to the groups on the Longwood Campus, facilities and organizations on Harvard's Cambridge campus are also open to medical students. As student interests change, new groups form and others disband. Starting up a new student group is very easy and is encouraged.
For a complete and up to date list, please visit the Student Organizations page on the website for the Student Council.
Our
Mission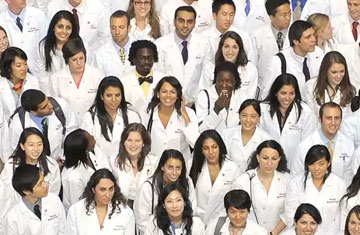 To create and nurture a diverse community of the best people committed to leadership in alleviating human suffering caused by disease.