Dr. Alvin Poussaint
Collaborating in Diversity
Dr. Alvin Poussaint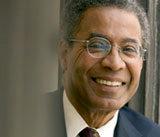 Professor of Psychiatry,
Faculty Associate Dean for Student Affairs,
Director of the Office of Recruitment and Multicultural Affairs
He is a dedicated teacher. He is the author of widely cited articles in medical and lay journals. He is a highly respected consultant at the various medical institutions affiliated to Harvard Medical School and an honored speaker at a multitude of public forums. He is a friend of Oprah Winfrey and a frequent guest on her show.
The world knows Dr. Alvin Poussaint as a tireless crusader in the campaign to increase parental and public awareness about the harmful effects of the increasing commercial exploitation of young children via television.
"Harvard Medical School is a place where you can pick up the phone, call up Nobel Prize winners, and talk to them about your own professional goals."
At Harvard Medical School—where he has been a familiar figure since 1969—students also know about Dr. Poussaint's other great passion: ensuring that the HMS community continues to set new standards in being supportive of every single student. It is a goal he has pursued in a variety of administrative roles at Harvard Medical School over the years.
"Harvard Medical School is a very supportive place, able to offer individual attention—and a world of resources—to every single student. You will not only interact with people from every socio-ethnic and cultural background—especially from backgrounds less represented in medicine historically—but also learn a lot from the unique life experiences that your fellow students have brought to Harvard Medical School. You'll collaborate with faculty who are pioneers in their fields, and yet take the time to really care about your experience at HMS," says Dr. Poussaint.
"We firmly believe that such diversity and diverse collaborations can provide enormous benefits for the way that medicine is practiced in the United States and around the world."
Our
Mission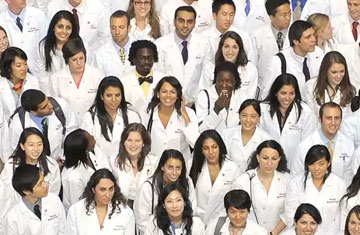 To create and nurture a diverse community of the best people committed to leadership in alleviating human suffering caused by disease.