The Neighborhood
The Neighborhood

Life in Boston
Established less than 10 years after the city was founded, the history of Harvard University is an integral part of the history of Boston itself, and Harvard Medical School's Longwood location means that you will live and work in the heart of one of the nation's most vibrant cities. Boston's unique charm and character emerges from its central role in American history and the easy access it offers to a cosmopolitan abundance of personal, social, and professional opportunities.
With over 40 colleges in the area and an intellectual tradition that has resulted in the emergence of many of the nation's most influential religious, philosophical, and political movements, Boston offers HMS students a wealth of academic resources.
And when you want to take a break from your books, you'll be able to enjoy its rich tapestry of people, history, and entertainment—ranging from the harbor where the American Revolution witnessed some of its most famous moments to Boston's renowned museums, exciting musical and sporting events, and cuisines from across the world.
To Do:
---

HMS Residence Hall - Vanderbilt Hall
You can take advantage of the convenience of living on the HMS campus by booking a room in Vanderbilt Hall, a residence complex next to the Medical School. The hall provides a comfortable atmosphere in which to forge friendships with your classmates, study, and relax. You'll find:
Rooms for approximately 320 men and women
A library and study lounges
An athletic center with full-size gym, tennis court, racquetball courts, squash courts, weight room, and exercise and locker rooms
Single rooms with connections for telephone and Web access
A darkroom, music rooms, and a computer lab
HMS Facilities
Extensive, in-depth medical facilities on a classical campus, the HMS research environment offers a substantial range of well-equipped facilities for teaching and research, among them:
Tosteson Medical Education Center (TMEC)
Houses most HMS classrooms and the five Academic Societies
Fitted for digital and audiovisual technologies n Case Method Room—interactive tiered classroom seating 80 students
Student Computing Center
Nine clinical examination rooms and clinical skills lab
Francis A. Countway Library
One of the largest collections of biomedical books in the U.S. and a world-renowned historical collection
The Countway Digital Library provides access to 149 databases for online services, over 10,000 electronic journals, and 1,114 electronic textbooks
Study areas with network access
Volumes: 695,749 - Monographs: 213,328 - Journal Volumes: 482,421 - Rare books: 212,083
New Research Building
 A state of the art integrated biomedical research center
 The primary work site of more than 800 researchers and hundreds of graduate students, lab assistants and other employees.
 Home of the Joseph B. Martin Conference Center
 Houses the Department of Genetics as well the Harvard Institutes of Medicine
Our
Mission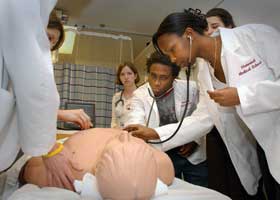 To create and nurture a diverse community of the best people committed to leadership in alleviating human suffering caused by disease