Interview Day
The Interview Day
Candidates who are invited to interview will receive an email from the Office of the Committee on Admissions regarding available interview dates as well as information about the day itself.
The interview day for the Pathways MD program at Harvard Medical School is non-traditional and allows candidates the freedom to explore both the Longwood Medical Area as well as the HMS campus. Due to the fact that many of the interviewers for Harvard Medical School are practicing doctors and physicians in the Boston area, interview times and locations are subject to change throughout the day. Interviews take place at HMS, in the Longwood Medical Area, and at other nearby hospitals and institutions in the city of Boston. Much of the day itself is open and allows candidates to explore the Harvard Medical School campus and facilities on their own. Candidates are encouraged to attend classes & lectures and speak with current HMS students in the atrium of the Tosteson Medical Education Center (TMEC).
Overview of the Interview Day
Orientation - All candidates begin the interview day with an orientation session in Gordon Hall. During the orientation you will be given your interview schedule and an overview of the day's events. A faculty member will be present during the orientation and will speak with you about Harvard Medical School and the medical program. You will have also have an opportunity to ask any questions you may have.
Lunch & Tour - Later in the interview day, there will be a lunch with current Harvard Medical School students and a campus tour led by Admissions staff members.
Lectures - You will be provided with a list of courses & lectures occurring throughout the day. All candidates are encouraged to attend.
Interview - All candidates will have two separate interviews with two different members of the Committee on Admissions. Locations and times for interviews will vary, so we do ask candidates to be flexible and keep in touch throughout the day.
---
Interviews are conducted separately for each MD program you choose to apply to. If you are invited to interview for the Health Sciences & Technology MD program there will be both a separate interview day and interview process. More information will be made available to you if you are invited for the HST program.
Our
Mission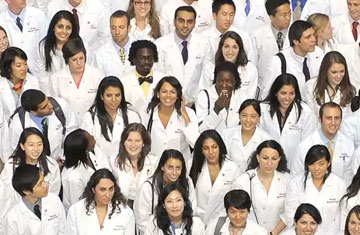 To create and nurture a diverse community of the best people committed to leadership in alleviating human suffering caused by disease.
Physicians as
Leaders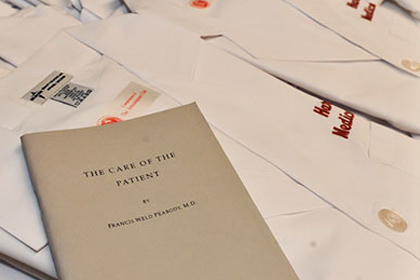 Jessica Hohman writes about her time in Physicians as Leaders with classmates as they are about to begin residency.