Selection Factors & Admissions Statistics
Selection Factors
The Committee on Admissions evaluates applications based on several factors, including:
Academic Records
Applicant's essay
Extracurricular activities
Summer Occupations
Life experiences
Experience in the health field, including research or community work
Letters of evaluation
Accepted applicants must successfully complete all courses and programs in progress as indicated at the time of application, including course requirements for admission, at a standard comparable in quality with past academic performance.
HMS complies with Federal and State Law prohibiting discrimination against any applicant or enrolled student on the basis of race, color, religion, sex, sexual preference, age, or handicap. Applicants with disabilities will be evaluated on a case by case basis in accordance with technical standard guidelines as suggested by the Association of American Medical Colleges. All students must possess the physical and emotional capabilities required to independently undertake the full curriculum and to achieve the levels of competence required by the faculty. You may wish to review our technical standards in detail.
Admissions Statistics & Student Profile
There were 7,069 completed applications for the August 2016 entering class.
Annually, Harvard Medical School interviews between 800-1000 applicants for a class of 165.
All entrants took the MCAT and had baccalaureate degrees.
---
Average GPA and MCAT scores of entering students:
For the 2016 entering class, the average scores are given below. Please keep in mind that the scores of the students selected for admission included a broad range of scores that includes scores reflective of national averages.
Please note, not all students from the 2016 entering class took both the new MCAT and the old MCAT. As a result, the MCAT averages for each test are not reflective of the entire class.
Average old MCAT scores were:
Verbal - 10.65
Physical Science - 12.39
Biological Science - 12.33
Cumulative - 35.44
Average new MCAT scores were:
BBFL - 129.85
CARS - 128.89
CPBS - 129.22
PSBB - 129.37
Total - 517.33
Although there is no application cutoff in terms of grade point average or MCAT scores, academic excellence is expected.
Make-up of the incoming class:
Members of the Fall 2016 HMS entering class::
from 65 undergraduate institutions, 35 states and 8 foreign countries
71% of whom majored in the sciences
51% are women, 49% are men
16% are from groups that are traditionally underrepresented in medicine
the class ranges in age from 21-33
---
Our
Mission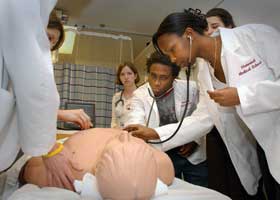 To create and nurture a diverse community of the best people committed to leadership in alleviating human suffering caused by disease