Policies
Selected Policies
The following policies apply to all Harvard Medical School applicants and matriculated students.
---
Association of American Medical Colleges (AAMC) - Policies
Applicants and medical schools have complementary responsibilities in the annual medical school application and admission processes.
The AAMC offers the following recommendations to ensure that applicants are afforded timely notification of the outcome of their medical school applications and have timely access to available first-year positions; and to ensure that schools have no unfilled positions in their entering classes. These recommendations are distributed for the information of prospective medical students, their advisors, and medical school personnel.
    Traffic Rules for Applicants: AAMC Recommendations for Medical School and M.D.-Ph.D. Candidates
    Traffic Rules for Admissions: AAMC Recommendations for Medical School and M.D.-Ph.D. Admission Officers
Falsification, omission, or discrepancy in application materials, including incomplete or invalid financial transactions, as well as any irregular behavior during the administration of the MCAT, will be investigated in accordance with AAMC Policies.
    Policies and Procedures for Investigating Reported Violations of Admission and Enrollment Standards
    AAMC Policies Regarding the Collection, Use, and Dissemination of Medical Student and Applicant Data
---
U.S. Department of Education - Polices
Access to Educational Records: Family Rights and Privacy Act of 1974 (FERPA)
Annually, Harvard Medical School informs students of the Family Rights and Privacy Act of 1974, as amended. This Act was designed to protect the privacy of education records, to establish the right of students to inspect and review their education records, and to provide guidelines for the correction of inaccurate or misleading data through informal and formal hearings. Students also have the right to file complaints with The Family Rights and Privacy Act Office concerning alleged failures by the institution to comply with the Act.
Within the Harvard Medical School Community, only those members, individually or collectively, with a legitimate educational interest are allowed access to student educational records. Local policy explains in detail the procedures to be used by the institution for compliance with the provisions of the Act. A copy of the policy can be found at the HMS Registrar's Office, 25 Shattuck Street, Gordon Hall Room 213, Boston, MA 02115. Questions concerning FERPA may be referred to the Registrar.
The school will release certain information classified as "directory" information unless a student indicates that such information should not be released. Directory information is classified as: full name, local address, telephone number, photograph, and dates of enrollment. Requests to withhold this information should be indicated on the Personal Data Form that is filled out annually and submitted to the Registrar's Office in September.
---
Harvard Medical School - Policies
Technical Standards for Medical School Admission, Continuation, and Graduation:
Policy Statement
Applicants to Harvard Medical School are selected on the basis of their academic, personal, and extracurricular dimensions. In addition, applicants must have the intellectual, physical, and emotional capacities to meet the requirements of the School's curriculum and of a successful medical career.
The mission of Harvard Medical School is to provide its graduates with broad general knowledge in all fields of medicine and the basic skills and competence requisite for the practice of medicine. Therefore, the faculty of HMS believes that a broad-based and patient-oriented curriculum is necessary for the development of such knowledge and skills and is best suited to the education of future generalists, specialists, physician investigators, and leaders in medicine. In other words, HMS seeks to graduate students who will have the knowledge and skills to function in a broad variety of clinical situations and to render a wide spectrum of patient care. The following technical standard guidelines were suggested by the Special Advisory Panel on Technical Standards for Medical School Admissions convened by the AAMC, (Memorandum #79-4) in January, 1979.* These guidelines were formally adopted by the Harvard Medical School Committee on Admissions in 1989, and they have been reviewed and confirmed every year since. These guidelines specify the attributes that the HMS faculty considers essential for completing medical-school training and for enabling each graduate to enter residency and clinical practice. Because these standards describe the essential functions that students must demonstrate to meet the requirements of a general medical education, they are pre-requisites for entrance, continuation, promotion, and graduation.
Harvard Medical School will consider for admission any applicant who meets its academic and nonacademic criteria and who demonstrates the ability to perform the skills listed in this document, with or without reasonable accommodations, consistent with the Americans with Disabilities Act and the Rehabilitation Act. This policy conforms as well with the AAMC guidelines for medical schools, "The Americans with Disabilities Act (ADA) and the Disabled Student in Medical School," approved for distribution by the AAMC Executive Council in June, 1993. The Committee on Admissions has continued to reaffirm that all students must possess the intellectual, physical and emotional capabilities necessary to undertake the required curriculum in a reasonably independent manner, without having to rely on intermediaries, and that all students must be able to achieve the levels of competence required by the faculty. All candidates for admission, both those with and without disabilities, are expected to be competitive with others in the applicant pool in academic, personal, and extracurricular dimensions and to meet these technical standards. The policy of Harvard Medical School is to make admission decisions on the basis of each individual applicant's qualifications to meet and contribute to Harvard's educational objectives and institutional needs. The principle of nondiscrimination against any applicant on the basis of disability or handicap unrelated to job or course-of-study requirements is consistent with the purpose of a university and the law.
Admitted students with physical or learning disabilities have access to the Coordinator for Students with Disabilities, whose role is to collaborate with other administrative staff to provide adaptations required for courses and examinations. The goal is to help students with disabilities find access to the necessary resources to do their best work. For students with such disabilities as impaired mobility, chronic illness, dyslexia or other learning disorders, HMS can provide reasonable accommodations. In addition, all facilities of the medical school are accessible to persons with handicaps.
Admitted students who have a disability and need accommodation should initiate discussions with the Coordinator for Students with Disabilities as soon as the offer of admission is received and accepted. If any additional orientation is required for an entering student who is disabled, the Coordinator for Students with Disabilities will make this determination and implement the necessary activity.
Implementation Procedures
Applicants with disabilities will be evaluated according to the same standards and criteria that are used for the applicant pool as a whole. The review of each application for students with or without disabilities takes into account the necessity of meeting Technical Standards.  Applicants with disabilities are usually identified through their applications and supporting credentials or through the interview process. If an applicant with or without a disability is deemed to be highly desirable for acceptance after the interview process and Subcommittee deliberations, the candidate's application and supporting documents will be forwarded to the Main Committee.  The Main Committee will make the final decision.
Publication
The HMS policy on technical standards is included in the Admissions Bulletin distributed to all applicants and appears on the Admissions web site.  All inquiries should be directed to the Office of Admissions, Harvard Medical School, Gordon Hall, 25 Shattuck Street, Boston, Massachusetts 02115-6092.  The telephone number is 617-432-1550, the FAX number is 617-432-3307, and the e-mail address is admissions_office@hms.harvard.edu.
Supporting Documentation
*Recommendations of the AAMC Special Advisory Panel on Technical Standards for Medical School Admission, approved by the AAMC Executive Council on January 18, 1979, are reproduced below:
Technical Standards for Medical School Admission
A candidate for the MD degree must have abilities and skills in five varieties, including observation; communication; motor; conceptual, integrative, and quantitative; and behavioral and social. Technological compensation can be made for some handicaps in certain of these areas, but a candidate should be able to perform in a reasonably independent manner. The use of a trained intermediary means that a candidate's judgment must be mediated by someone else's power of selection and observation.
I. Observation: The candidate must be able to observe demonstrations and experiments in the basic sciences, including but not limited to physiologic and pharmacologic demonstrations in animals, microbiologic cultures, and microscopic studies of microorganisms and tissues in normal and pathologic states. A candidate must be able to observe a patient accurately at a distance and close at hand. Observation necessitates the functional use of the sense of vision and somatic sensation. It is enhanced by the functional use of the sense of smell.
II. Communication: A candidate should be able to speak, to hear, and to observe patients in order to elicit information, describe changes in mood, activity, and posture, and perceive nonverbal communications. A candidate must be able to communicate effectively and sensitively with patients. Communication includes not only speech but reading and writing. The candidate must be able to communicate effectively and efficiently in oral and written form with all members of the health care team.
III. Motor: Candidates should have sufficient motor function to elicit information from patients by palpation, auscultation, percussion, and other diagnostic maneuvers. A candidate should be able to do basic laboratory tests (urinalysis, CBC, etc.), carry out diagnostic procedures (proctoscopy, paracentesis, etc.), and read EKGs and x-rays. A candidate should be able to execute motor movements reasonably required to provide general care and emergency treatment to patients. Examples of emergency treatment reasonably required of physicians are cardiopulmonary resuscitation, the administration of intravenous medication, the application of pressure to stop bleeding, the opening of obstructed airways, the suturing of simple wounds, and the performance of simple obstetrical maneuvers. Such actions require coordination of both gross and fine muscular movements, equilibrium, and functional use of the senses of touch and vision.
IV. Intellectual-Conceptual, Integrative and Quantitative Abilities: These abilities include measurement, calculation, reasoning, analysis, and synthesis. Problem solving, the critical skill demanded of physicians, requires all of these intellectual abilities. In addition, the candidate should be able to comprehend three-dimensional relationships and to understand the spatial relationships of structures.
V. Behavioral and Social Attributes: A candidate must possess the emotional health required for full utilization of his intellectual abilities, the exercise of good judgment, the prompt completion of all responsibilities attendant to the diagnosis and care of patients, and the development of mature, sensitive, and effective relationships with patients. Candidates must be able to tolerate physically taxing workloads and to function effectively under stress. They must be able to adapt to changing environments, to display flexibility, and to learn to function in the face of uncertainties inherent in the clinical problems of many patients. Compassion, integrity, concern for others, interpersonal skills, interest, and motivation are all personal qualities that are assessed during the admissions and education processes.
Included in the deliberations of the Panel on Technical Standards were the following considerations:
The medical education process, which focuses so largely on patients, differs markedly from postsecondary education in fields outside of the health sciences.
The primary responsibility for the selection of students and for the content of the curriculum rests with the medical school and its faculty.
The M.D. degree is, and must remain, a broad, undifferentiated degree attesting to the acquisition of general knowledge in all fields of medicine and the basic skills requisite for the practice of medicine (our emphasis).
The guidelines for admission of students and for the education of students as set forth by the Liaison Committee on Medical Education (LCME) must continue to govern the decisions of medical school faculties.
All students of medicine must possess those intellectual, ethical, physical and emotional capabilities required to undertake the full curriculum and to achieve the levels of competence required by the faculty.
Although certain handicaps or combinations of handicaps will prevent some candidates from meeting minimum technical standards, individual schools should take all necessary steps to prevent unjustified discrimination against the handicapped.
---
Annual Security and Fire Safety Report Availability
The University is required by federal law (The Jeanne Clery Disclosure of Campus Security Policy and Campus Crime Statistics Act, 20 U.S.C. 1092(f), known as the "Clery Act") to publish an Annual Security Report and an Annual Fire Safety Report.
The Harvard University Police Department publishes the Annual Security Report, entitled "Playing it Safe," which includes information about the HUPD, how to report a crime, HUPD's crime prevention programs, substance abuse, sensitive crimes, emergency notifications, and other important information about security and HUPD services on campus. It also contains three years of statistics on reported campus or campus-related crimes. A hard copy of "Playing it Safe" may be obtained by contacting the Harvard University Police Department at 1033 Massachusetts Avenue, 6th floor, Cambridge, MA 02138, (617) 495-9225.
The Harvard University Environmental Health and Safety Department publishes the Annual Fire Safety Report, which includes fire safety polices, evacuation procedures, and fire statistics. A hard copy of the Annual Fire Safety Report may be obtained by contacting Environmental Health and Safety Department at 46 Blackstone Street, Cambridge, MA 02139, (617) 496-7168.
The Annual Security Report, "Playing it Safe," is available at www.hupd.harvard.edu/annual-security-report.
The Annual Fire Safety Report is available at www.ehs.harvard.edu/programs/higher-education-opportunity-act-heoa.
---
Student Handbook - Policies
For more information on policies for Harvard Medical School students, please refer to the Student Handbook.
Our
Mission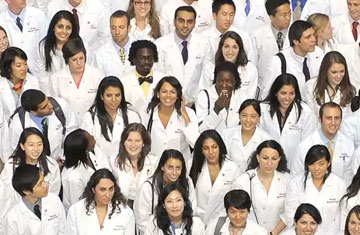 To create and nurture a diverse community of the best people committed to leadership in alleviating human suffering caused by disease.