Exchange Clerkship Program for Visiting Medical Students
Exchange Clerkship Program for Visiting Medical Students
The Harvard Medical School (HMS) Exchange Clerkship Program for Visiting Medical Students is one of the largest visiting student programs in the country. Annually, the HMS Registrar's Office processes applications for over 2,000 requests from students from around the world. The program is designed for medical students in their final year of medical school who wish to participate in clinical clerkships offered at HMS-affiliated teaching hospitals. Our goal is to place eligible students who are qualified for the advanced clinical experiences in HMS-affiliated hospitals.
Admissions and information on The Exchange Clerkship Program is handled by the Office of the Registrar.
For more information and how to apply, please visit the following: HMS Exchange Clerkship Program
Our
Mission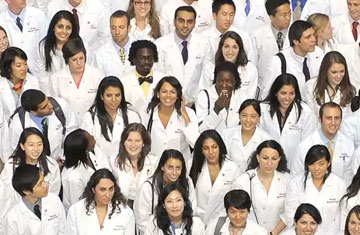 To create and nurture a diverse community of the best people committed to leadership in alleviating human suffering caused by disease.