Application Process and Timeline
Application Process and Timeline
How to Apply
Application to Harvard Medical School is made through AMCAS, the American Medical College Application Service. The final deadline to submit the AMCAS application is October 16, 2017. All applicants who submit the AMCAS application will be eligible to file the HMS Supplemental Application.  The link is e-mailed automatically to all AMCAS applicants who designate Harvard on the AMCAS form once the AMCAS application is verified. A non-refundable application filing fee of $100 must accompany the completed supplemental application when it is submitted. This fee will be waived for all applicants who have been granted an AMCAS fee waiver. No supplemental application for the first year class received after October 23, 2017 will be accepted.
Early submission of the application materials is encouraged because it assures sufficient time for obtaining premedical advisory committee evaluations and individual letters of evaluation. All letters of evaluation should be received by AMCAS no later than October 23, 2017. Applications remaining incomplete after the HMS Supplemental Application deadline, October 23, 2017, will be reviewed and acted upon on the basis of the application materials on file at that time. All application materials become the property of Harvard Medical School.
Applicants selected for interviews will be notified by the middle of January. Offers of acceptance will be made from this group. All applicants will be notified of final decisions by the third week of March, under no circumstances will decision information be released by telephone.
Only the Committee on Admissions has the authority to make offers of admission to Harvard Medical School, and this authority cannot be delegated to any other person, committee, or group. To be valid, an offer of admission must be signed by the Chairperson of the Committee on Admission.
Last date for you to submit your AMCAS application
October 16, 2017 11:59 PM Eastern Standard Time
No extensions will be granted.
 
Last date for you to submit your HMS supplemental application
October 23, 2017 11:59 PM Eastern Standard Time
No extensions will be granted.
 
Acknowledgment e-mail message sent
Upon receipt of supplemental application
 
Deadline for letters of recommendation to be received by AMCAS.
October 23, 2017
After October 23, incomplete applications will be reviewed on the basis of the application materials available at that time.
 
Application status screen acknowledges completed application
Upon receipt of all required application materials
If your status screen does not indicate application completion within 4 weeks from the date on which you believe your application became complete, be sure to notify the Admissions Office.
 
Invitations for interviews e-mailed
August through mid January
Offers of acceptance will be made from the group of applicants selected for interview. Applicants not selected for interview will not receive any further correspondence until final decision notices are sent.
 
Final decision notices sent to all applicants
By third week of March
---
Eligibility Restrictions:
Candidates are considered for admission a maximum of two application cycles. Applications from individuals who have already made two previous application attempts will be rejected. Incomplete application attempts count towards the two time maximum.
 
Candidates who have matriculated in any other medical school are not eligible to be considered for admission, regardless of the reason for leaving the other program.
 
Applicants are expected to apply in the application cycle for the year they plan to matriculate. Candidates pursuing advanced degrees that cannot be completed prior to matriculation will be rejected. (Exception: Candidates who receive Rhodes or Marshall Scholarship offers during the year of application will be considered for delayed entry on a case-by-case basis.)
 
Candidates participating in the NIH Graduate Partnership Program (G.P.P.) will only be considered in the year of intended matriculation at Harvard Medical School.
 
HMS does not accept transfer or advanced standing students into the MD Programs.
---
The Medical College Admission Test
The Medical College Admission Test (MCAT) is required of all applicants. Scores must be posted to the AMCAS application no later than October 16, 2017 in order to be considered for the current application cycle. MCATs more than three years old must be retaken. Information regarding this test and the procedures to be followed in reporting scores to medical schools can be found on the following website: https://students-residents.aamc.org/applying-medical-school/taking-mcat-...
Our
Mission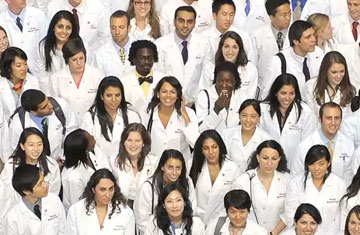 To create and nurture a diverse community of the best people committed to leadership in alleviating human suffering caused by disease.