Applying
Applying to HMS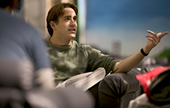 While the students admitted to HMS reflect an extraordinary diversity of accomplishments, talents, interests, and backgrounds, they also share many things in common.
They are self-motivated, visionary in their ambition, and compassionate in their approach to the art of healing.
In addition to demonstrated academic excellence, these are the qualities HMS seeks in its students. Our Committee on Admissions evaluates applications based on a variety of criteria that range from your academic records and MCAT (Medical College Admission Test) scores to your extracurricular activities, research, and community-service experiences in the field of health care. And while we expect you to demonstrate an aptitude for the biological and physical sciences, our ideal candidates are those with well-balanced academic backgrounds that include the humanities and social sciences.
In order to ensure that the leading health care professionals of tomorrow reflect the same diversity as the patients they serve, HMS is dedicated to enrolling talented students from a multitude of ethnic and economic backgrounds, especially from communities that have been historically underrepresented in the medical profession.
A Harvard doctor is someone for whom the pursuit of excellence—both professional and personal—is a way of life. If this describes you, we encourage you to apply to Harvard Medical School today.
---
M.D. Programs at Harvard Medical School
Pathways M.D. Program:
In August 2015, Harvard Medical School launched an innovative new curriculum – Pathways.  This bold revision of the MD curriculum incorporates pedagogical approaches that foster active learning and critical thinking; earlier clinical experience; and advanced clinical and student-tailored basic/population science experiences that provide customized pathways for every student. More information is available at the following webpage: Pathways M.D. Program
Health Sciences and Technology (HST) M.D. Program:
Combining the extensive resources of Harvard Medical School and Massachusetts Institute of Technology (MIT), the Health Sciences and Technology (HST) M.D. Program will prepare you for interdisciplinary research careers in academic medicine. Through a rigorous and quantitative curriculum, you'll focus on biological, chemical, physical, and engineering sciences and collaborate with Harvard and MIT faculty on substantive, groundbreaking research. You can take courses at both Harvard Medical School and MIT, and will be part of a select group — only 30 students per year are admitted into HST.
Dean's
Welcome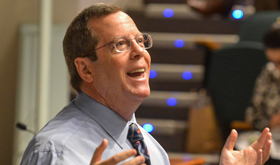 Dear Prospective Applicant,
The mission of Harvard Medical School is to create and nurture a diverse community of the best people committed to leadership in alleviating human suffering caused by disease. I am excited for anyone reading these words and considering the opportunity to apply to join this diverse group of extraordinary people who are passionate about using their talents to serve others. It is humbling to live and work in a community of physicians and scientists who are dedicated to attaining the highest achievements in the world of medicine today and preparing for the exciting world of medicine in the future. Ultimately, our success depends on a steady entry each year of outstanding students who wish to dedicate their lives to the compassionate care of others. Whether you hope to advance the basic or social sciences that form the foundation of medicine, to focus on the art and science of prevention and healing, or to combine medicine with other related interests in some unique way, there has never been a better time to be in medicine. And there is no better place for it than Harvard's community of doctors, scientists, hospitals and schools. We are delighted that you are interested in Harvard Medical School, and we look forward to receiving your completed application.
Edward M. Hundert, MD
Dean for Medical Education
Daniel D. Federman, MD Professor in Residence of Global Health and Social Medicine
and Medical Education
Who Will The
Next Class Be?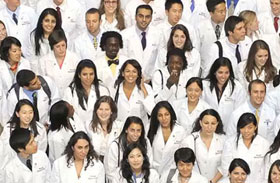 Harvard Medical School opened its doors
in 1782 with three students. Today, the School encompasses over 12,000 faculty members, some 1,700 students, and thousands of research and clinical trainees. In 2014, incoming students hailed from 15 countries, 33 states and Puerto Rico. Women constituted 49 percent, and underrepresented minorities 20 percent, of the Class of 2018.