Admissions FAQs
Admissions FAQs
Application Process
Requirements
Interviews
Financial Aid
Life at HMS
International Students / DACA
Letters of Evaluation
---
Application Process
Can I apply to both the Pathways and the Health Sciences and Technology (HST) programs?
Students may apply to the HST program or the Pathways program, or to both. Application to both programs in no way prejudices the chance of acceptance to either one. Students may also indicate candidacy for the Medical Scientist Training Program of the MD/PhD program. Familiarize yourself with the unique aspects of each program when deciding to apply. The Pathways MD program places emphasis on the patient-doctor relationship, the social context and problems of modern medicine and health care, and the extraordinary prospects created by the progress in biological sciences. The Pathways curriculum uses a problem-based approach that emphasizes small-group tutorials and self-directed learning, complemented by laboratories, conferences, and lectures.
The HST MD program is oriented towards students with a declared interest in a career in biomedical research or a strong interest and background in physical or molecular science. The HST curriculum is designed to emphasize basic and quantitative understanding of modern biomedical sciences and pathophysiologic processes and a fundamental approach to important concepts in modern biology and biotechnology.
Your admissions literature says I can only apply to HMS twice. Does it count as applying if I only submitted my AMCAS application and never completed the HMS Supplemental Application?
Designating HMS as a school on the AMCAS application will count as an application. If you designate HMS one year but do not submit the entire application (supplemental application, letters, and payment), you will still be considered as having applied. Please keep this policy in mind when beginning your application process.
Does Harvard Medical School have a rolling admissions policy?
Harvard Medical School does not have a rolling admissions policy.
When are the deadlines for applying?
The deadline for the AMCAS application is October 16, 2017.
The HMS deadline for our supplemental application is October 23, 2017.
The deadline for letters of recommendation to be received by AMCAS is October 23, 2017.
What is your policy on deferring admission after I've been accepted to HMS?
Students should apply during the admission cycle for the year they plan to attend.  HMS will NOT accept applications from students currently enrolled in other degree granting programs, unless the pending degree will be conferred prior to medical school matriculation.  This policy applies to students participating in the NIH Graduate Partnership Program.  Deferrals will not be granted for students unable to complete degree programs in progress at the time of application. 
However, HMS recognizes that special opportunities may arise during the application year.  The Faculty Associate Dean for Admissions approves requests for deferral on a case-by-case basis. Accepted students who would like to apply for deferral must submit a request stating their reason for requesting deferral and their proposed plans for the duration of the deferral. If approved, the deferral is typically granted for one year, though they are routinely renewed for students involved in multi-year fellowship programs (e.g. Rhodes, Marshall). The Committee on Admissions only supports proposals that provide for participation in intellectually rewarding opportunities and service programs during the time of deferral from HMS. Requests to continue in activities already in progress at the time of application are generally denied.    As tuition and unit loan amounts usually rise each year, students should carefully consider the financial implications of deferring to a future year.
What can I do to make myself a more attractive candidate for admission?
In addition to academic records, the information considered by the Committee on Admissions includes the essay written by the student, MCAT scores, extra-curricular activities, summer occupations, and life experiences. Any experience in the health field including research or community work is also noted, as well as the comments contained in the letters of evaluation. We look for evidence of integrity, maturity, concern for others, leadership potential, and an aptitude for working with people.
Do you have an age limit for applicants?
No. HMS complies with Federal and State Law prohibiting discrimination against any applicant or enrolled student on the basis of race, color, religion, sex, sexual orientation, age, or handicap.
What are your policies on persons with disabilities?
HMS complies with Federal and State Law prohibiting discrimination against any applicant or enrolled student on the basis of being differently abled. Applicants with disabilities will be evaluated on a case by case basis in accordance with technical standard guidelines as suggested by the Association of American Medical Colleges.
Requirements
Do I have to complete the required courses before applying to HMS?
No. All of our requirements must be completed prior to matriculation, not application. However, most successful applicants have completed most of the required courses prior to application.
Some of the required courses I took were, or will be, completed at an institution outside of the U.S. or Canada.
Will these courses count toward the requirement?
A limited number of required courses taken at an institution other than your "home institution" (the institution that will be granting your degree) may be used to fulfill requirements, to be determined on a case-by-case basis. Every effort should be made to take the majority of required courses at the institution that will be conferring your degree.
Required courses taken as part of a post-baccalaureate program of study do not need to be taken at your undergraduate institution.
I took some of the required courses at an advanced level. Will these still count toward the requirements?
Yes, upper-level courses may be used to satisfy our basic requirements. When reviewing the required courses, please pay attention to the specifics involved for each requirement, e.g. laboratory work in biology, general (inorganic) chemistry, and organic chemistry.
What courses count toward the expository writing requirement?
HMS matriculants should have one year of critical writing/thinking preparation, preferably in a course devoted specifically to the development of expository writing skills. Specific skills students may be expected to master and apply to the fields of medicine and scientific inquiry include the following:
a. Writing logically and with clarity and style about important questions across disciplines.
b. Articulating persuasively, both on paper and in oral presentations, focused, sophisticated, and credible thesis arguments.
c. Appreciating the methodologies that particular disciplines apply for understanding and communicating results effectively.
d. Approaching evidence with probity and intellectual independence.
e. Using source material appropriately with scrupulous and rigorous attribution.
Although a specific expository writing course meets this requirement most directly and optimally, potentially, these skills can be honed in a non-science course that requires extensive expository writing. Advanced placement credits cannot be used.
For the math requirement, I hope to apply statistics courses for the fulfillment. Will this be acceptable?
Some flexibility can be applied to meet this requirement as long as the courses are relevant to biology and medicine. For example, a semester course in calculus that covers derivatives and integration plus a semester course in statistics (preferably biostatistics) or a calculus-based physics course plus another science course that includes biostatistics. Preferably, students will have some combination that equals a unified two-semester course that covers important, biologically relevant concepts in calculus and statistics. As of the class entering in 2016, one semester of statistics is required.
What kinds of biology courses are suggested for the biology requirement?
Courses should be devoted to genetics and cell biology and should emphasize human biology (signal transduction, basic pharmacologic principles, homeostasis and feedback, an introduction to hormone receptors, neuronal signaling, and immunology). The focus on genetics should include nucleic acid structure and function, genetic recombination, and mechanisms of gene expression in eukaryotic and prokaryotic cells, i.e., molecular biology/genetics); the study of cell biology should include subcellular organization, differentiation, cellular metabolic function, energy transfer, structure-function relationships, reproduction, and membrane properties. Preparation in biology should place more of an emphasis on human biology and on principles of systems biology.
Does your chemistry requirement include courses in both organic and inorganic chemistry?
A one semester course in organic chemistry which covers the relevant material supplemented by a semester course in biochemistry may substitute for the traditional year of organic chemistry. As of the class entering 2016, biochemistry is required.
What are the statistics on the entering classes, the undergrad institutions they attended, etc.?
Questions regarding the statistics of our entering classes, etc. are available in our own, or the AAMC literature. Any questions regarding these statistics that are not answered in these sources are not available.
Do you have an early decision program?
HMS has no early decision program.
If I want to withdraw my application, can I get a refund?
Application fees are non-refundable.
Do you accept transfer applicants from other medical schools?
Due to constraints on class size, we regret that we are unable to accept transfers for any reason.
Do you only accept applicants who majored in the sciences as an undergrad?
No preference is given to applicants who have majored in science over those who have majored in other disciplines.
A study at Harvard Medical School has shown that students are successful in their medical studies regardless of undergraduate concentration, providing that they have had adequate science preparation. Students are urged to strive not for specialized training but for a balanced and liberal education.
What undergraduate institution should I attend? Do Ivy League students have an advantage over other students?
Harvard Medical School is looking for people with broad interests and talents, not for students from particular academic institutions. Attend an undergraduate college that will challenge you both academically and personally.
What are the average GPA and MCAT scores of entering students? Is there a minimum that I need to be above?
For the 2016 entering class, the average scores are given below. Please keep in mind that the scores of the students selected for admission included a broad range of scores that includes scores reflective of national averages.
Please note, not all students from the 2016 entering class took both the new MCAT and the old MCAT. As a result, the MCAT averages for each test are not reflective of the entire class.
Average old MCAT scores were:
Verbal - 10.65
Physical Science - 12.39
Biological Science - 12.33
Cumulative - 35.44
Average new MCAT scores were:
BBFL - 129.85
CARS - 128.89
CPBS - 129.22
PSBB - 129.37
Total - 517.33
Although there is no application cutoff in terms of grade point average or MCAT scores, academic excellence is expected.
Interviews
Do you conduct interviews in any area of the country outside of Boston?
At present, all interview sessions are held in the Boston area.
What are the interviews like? Is it one-on-one or a panel of interviewers?
Applicants invited to interview for the Pathways or HST program meet one-on-one with members of the Committee of Admissions. Students applying for the MD/PhD program have additional interviews.
Can I come visit Harvard Medical School for a tour?
Tours of the HMS campus are only offered during the summer months. Should you be invited for an interview, a campus tour will be provided at that time. If accepted at HMS, another opportunity for a tour will be available during our 'second-look visit' in the spring.
Financial Aid
Does Harvard Medical School offer financial assistance to its students?
Harvard Medical School provides financial assistance to over 70% of the student body. More information can be found at the HMS Financial Aid Office website.
Life at HMS
How many faculty members are there? What are the opportunities to work with a faculty member interested in the same things I am?
With over 11,000 faculty and 17 affiliated facilities, students have ample opportunity to find faculty with shared interests. All students are encouraged to make use the Scholars in Medicine Office searchable database of hundreds of research, clinical and volunteer opportunities.
What kind of extracurricular activities and other student groups are there at HMS that I can join?
There are many opportunities for HMS students to be involved, and participation is encouraged. Please refer to the following: The Office of Student Affairs, the Office of Multicultural Affairs, and the Scholars in Medicine Office for more information on student life.
I want to pursue a dual degree, maybe in public health or public policy. What kind of programs are in place for obtaining a duel degree at Harvard?
Both Pathways and HST students have the opportunity to enroll in several combined degree programs offered in conjunction with other Schools of Harvard University and with MIT. Among them are the MD-PhD, the MD-MPH (Master of Public Health), the MD-MPP (Master of Public Policy), and the MD-MBA (Master of Business Administration). Other degrees can be combined with the M.D. degree, in consultation with HMS academic advisors.  With the exception of the MSTP/PhD program, application for the other degree occurs after matriculation at the medical school.
What is the make-up of the incoming class?
Members of the 2016 HMS entering class:
from 65 undergraduate institutions, 35 states and 8 foreign countries
71% of whom majored in the sciences
51% are women, 49% are men
16% are from groups that are traditionally underrepresented in medicine
the class ranges in age from 21-33
International Students / DACA
I am a foreign student. Will that affect my chances of getting in to HMS?
Foreign students who have studied for at least one year at an accredited institution in the United States or Canada, and have completed the requirements, are eligible to apply at HMS. International applicants should make every effort to take the majority of required courses at an accredited college or university in the United States or Canada. Foreign students who do not have a baccalaureate or advanced degree from an institution in the U.S. or Canada are rarely offered admission.
Do I need to take the TOEFL to test my English fluency?
You do not need to take the TOEFL. However, we do require, at minimum, one year of previous education taught in the United States or Canada as a prerequisite to admission. Fluency in English is expected.
My undergrad degree is from an institution outside of the United States and Canada. Can I still apply to HMS?
A limited number of required courses taken outside the U.S. or Canada may be used to fulfill requirements, to be determined on a case-by-case basis. Every effort should be made to take the majority of required courses at an accredited college or university in the U.S. or Canada. In any case, at least one year of full-time academic work in the U.S. or Canada is required. Foreign students who do not have a baccalaureate or advanced degree from an institution in the United States or Canada are rarely offered admission.
Are international students eligible for financial aid?
International Students are eligible to apply for need-based financial institutional scholarships and loans. More information can be found at the HMS Financial Aid Office website.
Do you consider applications from students who are eligible for Deferred Action for Childhood Arrivals status (DACA)?
Yes, on the same standing as all other candidates.  If admitted, DACA-eligible students are eligible for HMS institutional financial aid.  Students are responsible for obtaining and maintaining DACA status.
Letters of Evaluation
What are your policies regarding letters of recommendation?
All letters of evaluation must be submitted to AMCAS.
You are allowed up to six (6) letters of recommendation in support of your application. When considering the total number of letters to submit, please note the following:
At least (2) letters should be from professors in the sciences with whom you have taken classes.
At least one (1) letter should be written by a professor who is not in the sciences.
We should receive letters from all of your research supervisors. This is true for both applicants to the MD/PhD program as well as applicants to the MD only track.
If you wish to supplement a premedical advisory committee evaluation packet with additional letters of recommendation, count the packet as one (1) letter towards the six letter maximum.
We do not require letters of recommendation from employers, but if you have been out of school and working it is advisable to have a letter sent from your place of employment.
What happens if my letters of recommendation are received by AMCAS after the deadline?
Your materials will still be processed, but you will not receive any confirmation when your file becomes complete. We cannot guarantee that late letters will be included when your file is reviewed by the Committee. We begin reviewing incomplete files shortly after our October 23rd deadline and files are reviewed on the basis of the materials on hand at the time that they are presented to the Committee.
Our
Mission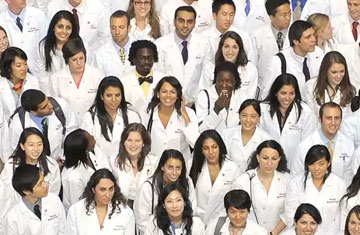 To create and nurture a diverse community of the best people committed to leadership in alleviating human suffering caused by disease.