Resident as Teacher
Resident as Teacher
Co Chairs:
Tracey Cho, MD MA
Hope Ricciotti, MD
Thomas Sandora, MD 
---
Goals and Achievements 
2017-2018 Meeting Agendas 
Archives: Meeting Minutes/ Agendas 
Resources
Past Programming 
---
Spring 2018
Monday, March 5th 4-5:00PM TMEC 104 - RSVP
Thursday, May 10th 4-5:00PM TMEC 104 - CANCELED  
---
Goals:
The Resident as Teacher Interest Group aims to provide guidance to faculty and chief residents in creating formal curricula to help train residents and fellows as teachers. Our goals are to: (1) create a best-practice curricula for Harvard training programs so all house staff receive formal training and evaluation in teaching skills; (2) ensure all trainees understand the goals and objectives of Harvard Medical students in the various rotations.
 
---
03/05/2018 Meeting: Agenda
11/06/2017 Meeting: Agenda/Minutes 
---
Archives: Meeting Minutes/ Agenda 
12/16/2016 Meeting: Agenda
04/04/2016 Meeting: Agenda 
01/08/2016 Meeting: Agenda 
10/15/2015 Meeting: Agenda 
5/01/2015 Meeting: Agenda
​6/6/2014 Meeting: Agenda
4/7/2014 Meeting: Agenda
1/24/14 Meeting: Agenda
10/18/2012 Meeting: Agenda
9/26/2011 Meeting: Minutes
11/15/2010 Meeting: Minutes
8/25/ 2010 Meeting: Minutes 
---
Teaching and Learning During Consultation Bibliography
Ilgen, Jonathan S. Back to the Bedside: The eight year evolution of a resident-as-teacher rotation. Journal of Emergency Medicine. 2010.
Resident as Teacher Bibliography
Resident as Teacher ACE draft
Resident as Teacher: Teaching in the Clinical Setting Powerpoint by the RAT Interest Group
---
Interest Group Resources:
(Please note: In order to view the resources below, you must be logged into eCommons in a separate tab in the same browser window in order to view).
Instructions to view password protected resources:
Press CTRL+T to open a new tab
Log into eCommons in that new tab
Return to the Academy website tab and click on the resource you wish to view
If you are logged in as instructed, the article/ resource will pop up. If you are not logged in as instructed, you will receive an error message.
---
Resident as Teacher Interest Group Faculty Programming: 
Resident as Teacher Academy Interest Group Symposium: Resident/Fellow as Teacher Leadership Curriculum Showcase
Thursday, September 7, 2017 ~ 3:00 - 5:00 PM 
The Resident as Teacher Leadership Curricula Showcase was an opportunity to learn about the leadership curricula for trainees currently being offered in Harvard-affiliated residency programs and fellowships. Leadership skills are increasingly recognized as vital to being a good educator and clinical manager, and training programs aim to help trainees become leaders in medicine. Area faculty and trainees were invited to present some of their best offerings in leadership training, curricula, and other programing with other residency program directors, fellowship directors, and core faculty in order to provide programs with ideas and tools to implement formal leadership instructions for trainees.  
---
Resident as Teacher Academy Interest Group Symposium: Teaching and Learning from Consultation 
Thursday, February 25, 2016- 3:00-5:00 PM
The frequency of consultation in inpatient medicine is increasing. Therefore, the specialty consultation represents an important opportunity for resident work-based learning. Teaching in the setting of inpatient consultation may also have a broad reaching impact by improving patient care, enhancing critical thinking by our learners, empowering the primary team to participate in care decisions and improving the teaching skills of future faculty. However, teaching in the setting of consultation can be challenging due to multiple factors.
This symposium will examine factors affecting the consult interaction, propose interventions to enhance the consult interaction, particularly between residents and fellows and focus on two skills important for teaching during consultation 1) how to ask effective questions to engage and assess the learner and 2) utilize a framework for teaching in the time-limited setting of consultation.
The symposium will provide participant trainees skills that can be used to teach during consultation and will help program directors and consultants teach such skills to trainees. 
click here for more information
---
Resident/Fellow as Teacher Programs and Curricula from the Harvard Training Programs click here for more information 
Wednesday, September 17, 2014 – 3:00-5:00 pm
Hope Ricciotti, M.D., and Tracey Cho, M.D.
The Resident as Teacher Interest Group from the Academy at Harvard Medical School (HMS) is sponsoring a showcase to highlight and share Resident/Fellow as Teacher programs and curricula from the Harvard training programs. HMS faculty and trainees will present some of their best offerings in Resident/Fellow as Teacher trainings, curricula, assessments, and other programming in order to share ideas. 
Our
Mission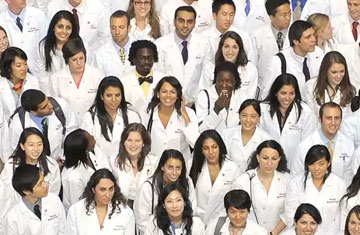 To create and nurture a diverse community of the best people committed to leadership in alleviating human suffering caused by disease.