Peer Observation
Peer Observation
Co Chairs:
Ayse Atasoylu, MD 
Susan Burgin, MD 
---
Goals and Achievements
Minutes and Articles
Resources
---
Spring 2018
Friday, March 2nd 12:00-1:00PM Conference Call - RSVP
Friday, May 4th 8-9:00AM Conference Call - RSVP
---
Goal and Achievements:
The primary goals of the HMS Academy's Interest Group in Peer Observation of Teaching are to develop a culture of teaching improvement across HMS; provide individualized faculty development for those involved in teaching at the UME, GME, and CME levels; and generate a community-wide conversation about best teaching practices.
To assist HMS with its current efforts to cultivate use of interactive teaching strategies that foster active learning and encourage critical thinking and reflection, during AY2014, the Interest Group focused its attention on exploring and gaining a better understanding about the flipped classroom method.  While there are many ways to "flip a classroom," a unifying characteristic of all such classrooms is to direct attention away from the instructor and onto the students and their application of learning.  To sample various flipped classroom approaches presently used at HMS, we received permission to observe the Integrated Human Physiology (IHP) course in which faculty deliberately use interactive and flipped classroom techniques during their large group discussions. As a result, the Interest Group (IG) engaged in the following activities:
•    12  interest group members conducted 22 observations of the IHP large group sessions. 
•    IG members completed a post-observation survey after the IHP sessions. From the result of this survey, 10 structured themselves were identified including: 
•    learning environment 
•    Student preparation and readiness 
•    Sequencing, timing, and flow of class activities 
•    Instructors' use of questions and active learning techniques 
•    Instructors' promotion of critical thinking 
•    Student engagement collaboration, and participation 
•    Co-teaching techniques and instructional interplay among multiple faculty members 
If you  have any information of current HMS and HMS-Affiliated peer observation faculty teaching activities, please help us gather data by filling out this form: 
Peer Observation of Faculty Teaching Activity Form
---
03/02/2018: Agenda
03/03/2017: Agenda 
11/18/2016: Agenda
Updated CBCL worksheet 
02/22/2016 Meeting: Agenda
Minutes 
11/6/2015 Meeting: Agenda 
9/21/2015 Meeting:
Minutes
Worksheet
6/24/2015 Meeting: Agenda 
Worksheet 
5/14/2015 Meeting: Agenda 
Sign up sheet 
Work Sheets 1 2 & 3 
3/6/2015 Meeting: Agenda 
Minutes 
Worksheet
Article 
10/1/2014 Meeting: Agenda
**Important article to read about Flipped Classroom Definition - Click here
6/5/2014 Meeting:
Minutes
4/3/2014 Meeting:
Minutes
Summary of IHP Observation Questions
1/16/2014 Meeting:
Minutes
12/05/2013 Meeting: Agenda
Flipped Classroom Observation Schedule
"The Post-Lecture Classroom: How Will Students Fare?" by Robinson Meyer
Article: The Flipped Classroom
11/14/2013 Meeting
Minutes
Thought Questions Flipped Classroom
10/02/2013 Meeting: Agenda 
Minutes
Small group observation instrument
Peer Assessment Instrument
9/12/2013 Meeting: Agenda
Minutes  
Medical Education Reimagined: A Call to Action.
Just Imagine: New Paradigms for Medical Education.
What's Different about the Inverted Classroom?
Lecture Halls without Lectures—A Proposal for Medical Education.
6/19/2013 Meeting:
Minutes
IN752 Course Description
Analyses of Host and Observer Feedback – Medical Ethics Course
1/2/2013 Meeting: Agenda
Minutes
2010-2012 Meetings
11/1/2010 Minutes
2/14/2011 Minutes
4/25/2011 Minutes
9/20/2011 Minutes 
11/15/2011 Minutes
1/25/2012 Minutes
10/31/2012 Meeting:
10/31/2012 Agenda
Medical Ethics Course Description
Small Group Discussion Observation Form
12/12/2012 Meeting:
12/12/2012 Agenda
12/12/2012 Minutes
Medical Ethics Course Calendar
---
Active learning increases student performance in science, engineering, and mathematics PNAS 2014 ; published ahead of print May 12, 2014, doi:10.1073/pnas.1319030111
Brinko, Kathleen T. The Practice of Giving Feedback to Improve Teaching: What is Effective? The Journal of Higher Education, Vol. 64, No. 5 (Sep. - Oct., 1993), pp. 574-593.
De Villiers, Mariet. The Delphi Technique in Health Sciences Education Research. Medical Teacher. 2005. Vol 27;7.
Finn, Kathleen. How to become a better clinical teacher: A collaborative peer observation process. 2011. Medical Teacher. 2011; 33. Pp.151–155.
Siddiqui, Zarrin Seema. Twelve tips for peer observation of teaching. 2007. Medical Teacher. 29: Pp. 297–300.
Small Group Discussion Observation Guide
Summary of 2010-2011 Activities
---
(Please note: In order to view the resources below, you must be logged into eCommons in a separate tab in the same browser window in order to view).
Instructions to view password protected resources:
Press CTRL+T to open a new tab
Log into eCommons in that new tab
Return to the Academy website tab and click on the resource you wish to view
If you are logged in as instructed, the article/ resource will pop up. If you are not logged in as instructed, you will receive an error message.
Our
Mission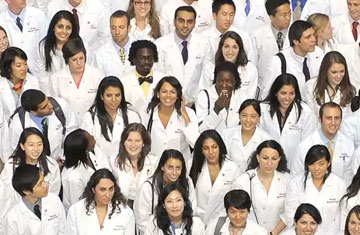 To create and nurture a diverse community of the best people committed to leadership in alleviating human suffering caused by disease.