Lived Curriculum
Lived Curriculum
Co Chairs:
Jason Fogler, PhD
Arabella Simpkin, MD 
 
---
Spring 2018
Monday, February 12th 4-5:00PM TMEC 304 - RSVP
Monday, April 2nd 4-5:00PM TMEC 304 - RSVP
Monday, June 4th 4-5:00PM TMEC 304 - RSVP   
---
Goals
Minutes and Agenda
Resources
---
Goals:
The Hidden Curriculum Interest Group explores the various ways in which the culture of our learning environments supports or hinders the professional development of our students. We are particularly interested in disparities between what we at HMS say we do and what we actually do. There are five areas of focus with dedicated subcommittees:
1. Assessment of hidden curriculum/Developing metrics
2.Self-awareness and self-reflection 
3.Hidden Curriculum and patient safety 
4.Medical student mistreatment/respectful environments 
5. Organized culture change with a focus on the changes strategies of Appreciative inquiry and Public narrative 
---
 
The Academy Hidden Curriculum Interest group met four times over the course of the most recent academic year. In addition, the group planned and led a symposium dedicated to the topic of culture change in academic medicine.  The symposium, featuring Ed Hundert, Jo Shapiro and Gary Gottllieb as speakers, was well-attended and stimulated inter-institutional conversation about optimizing the learning culture at Harvard Medical School and .Through discussion and participant feedback, the symposium identified several key areas ripe for exploration, including: enhancing interprofessional learning (and inclusivity in general); following the Academy's lead in promoting the value of educators; modeling transparency and accountability; breaking down silos between departments, across hospitals, and between hospitals and the medical school, and creating a unified identity of health care professionals at HMS; enhancing flexible career paths; adopting routine practices that emphasize an intentional commitment to education such as "focusing on face time with patients and learners instead of computers," and shifting the "I culture" of competition to a "we culture" of collaboration. 
Another major activity of the interest group was exploration of potential interactions between the new curriculum reform in progress at HMS and the hidden curriculum.  Over several sessions and ongoing discussion, the interest group is considering ways to harness the new curriculum to reinforce principles of reflective practice, that emphasize positive aspects of the hidden curriculum and mitigate negative ones.
Lastly, the members enjoy sharing with one another their own scholarship and activities relevant to the hidden curriculum, as well as humanism and professionalism education more broadly.  Interest group meetings often include discussion of members' individual work, providing opportunities for synergy and collaboration.
---
Meeting 2/12/2018: Agenda
Meeting 12/6/2017: Agenda
Meeting 10/11/2017: Agenda
Minutes  
Meeting 04/19/2017: Agenda
Meeting 03/01/2017: Agenda 
Meeting 02/10/2017: Agenda 
Meeting 11/30/2015: Agenda
---
(Please note: In order to view the resources below, you must be logged into eCommonsin a separate tab in the same browser window in order to view).
Instructions to view password protected resources:
Press CTRL+T to open a new tab
Log into eCommons in that new tab
Return to the Academy website tab and click on the resource you wish to view
If you are logged in as instructed, the article/ resource will pop up. If you are not logged in as instructed, you will receive an error message.
Our
Mission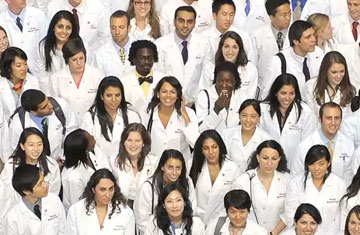 To create and nurture a diverse community of the best people committed to leadership in alleviating human suffering caused by disease.