Feedback and Evaluation
Feedback and Evaluation
Co Chairs:
Keith Baker, MD, PhD
Jeffrey William, MD 
---
Goals and Achievements
Minutes and Agendas
Resources
Bibliography
---
Spring 2018
Thursday, January 11th 4:30-5:30 PM TMEC 333 - RSVP
Thursday, March 15th 4:30-5:30 PM TMEC 333 - RSVP
Thursday, April 5th 4:30-5:30 PM TMEC 333 - RSVP
---
The HMS Academy Interest Group on Feedback and Evaluation has the following goals and objectives: (1) highlight the formative and summative means of providing feedback to medical students, residents and fellows regarding their performance in didactic settings, including lectures, seminars, small group tutorials, and in their clinical performance in rotations.; (2) highlight the formative and summative means of providing faculty peer feedback in the teaching roles in lectures, seminars, small group tutorials and in clinical rotations; (3) define the ways in which feedback and evaluation may be delivered, received and elicited in didactic and clinical settings; (4) provide local and national evidence-based instruments that may be used as guidelines in the formulation of feedback and evaluation; (5) make the instruments for feedback and evaluation available to the HMS community on the Interest Groups' webpage; (6) provide an annotated bibliography of the best research and review papers on feedback and evaluation to the HMS community; (7) develop local teaching modules at HMS teaching hospital and mini-symposia for the HMS community on the best practices of feedback and evaluation of students, residents, fellows and faculty; (8) Provide the HMS community with an online module for students, residents, fellows and faculty for understanding and fostering giving, receiving and eliciting feedback; (9) coordinate with other HMS Academy Interest Groups that have relevance to feedback and evaluation, such as the group on Critical Thinking; Residents as Teachers and Peer Observation; (10) Facilitate the incorporation of effective means of feedback and evaluation in the New Curriculum Reform at HMS.
---
12/7/2017 Meeting: Agenda 
11/09/2017 Meeting: Agenda 
Article
10/12/2017 Meeting: Agenda 
Article 
Power Point 
06/13/2017 Meeting: Agenda
Article 1 
Article 2 
01/17/2017 Meeting: Agenda 
2/09/2016 Meeting: Agenda
Article 
9/30/2015 Meeting: Agenda 
4/11/2014 Meeting: Agenda
2/6/2014 Meeting: Agenda
Minutes
---
Video series - 
Improving our feedback: A demonstration and discussion
---
Synopsis: Frame-Based Feedback is aimed at providing feedback that takes into account the thought processes and perspective of the other person. This requires that the educator take the time to inquire about why the other person choose to act as they did. More often than not, the educator will gain insights into why things happened that can then be used to craft more helpful and effective feedback.
Video: Frame-Based Feedback: Learning the "Frame" of the other person is a key ingredient in the feedback process
---
Synopsis: In this type of feedback, the attending physician approaches the feedback receiver in an open and supportive manner. However, she does not ever mention the receivers' main problem. Instead she asks multiple questions hoping that the receiver will identify or guess the problem herself. Often, this approach does not work since most of the time the receiver does not have the insight needed to identify the problem. Thus, this non-judgmental and non-corrective feedback is not recommended since the learner never hears about the concern.
Video: Non-Judgmental Feedback
---
Synopsis: It is just as important to give positive feedback as it is to give negative feedback. General encouragement is nice but not nearly as helpful as by providing specific examples. By telling the trainee specifically what they did well, as demonstrated in this video, the trainee will not only get positive feedback but will also know exactly what they did well, which reinforces learning. 
Video: Giving Positive Feedback
---
Synopsis: Giving feedback "up the ladder" is when a trainee provides feedback to their supervisor. In this video the feedback is aimed at an aspect of the faculty member's teaching style. Feedback is delivered in a non-threatening, collaborative manner in an attempt to solve problems that exist, and to propose potential solutions. Supervisors can gain valuable insight into their teaching and supervisory style, and make changes to improve their teaching.
---
Synopsis: Skillfully debriefing a negative outcome can convert a difficult experience into a rich learning opportunity. It is important to create a comfortable space for the learner to share their "frame" (i.e. how they understand the event and its cause). This approach can reveal the specific area that needs attention and the educator can then tailor the educational intervention to the learner. Educators should model a supportive and collaborative approach to addressing medical errors, and assume that the learner's intention is to provide excellent medical care. 
---
Evaluation Instruments:
HMS Psychiatry Clerkship Student Case Presentation Evaluation Form
HMS Psychiatry Clerkship Mid-Rotation Feedback Form
Measure developed for the psychiatry residents to rate their own competency using Cognitive Behavioral Therapy
Web-based Resident Evaluation General Form
(Please note: In order to view the resources below, you must be logged into eCommons in a separate tab in the same browser window in order to view).
Instructions to view password protected resources: 
Press CTRL+T to open a new tab
Log into eCommons in that new tab
Return to the Academy website tab and click on the resource you wish to view
If you are logged in as instructed, the article/ resource will pop up. If you are not logged in as instructed, you will receive an error message.
---
Feedback and Evaluation Bibliography (click here to view bibliography with abstracts):
Baker, Keith. "A Paradigm shift in GME: Evidence and Principles from Cognitive Science Will Bring Change to How we Teach and Learn." 2009. Determining Resident Clinical Performance: Getting Beyond the Noise. Anaesthesiologist.2011.115:1-1
Bing-You, RG. Paterson, J. "Feedback Falling on Deaf Ears: Residents' Receptivity to Feedback Tempered by Sender Credibility." Med Teach 1997;19:40-4.
Blackwell, L., Trzesniewski, K., and Dweck, C.S. 2007. Implicit Theories of Intelligence Predict Achievement Across an Adolescent Transition: A Longitudinal Study and an Intervention. Child Development 78 (1): 246-263.
Brosvic, Gary M. "Acquisition and Retention of Esperanto: The Case for Error Correction and Immediate Feedback." The Psychological Record. 2006;56.
Cavalcanti, Rodrigo., Detsky, Allan. The Education and Training of Future Physicians: Why Coaches Can't Be Judges. JAMA. 2011. 306;9.
Dweck, Carol S., Mueller, Claudia M. "Praise for Intelligence Can Undermine Children's Motivation and Performance." Journal of Personality and Social Psychology. 1998, Vol. 75, No. 1, 33-52.
Ende, Jack. Feedback in Clinical Medical Education. JAMA. 1983;250:777–81.
Fidler H. Lockyer JM, Toews J, Vilato C. "Changing physicians' practices: the effect of individual feedback." Acad Med. 1999;74:14.
Goldman, Stuart. "The Educational Kanban: Promoting Effective Self-Directed Adult Learning in Medical Education." Academic Medicine. 2009;84:7.
Grant, H., & Dweck, C. S. (2003). Clarifying achievement goals and their impact. Journal of Personality and Social Psychology, 85, 541-553.
Hong, Y., Chiu, C., Dweck, C. S., Lin, D. M. and Wan, W. (1999). Implicit theories, attributions, and coping: A meaning system approach. Journal of Personality and Social Psychology, 77, 588-599.
Kamins, M., & Dweck, C. S. (1999). Person vs. process praise and criticism: Implications for contingent self-worth and coping. Developmental Psychology, 35, 835–847.
Kluger, Avraham N. DeNisi, Angelo. "The Effects of Feedback Interventions on Performance: A Historical Review, a Meta-Analysis, and a Preliminary Feedback Intervention Theory." Psychological Bulletin. 1996, Vol. 119, No. 2, 254-284.
Kogan, Jennifer R.; Holmboe, Eric S.; Hauer, Kristin R. "Skills of Medical Trainees: A Systematic Review: Tools for Direct Observation and Assessment of Clinical." JAMA. 2009;302(12):1316-1326
Mangels, J. A., Butterfield, B., Lamb, J., Good, C. D., & Dweck, C. S. (2006). Why do beliefs about intelligence influence learning success? A social cognitive neuroscience model. Social Cognitive and Affective Neuroscience (SCAN).
Mann, Karen. Tensions in Informed Self-Assessment: How the Desire for Feedback and Reticence to Collect and Use It Can Conflict. American Medicine. 2011. 86;9.
Milan, Felise B. "How am I doing?" Teaching medical students to elicit feedback during their clerkships. 2011. Medical Teacher. Vol 33; No 11. Pp 904-910.
Mueller, C.M., & Dweck, C.S. (1998). Intelligence praise can undermine motivation and performance. Journal of Personality and Social Psychology, 75, 33-52.
Molden, D.C., Plaks, J.E., & Dweck, C.S. (2006). "Meaningful" social inferences: Effects of implicit theories on inferential processes. Journal of Experimental Social Psychology, 42, 738-752.
Plaks, J.E, Grant, H., & Dweck, C.S. (2005). Violations of implicit theories and the sense of prediction and control: Implications for motivated person perception. Journal of Personality and Social Psychology, 88, 245-262.
Norcini JJ. "Peer assessment of competence." Med Educ 2003;37:539-43.
Ramani, Subha B. (2012). Twelve tips for giving feedback effectively in the clinical environment. Medical Teacher, 1:5.
Ramsey PG, Wenrich MD, Carline JD, Inui TS, Larson EB, LoGerfo JP. "Use of peer ratings to evaluate physician performance." JAMA 1993;269:1655-60.
Walker AG, Smither JW."A Five-Year Study of Upward Feedback: What Managers Do with their results matters." Personnell Psychol. 1999;52:393-423.
Our
Mission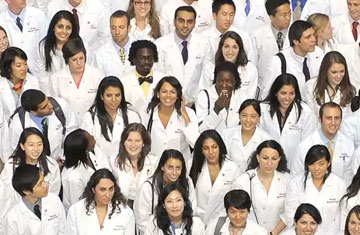 To create and nurture a diverse community of the best people committed to leadership in alleviating human suffering caused by disease.