Cross Cultural Care
Cross Cultural Care
Co-Chairs:
Daniele Olveczky, MD
Clyde Lanford Smith, MD
---
Goals and Achievements
Workshops and events 
Resources
---
Spring 2018
Thursday, January 18th 11:00-12:00PM TMEC 306 - RSVP
Monday, March 26th 9:00-10:00AM TMEC 304 - RSVP 
Thursday, April 26th 9:00-10:00 AM TMEC 330- RSVP
Thursday, May 17th 9:30-10:30AM TMEC 304 - RSVP
Monday, June 4th 11:00-12:00PM TMEC 334 - RSVP
---
The specific goals of the interest group include: (1) Integrating educational experiences and teaching on cross-cultural care into all core courses in the existing HMS curriculum where it is reasonable to do so; (2)Ensuring that students are taught by faculty members who are well versed in the concepts, principles, and skills of cross-cultural care; (3) Monitoring the quality of cross-cultural care education provided by HMS to medical students through feedback from students and formal evaluation; (3) Developing educational opportunities for medical students, faculty members, and others in the Harvard medical community to learn about cross-cultural care; (4)Undertaking, presenting and publishing scholarly work on the topic of cross-cultural medical education that fosters Harvard Medical School's leadership role on these issues nationally. We have a diverse, enthusiastic and experienced group of educators who share a passion for cross cultural care, some have international backgrounds and others work with underserved communities in some professional or volunteer capacity.  
---
Meeting Minutes and Agenda: 
11/13/2017: Agenda
10/02/2017: Agenda 
09/11/2017:
Minutes 
03/04/2016: Agenda 
---
Workshops sponsored by Cross Cultural Care Interest Group:
---
Resources 
Pre Workshop 
Article 1
Article 2 
Article 3
Article 4
Post Workshop 
Please click here for post workshop wrap up and resources 
---
Diversity as a Quality Indicator in Medical Education
Resources
Article 1
Article 2
Article 3 
Article 4 
Bibliography
Presentation 
---
Resources:
Article 1: A Silent Curriculum 
Article 2: When a Family Request a White Doctor 
Article 3: Responding To Biased or Offensive Comments 
Article 4: Interrupting Biased and Stereotype Comments 
---
---
Instructions to view password protected resources
Press CTRL+T to open a new tab
Log into eCommons in that new tab
Return to the Academy website tab and click on the resource you wish to view
If you are logged in as instructed, the article/ resource will pop up. If you are not logged in as instructed, you will receive an error message.
(Please note: In order to view the resources below, you must be logged into eCommons in a separate tab in the same browser window in order to view).
Our
Mission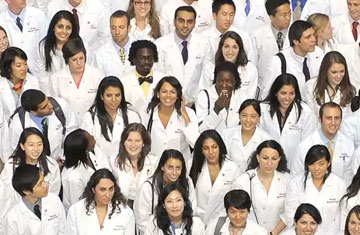 To create and nurture a diverse community of the best people committed to leadership in alleviating human suffering caused by disease.