Communication, Compassion and Empathy
Communication, Compassion, and Empathy
Co-Chairs:
Amy Sullivan Ed.D
Kristen Schaefer M.D.
---
Goals and Achievements
Meeting Minutes and Agenda 
Resources
---
AY18 PROGRAMING WILL BE COMING SOON! 
---
Goals :
Workshop planned for Spring 2016 on Co-Creating Learning Agreements with students, residents, and other learners. Dates to be announced. This workshop will lead faculty through an exercise to identify the values, expectations, and needs of faculty and learners in a range of settings, including classroom, small groups, clinical teaching during rounds or at bedside. The purpose is to create a set of shared values and practices to enhance faculty-learner communication and to build a culture of care and mutual respect in the training environment.  
Seminar on Communication, Compassion, and Empathy is being developed and is planned for Spring 2017. We will update this as plans develop.
Achievement (s) :
Our group developed two learning guides that have been used successfully with students and faculty in the new curriculum. We will continue to develop these materials for dissemination in other settings and for new students in coming years. See documents here. 
---
03/08/2017 Meeting: Agenda 
02/08/2017 Meeting: Agenda 
04/28/2016 Meeting: Agenda 
02/24/2016 Meeting: Agenda and Minutes 
11/18/2015 Meeting:  
Article 1
10/15/2015 Meeting: Agenda 
09/16/2015 Meeting: Agenda
Article 1 
Article 2
---
---
Instructions to view password protected resources
Press CTRL+T to open a new tab
Log into eCommons in that new tab
Return to the Academy website tab and click on the resource you wish to view
If you are logged in as instructed, the article/ resource will pop up. If you are not logged in as instructed, you will receive an error message.
(Please note: In order to view the resources below, you must be logged into eCommons in a separate tab in the same browser window in order to view).
Our
Mission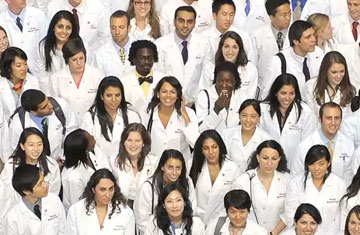 To create and nurture a diverse community of the best people committed to leadership in alleviating human suffering caused by disease.