Past Fellows in Medical Education Research
Past Fellows in Medical Education Research
​
Henrike Besche, PhD
Lecturer on Cell Biology, Harvard Medical School
Project Title: Using item response time to assess item quality on open-book online quizzes and inform course design
Dr. Besche trained in Germany and holds a master and a PhD in Biochemistry. In 2001 she graduated with distinction from the Ruhr-University-Bochum, Germany and then conducted her graduate studies at the Max-Planck-Institute of Biochemistry in Munich. After receiving her PhD in 2004 she came to Harvard Medical School as Research Fellow in the Department of Cell Biology. In 2012 Dr. Besche joined the Curriculum Fellows Program at HMS and since then Dr. Besche has become deeply involved in helping design an interdisciplinary first-year introductory course called "Foundations".  Dr. Besche tremendously enjoys creating in class activities that foster teamwork and critical thinking, and in her ongoing research project she investigates how readiness assessment quizzes can be designed to be most useful for the learner. 
Jeffrey William, MD
Clinical Fellow in Medicine, Beth Israel Deaconess Medical Center
Project Title: Improving Pre-Dialysis Education through the application of Self-Determination Theory
Dr. Jeffrey William is currently a 2nd year fellow in the Division of Nephrology at the Beth Israel Deaconess Medical Center.  His current research endeavors include designing and evaluating an intervention to improve pre-dialysis education, investigating the effects of therapeutic hypothermia for cardiac arrest on renal outcomes, and exploring the relationship between pre-operative elevated central venous pressure and acute kidney injury.  He has a keen interest in medical student and resident teaching and has been actively involved in curriculum and content development for the Homeostasis I and II courses in the upcoming Harvard Medical School curriculum.  He will be joining the faculty in the Division of Nephrology at BIDMC and BID-Needham and will also be part of the core teaching faculty as an Instructor of Medicine at HMS this coming academic year.
---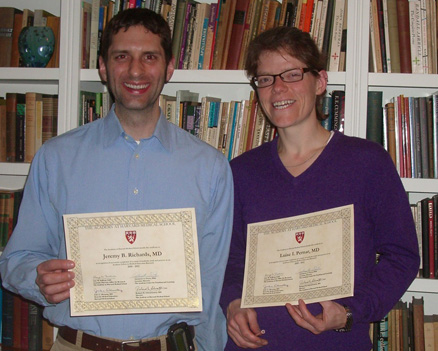 Luise Pernar, MD
Luise Pernar, MD, is a surgical resident at Brigham and Women's Hospital. Dr. Pernar's research examines the operating room as a learning environment for the training of safe surgeons.  Under the mentorship of Dr. Lisa Breen, Dr. Pernar's research uses cognitive task analyses to examine the content of operating room teaching and teaching in the simulation center to determine how to optimize and streamline the educational process. Dr. Pernar is also studying the uses and value of methods of assessment of medical students in surgical clerkships, including observation of patient care using the mini-CEX (Clinical Evaluation Exercise) and faculty-administered oral exams.
Jeremy Richards, MD MA
Jeremy B. Richards, MD, is Instructor of Medicine in the Beth Israel Deaconess Medical Center Division of Pulmonary,Critical Care & Sleep Medicine.  Dr. Richards' primary research interests involve assessing components of curiosity and inquisitiveness in medical students and residents. He is currently engaged in a prospective study (with Dr. David Roberts) tracking measures of curiosity in medical learners as they progress through their training. In addition to measuring indices of curiosity, he is employing qualitative needs assessments to identify strategies with which to develop curricula and educational interventions intended to prevent decline in curiosity and inquisitiveness during medical school and residency training.
Our
Mission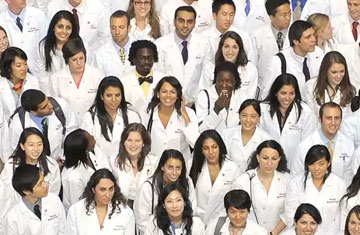 To create and nurture a diverse community of the best people committed to leadership in alleviating human suffering caused by disease.