Research Fellowship
Fellowship in Medical Education Research
---
Effective education policy and practices depend on evidence produced by sound educational, social, and behavioral research methods. The right methods provide the tools to ask meaningful questions about the individual, social, institutional, and cultural factors related to medical education, from the undergraduate and postgraduate programs to faculty development and continuing education. They allow us to develop and assess evidence-based interventions to improve teaching and learning, enhance clinical skills and change clinician practice behaviors. Medical education researchers require familiarity with both qualitative and quantitative methods of inquiry to elucidate the complex nature of medical education and practice, develop efficient and effective psychosocial and behavioral interventions to improve teaching, learning, and health care practice, and evaluate interventions developed to improve clinical training and ultimately patient and family outcomes. Finally, all aspects of medical education research must be carried out with a clear understanding of ethical conduct, knowledge of regulations related to protection of human subjects, and an appreciation of and respect for the needs and strengths of different student, faculty, and patient populations.
The Academy fellowship in medical education research is a two year program available to Harvard affiliated fellows or surgical residents who hold an MD or PhD. Fellows meet twice monthly for two hour sessions with the Program Directors. The focus of this program is to develop core skills in social science research methods as applied to undergraduate, graduate and continuing education in the health professions. Both clinicians and non-clinicians are welcome to participate.
This program will prepare fellows to apply social science research methods to educational issues in medicine and health care. Through lectures, discussion, in-class practice, and projects, fellows will gain familiarity with a range of social and behavioral approaches to studying medical education and evaluating psychoeducational and behavioral interventions, with an emphasis on interview and survey research methods.
Program Director: Amy Sullivan, EdD
For more information, please contact academy_research@hms.harvard.edu
Our
Mission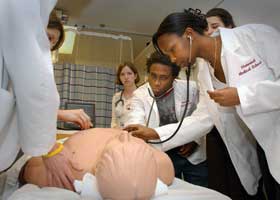 To create and nurture a diverse community of the best people committed to leadership in alleviating human suffering caused by disease