Educational Research Review Process
Educational Research Review Process
The Academy is responsible for the scientific review and approval of educational research with HMS students as research subjects. The Academy Scientific Review Committee will review the application to ensure proposals meet acceptable standards of scientific rigor and merit and align with the HMS educational mission, values, and priorities.  All questions related to the Academy approval process can be directed to academy_research@hms.harvard.edu.
HMS Priorities for research with students include: research related to curriculum change efforts; studies that provide evidence for specific pedagogic approaches that are not already demonstrated to be effective in existing literature; research that will contribute to theoretical or conceptual models of teaching and learning.
In general, studies that are limited in generalizability, focus narrowly on career choice in a specific field, or attitudes toward particular topics of study are not likely to receive approval. In particular, because requests to conduct surveys have increased in recent years, we encourage faculty who wish to conduct surveys to ensure that the survey instrument is of high quality, has been validated or sufficiently pilot-tested, and is as brief as possible (preferably 15 minutes or less). Consultation is available through the Academy Office for Research for faculty who wish to have their survey reviewed prior to proposal submission.
---
How do I get started?
You will need to submit your proposal either on your hospital's IRB forms OR on the HMS IRB's forms (available at irb.harvard.edu). Please contact the Academy Office of Education Research for guidance.
 
What is the process for review?
Step 1: Prepare the following documents for submission: Checklist for Proposal Submission  
Protocol 

​Please be sure to give background, prior literature, importance of study, target population, sample size, justification, methods of data collection and analysis, and expected response rate.
Instruments (surveys, interview guides, other)
Consent form(s) (if applicable)
Letter of Support (e-mail is acceptable) from clerkship or course director(s), if applicable
Recruitment materials (flyers, brochures, email text, study fact sheets) (if applicable)
Cover letter addressed to the Academy Review Team, describing the following (1) title and purpose of study; (2) importance of study; (3) which medical students (and how many) will be invited to participate (for example, all first year students (n=165), or all students participating in a specific hospital clerkship; (4) justification for selecting students as target population rather than other groups (for example, why is it relevant for students rather than residents, or year 2 students rather than year 4 students; (5) time required for student participation; and (6) if a new curricular component is being added to a course or clerkship, what existing elements it will be replacing. If your study involves a course or clerkship and you are the course or clerkship director, please state so in your letter; if you are not the course or clerkship director, please provide the name of the director and confirm that you have included documentation of approval for the study from the director.

Step 2: Academy  Review Team review

 The Academy Office will send investigators a link to a brief online form where they can describe the involvement of students and timing of data collection. This will allow Academy reviewers to assess the potential research burden on students.

• Academy reviewers will review the protocol for scientific merit, alignment with HMS curricular priorities, and student burden. Initial review results will fall into one of three categories: approved, conditional approval, or not approved. There are many requests to conduct research studies with students as participants, so unfortunately not all proposals can be approved. Applicants who receive conditional approval may choose to revise and resubmit their application. Academy reviewers will provide feedback to investigators within one week.

• Studies that are approved by Academy reviewers are forwarded to the Dean for Students (for survey studies) and the Dean for Education (all studies).

Step 3: IRB review

• The Academy will notify the IRB of the outcome of the Academy review. Studies that receive approval from the Academy and the Offices of the Dean for Students and Dean for Medical Education will be reviewed by the IRB. IRB reviewers will work directly with the PI to address any IRB-related concerns or requirements for revision.

---

IMPORTANT LINKS
Information and forms for submitting your application are available at irb.harvard.edu

Office of Human Research Administration http://hms.harvard.edu/departments/office-human-research-administration

IRB Investigator Manual: http://hms.harvard.edu/departments/office-human-research-administration/investigator-manual
Our
Mission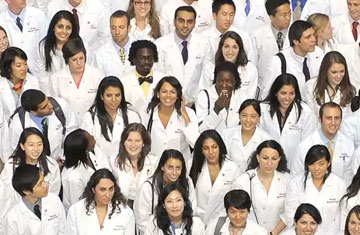 To create and nurture a diverse community of the best people committed to leadership in alleviating human suffering caused by disease.