Academy Insights
Academy Insights
HMS Academy Insights, the Academy's monthly published web-based e-newsletter, promotes and enhances faculty development of a large medical educator community across HMS and its affiliated hospitals. Through publication of the Academy Insights, we link medical educators across institutions, foster collaboration and build community, recognize our members' achievements and highlight academic scholarship in the field of medical education. Academy Insights provides direct links to useful educational resources including journal articles, books, apps, websites, presentations, and other teaching tools
---
---
Doctors, Dreamers and Muslims       
 HMS Academy Cross Cultural Care Interest Group Co-Chairs: 
Daniele Olveczky, MD & Clyde Lanford Smith, MD  

The following faculty and trainees also moderated and presented at this workshop: Martha Cesena, MD, Jason Carr JD, Michael C. Payne, MD MPH, Mohammad Hissain Dar, MD Carlos Estrada Alamo, MD/MBA Class of 2018, Majo Jose Acosta Robayo, Harvard Class of 2020, Edelva Williams, MD and Adebola Yakubu- Owlewa, MD  
On May 24th at 7:30 am the Cross Cultural Care Interest Group held its annual workshop. It was entitled: Doctors, Dreamers and Muslims- working toward the highest possible quality healthcare in the current sociopolitical climate. The aim of workshop was to empower clinicians to advocate for patients and trainees affected by the recent executive immigration orders, as well as to gather tools to understand our own human tendency towards bias, and to heal and teach through those biases. It began with an interactive game designed and moderated by Dr. Michael Payne. The aim of the game was to demonstrate that inequality and prejudice are an unfortunate part of the human condition and that they have often surfaced in our history targeting multiple different groups. Their current reiteration of xenophobia is simple another form of the same underlying "disease" of ethnocentrism and racism. 
Dr. Mohammad Dar presened data about undocumented immigrants in the US. The Pre Center and Migration Policy Institutes estimates that there are about 11 million undocumented immigrants in the US, sixty per cent of whom have been in the country for at least 10 years. In contrast to misconceptions about the criminality of undocumented immigrants, only 2.7% have committed a felony whereas that rate for the native US population is more than double that. The majority of undocumented immigrants pay taxes and rare forms of Medicaid have offered basic coverage, but they often do not quality for other sources of relief. The purpose of the recent executive orders is to hire thousands more ICE (Immigration and Customs Enforcement) officers focusing on expedited removals without a full trial, with the aim of deporting 2-3 million immigrants during this administration. The fear of deportation makes patients more reluctant to seek care. Clinicians should reassure patients that they are not working for the government and are solely present to care for them. One important resource for patients is the Boston Mayor's Office for Immigrant Advancement. 
Dr. Martha Cesena, presented the data about the violence in Central America that compels thousands of families and unaccompanied children to flee. Undocumented immigrant face rejection, but have also received support. The Deferred Action for Childhood Arrivals (DACE) act has allowed Dreamers (young undocumented immigrant who were brought to the United States as children, who have lived and gone to school here, and who, in many cases identify as American) to work. Moreover, institutional support like that at the Loyola University School of Medicine has provided scholarship for 26 Dreamer medical students. 
Carlos Estrada Almo (HMS) and Maria Jose Acosta Robayo (HC) both shared their stories of how they came to ve in the US and the difficulties they faced and continued to face along with the legacy if their traumatic experiences. They also explained how the advent of DACA has enhanced the mental health of those affected, and their families, as well as by extension all of our communities within the USA, Carlos then described how we as clinicians can create a trauma informed environment in our practices. 
Jason Corral, JD of the Harvard University Law School Refugee and Immigration Clinic then answered questions about the resources available at Harvard University to help undocumented and "DACA-mented" students. 
The workshop drew to a close with a group reflection on solutions that we as clinicians can implement in our everyday practices. As an indication of this commitment participants were asked to write down two things that they would do differently as a results of attending the workshop. A listing of resources (available at https://www.dropbox.com/sh/qkza0yf64vrzatb/AAADTo4IMQot8gAtxXpyBj3oa?dl=0) was part of the tool kit made available for use in daily practice. Ninety percent of attendees who completed the workshop evaluations rated the workshop as excellent (5/5 on a scale of 1 to 5), and the other 10% rated the workshop as very good (4 out 5 on a scale of 1 to 5). Attendees commented that they will be more likely to focus on unconscious bias as it affects clinical care, use Harvard resources for legal issues and support learners who are impacted by the new immigration law better. Another attendee commented: "I will be more attuned to challenges faced by students from marginalized groups". The Workshop also helped build the foundation for the upcoming Cross Cultural Care Interest Group Symposium which will focus on the interpretation and other structural considerations of cross cultural care in education and healing!  
To read more from the June Insights click here 
Our
Mission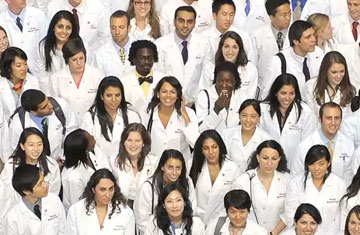 To create and nurture a diverse community of the best people committed to leadership in alleviating human suffering caused by disease.