Academy Insights
Academy Insights
HMS Academy Insights, the Academy's monthly published web-based e-newsletter, promotes and enhances faculty development of a large medical educator community across HMS and its affiliated hospitals. Through publication of the Academy Insights, we link medical educators across institutions, foster collaboration and build community, recognize our members' achievements and highlight academic scholarship in the field of medical education. Academy Insights provides direct links to useful educational resources including journal articles, books, apps, websites, presentations, and other teaching tools
---
---
What is an EPA? HMS Adopts a New Clinical Assessment System      
 Elisabeth Peet, John Dalrymple, Barbara Cockrill 

With the introduction of its 2015 Pathways curriculum, Harvard Medical School's Program in Medical Education embarked on a comprehensive reform of clinical skills assessment based on the Association of American Medical Colleges (AAMC) Core Entrustable Professional Activities for Entering Residency (EPAs).1 The new system was initially designed by the HMS Clinical Skills Assessment Working Group, and then further developed by the newly formed Committee on Assessment. Through iterative consensus building, the AAMC core EPAs were mapped to the Pathways curriculum (Table 1): Pre-Clerkship: EPAs 1, 2, 5, 6; Clerkship: EPAs 1, 2, 3, 5, 6, 7, 9, 12; and Post-Clerkship: all EPAs. Three levels of developmental progression were defined for each EPA: Pre-entrustable, Emerging, and Entrustable. Each developmental level is anchored with observable behavioral descriptors modified from the AAMC EPA Curriculum Developer's Guide. Over twelve months, the Committee on Assessment met regularly for discussion, and incorporated input from students and faculty representing diverse courses including the Principle Clinical Experience, core clinical rotations and many clinical electives before making recommendations to the Dean for Medical Education and Curriculum Committee. This EPA-based framework has now been introduced into the PCE core rotations and is actively being used to assess student clinical skill performance.
What is an EPA? EPAs define those activities that all medical students should achieve by the time they finish medical school and enter residency. They are units of professional practice, defined as tasks or responsibilities that trainees are entrusted to perform unsupervised once they have attained sufficient specific competence. EPAs are independently executable, observable, and measurable in their process and outcome, and, therefore, suitable for entrustment decisions. EPAs differ from competencies in that EPA are units of work, whereas competencies are abilities of individuals. EPAs require integration of multiple competencies usually across different domains. For example, EPA #1 is "Gather a history" which requires assessment of elements of multiple domains including Patient Care, Interpersonal and Communication Skills and Professionalism. Importantly, both Interpersonal and Communication Skills and Professionalism competencies are integrated throughout all EPAs.
Key to the use of EPAs is the concept of entrustability. To achieve entrustability, the student must be able to perform a given activity without direct supervision. The AAMC further delineates levels of supervision which coincide with the degrees of entrustability: direct, indirect but with direct supervision immediately available, and indirect with supervision available by request. The core EPAs are designed to be a minimum graduation requirement. We fully expect our HMS students will continue to meet and exceed the competencies required by the EPAs!
Concurrent with the adoption of EPAs, the Medical School has moved to a new student information platform. Beginning in AY1516, OASIS is the new system of record at HMS that will replace MyCourses. OASIS is an online student information system developed by Schilling Consulting, LLC. It is currently utilized by 34 medical schools nationwide. At HMS, OASIS will be used for web-based scheduling and as a central hub for collecting information from and dispersing information to students and faculty. It will be used to manage all end-of-clerkship evaluations, faculty evaluations completed by students, and for collecting student performance evaluations from faculty.
There are 2 ways to fill out an evaluation in OASIS:
 When an evaluation has been posted to you, you will receive an email with a link to click. The sender will be oasis@hms.harvard.edu. The subject of the email will contain "OASIS NOTIFY". The evaluation will open upon clicking the email link.
The second way to fill out your evaluation is to login to oasis.med.harvard.edu. On the home screen, in the "My Evaluations" box you will find a link to click if there are evaluations for you to compete.
​Please click on the link below to view a quick training video about completing EPA based evaluations using OASIS.
OASIS- Complete Student Evaluations
https://hms.mediasite.video.harvard.edu/Mediasite/Play/7bb7c532fc034ec39addab0ad22293821d
(Wiki Page https://collaborate.hms.harvard.edu/x/jIFGAg)
*This is the first of a series on the new assessment system at HMS. If you would like more information or would like to schedule a faculty development session on the new assessment system, please contact Elisabeth Peet at elisabeth_peet@hms.harvard.edu
TABLE 1

1. Association of American Medical Colleges (AAMC). Core entrustable professional activities for entering residency: curriculum developers' guide. Washington, DC: AAMC 2014. https://www.aamc.org/initiatives/coreepas/publicationsandpresentations/
To read more from the May Insights click here 
Our
Mission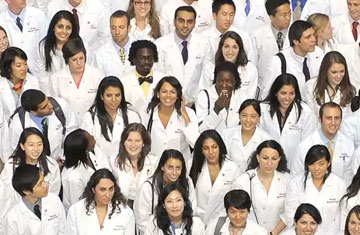 To create and nurture a diverse community of the best people committed to leadership in alleviating human suffering caused by disease.