Academy Insights
Academy Insights
HMS Academy Insights, the Academy's monthly published web-based e-newsletter, promotes and enhances faculty development of a large medical educator community across HMS and its affiliated hospitals. Through publication of the Academy Insights, we link medical educators across institutions, foster collaboration and build community, recognize our members' achievements and highlight academic scholarship in the field of medical education. Academy Insights provides direct links to useful educational resources including journal articles, books, apps, websites, presentations, and other teaching tools
---
---
Teaching the Millennial Learner       
 Katheryne Jackson and Barbara Cockrill 

"If we teach today's students as we taught yesterday's we rob them of tomorrow" 
- John Dewey   
As medical educators, how can we best reach the Millenial Learner?  A recent article tries to answer this question.  "To the Point: medical education, technology, and the Millennial learner" (1), -coauthored by John Dalrymple, HMS Director of Assessment, and Association of Professors of Gynecology and Obstetrics Undergraduate Medical Education Committee colleagues, provides an overview of the characteristics of Millennials and describes how medical educators can customize and reframe their curricula and teaching methods to maximize Millennial learning.   The group performed a literature search to identify articles on generational learning, and this, in addition to personal experience, framed the discussion. Most current medical students are considered Millennials-born from 1977-1995.  Individuals of the same generation have grown up with common experiences and tend to have similar social attributes:  the discussion is prefaced by recognizing that Millennials have grown up deemed to be "special" and "winners" by their parents regardless of their behaviors and actions.  This experience differentiates them from faculty generations that are currently teaching them.  Appreciation of the Millennial experience is important in understanding the attitudes, ideas, and priorities of Millennials to tailor educational methods to stimulate and enhance learning.
Millennials are perhaps most distinct as the generation growing up during an explosion of technology and social media.  Due to the atmosphere saturated with unlimited information and choices, they possess skills that facilitate web-based, self-directed learning and media literacy as opposed to lecture hall learning and reading literacy. This lead to the exploration of the five teaching styles that appeal to Millennials: E-learning, flipped classroom, simulation and gamification, peer to peer teaching and social media.
E-learning includes podcast, educational websites, virtual patient simulations, interactive multimedia tutorials and on-line problem-based learning. Major advantages of E-learning are the autonomy that it provides the student as well as the convenience that it offers. Using these platforms for learning allows the students to acquire new information virtually anywhere and they can do so whenever they want. Some (2) but not all (3) studies indicate that e-learning strategies are associated with improved knowledge acquisition. 
The authors note that because Millennials are accustomed to fast information and answers, empiric evidence suggests they tend to have shorter attention spans.  The flipped classroom teaching style and spending class time interacting with a case discussion instead of listening to a lecture helps tackle that. This teaching style also provides the learner with a sense of self-sufficiency since they can complete the preparatory work for the class at their own pace and convenience.
Millennials tend to be tech savvy and simulation with interactive, hands on methods appeal to them. "Gamification"-defined as using fame design elements in a non-game context-allows immediate gratification associated with gaming and has been successfully implemented with medical students and residents (4).
Peer to peer teaching, in which intragenerational teaching is part of the educational experience, is valued by Millennials.  A student who teaches other students must understand the material in depth enough to present it as well as answer questions, and may be better able to grasp other student's barriers to understanding than a seasoned faculty member.  This teaching style promotes educational leadership and stewardships. It also inspires creative teaching and learning. Empirical evidence suggests greater learning retention is achieved when fourth year medical students in obstetrics and gynecology were taught by peer versus a resident teacher.
The last teaching style explored is the use of social media. Since social media is a regular part of Millennials' everyday life. It makes sense that these platforms could be used to educate this generation. The two social media platforms considered in this article were Twitter and Facebook.  Twitter may have many benefits in the context of education when used to promote information. According to the review Twitter could also be used as a platform for communication between teacher and learner. Facebook lends itself to be a platform to connect learners with similar interest, and can promote discussion on educational material.
Millennials are our current generation of students and trainees.  The authors encourage us to embrace and adapt our pedagogy to meet their style, needs, and views!    
References
1. Hopkins L, Hampton BS, Abbott JF, et al. To the point: medical education, technology, and the millennial learner. American Journal of Obstetrics and Gynecology. 2017. doi:10.1016/j.ajog.2017.06.001. 
2. Hampton S, Sung V. Improving medical student knowledge of female pelvic floor dysfunction and anatomy: a randomized controlled trial. Am J Obstet Gynecol 2010;16:222-8.
3. Corton M, McIntire D, Wai L, Ling F, Wendel G. A comparison of an interactive computer-based method with a conventional reading approach for learning pelvic anatomy. Am J Obstet Gynecol 2006;195:1438-43.
4. Nevin CR, Westfall AO, Rodriguez JM, et al. Gamification as a tool for enhancing graduate medical education. Postgrad Med J 2014;90:685-93.
To read more from the August Insights click here 
Our
Mission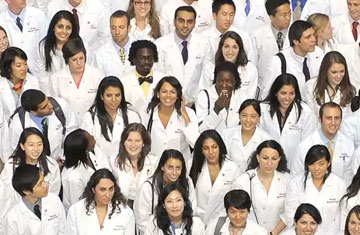 To create and nurture a diverse community of the best people committed to leadership in alleviating human suffering caused by disease.