Academy Insights
Academy Insights
HMS Academy Insights, the Academy's monthly published web-based e-newsletter, promotes and enhances faculty development of a large medical educator community across HMS and its affiliated hospitals. Through publication of the Academy Insights, we link medical educators across institutions, foster collaboration and build community, recognize our members' achievements and highlight academic scholarship in the field of medical education. Academy Insights provides direct links to useful educational resources including journal articles, books, apps, websites, presentations, and other teaching tools
---
---
Cambridge Health Alliance Internal Medicine Residency Social Medicine and Research Based Health Advocacy Course     
 Gaurab Basu M.D. & Danny McCormick M.D., M.P.H 

Physicians have a long history of advocacy on behalf of the poor and vulnerable. Take for instance, Rudolph Virchow, the father of modern pathology. While Virchow spent much of his time analyzing disease at a molecular level, he had the wisdom to recognize the powerful influence social, economic and political factors can have on morbidity and mortality. In an 1848 report investigating the epidemiology of a typhus outbreak in Upper Silesia, he identified poverty, famine, and political corruption as the root causes of the outbreak.
Our modern health care delivery systems face significant challenges to provide quality health care for all in our society. To meaningfully address health inequities and threats to health and human rights, medical education should play a powerful role in training future clinicians int he roles of health advocate and social change agent.
The Cambridge Health Alliance Internal Medicine Residency program has made a course on social medicine and research-based health advocacy a central pillar of its training experience. In 2012, we transformed a popular elective into a required social medicine and research based health advocacy course. We have recently described this course in a paper published in Academic Medicine and a news article in the Boston Globe's health and science outlet STAT News.
Our goals in the course are to 1) clarify and develop the values that brought residents to train in a residency program hosted in a safety net health system, 2) explore the role physicians can play in addressing systematic health equity, 3) improve knowledge of topics in health equity, social determinants of health and health policy, 4) develop skills in research methodology, leadership and health advocacy, and 5) provide mentorship and role modeling to support career development that may incorporate health advocacy.
In the course, residents learn about topics in US health care reform, human rights, health policy, and global poverty and disease. They participate in research and community organizing skills workshops. They meet with inspiring role model advocates such as Harvard Kennedy School Professors Marshall Ganz, former Administrator for the Center of Medicare and Medical Services (CMS) Don Berwick, and Partners in Health Chief Medical Officer Joia Mukherjee. They meet with media professionals at Boston's affiliate for National Public Radio of the Boston Globe NPR/WBUR or the Boston Globe.
A highlight of the course is experiential learning through research based health advocacy project. The project gives residents a real world experience of serving in the role of health advocate. The projects have produced significant scholarship in the last 5 years; presentations at Regional and National Society of Internal Medicine conferences have involved 39 residents co-authors. Last year's project on the impact of the Affordable Care Act on individuals with chronic disease was published in the academic journal Annals of Internal Medicine, with an accompanying op-ed in NPR/WBUR's CommonHealth Blog.
Jack Geiger, a legendary physician advocate, recently wrote in a piece in Academic Medicine, "Five decades as a medical educator have convinced me that most students enter medical school with high idealism. They care about inequity, domestic and global population health status, poverty and its health consequences ... I believe that for a significant number of these students there is a steady erosion of this idealism by the time of residency training, to be replaced by cynicism, loss of empathy for patients, decreasing satisfaction in clinical work, exhaustion and depression."     
As medical educators, it is our responsibility to nurture and develop the values that brought students into medicine, and to find in them, the solution to our most vexing health system problems. 
To read more from the March Insights click here 
Our
Mission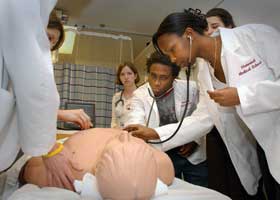 To create and nurture a diverse community of the best people committed to leadership in alleviating human suffering caused by disease