Academy Insights
Academy Insights
HMS Academy Insights, the Academy's monthly published web-based e-newsletter, promotes and enhances faculty development of a large medical educator community across HMS and its affiliated hospitals. Through publication of the Academy Insights, we link medical educators across institutions, foster collaboration and build community, recognize our members' achievements and highlight academic scholarship in the field of medical education. Academy Insights provides direct links to useful educational resources including journal articles, books, apps, websites, presentations, and other teaching tools
---
---
Using Randomized Controlled Trial
to Assess the Effectiveness of
Case-Based Collaborative Learning   
 Edward Krupat, Richard Schwartzstein,
Amy Sullivan 

In Pathways, the HMS curriculum newly launched in the Fall of 2015, most courses are using a novel teaching method, Case-Based Collaborative Learning (CBCL). How was this approach developed? With the support of a grant from the Harvard Initiative for Learning and Teaching (HILT), a group of HMS educators (Ed Krupat, Rich Schwartzstein, Jeremy Richards, Amy Sullivan, and Tom Fleenor) developed and tested this novel group method. CBCL attempts to combine the best aspects of Problem Based Learning, Team Based Learning, and the Case Based Learning. The new approach was first tested in the context of Dr. Schwartzstein's Physiology course with a group of 64 first year students who volunteered to participate in this educational experiment. As part of a randomized controlled trial, thirty-two students were randomly assigned to one of four 8-person sections who used the traditional PBL approach; and the other 32 were assigned to one of two 16-person CBCL sections. 
Each week of the course, students in both the CBCL and PBL groups were presented with a new case. In order to assure readiness for the small group sessions, the CBCL students received a set of challenging multiple choice questions the day before the sections met, and were asked to work individually to provide answers to their group facilitator before the CBCL session began. In class, they were divided into 4 groups of 4, and presented with a thought-provoking analytic question about the case in an open-ended format. Each student generated a written answer to the question and then all students at a given table shared their answers with one another. The students were then given time for discussion in order to come up with a consensus answer from their table. Each of the four tables then compared their consensus answers and, with further discussion in order to come up with a full-group consensus answer. Each case session included two rounds of this process. 
Outcome measures included exam performance, a post-course survey, and behavioral coding of group behavior. No overall CBCL-PBL differences were found on the final exam. However, further analysis indicated that CBCL students whose performance in prior courses had been below the median outperformed equivalent PBL students, indicating that CBCL may have its greatest impact among students who were experiencing greater learning challenges. In the post-course survey, students in each group supplied adjectives to describe their small group experience. The three most commonly used descriptors for CBCL were "engaging," "fun," and "thought-provoking." Having introduced CBCL to HMS and collected systematic data to determine its effectiveness, the faculty steering committee charged with designing the Pathways Curriculum adopted CBCL as the small group method of choice.     
To read more from the October Insights click here 
Our
Mission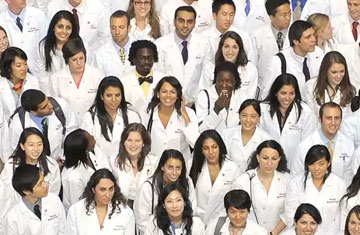 To create and nurture a diverse community of the best people committed to leadership in alleviating human suffering caused by disease.