Academy Insights
Academy Insights
HMS Academy Insights, the Academy's monthly published web-based e-newsletter, promotes and enhances faculty development of a large medical educator community across HMS and its affiliated hospitals. Through publication of the Academy Insights, we link medical educators across institutions, foster collaboration and build community, recognize our members' achievements and highlight academic scholarship in the field of medical education. Academy Insights provides direct links to useful educational resources including journal articles, books, apps, websites, presentations, and other teaching tools
---
---
Race-Conscious Professionalism and African American Representation in Academic Medicine   
 Summary Provided by: Augustus A. White, III, MD, PhD  

Race-Conscious Professionalism is a very important reality, necessary to address the ongoing need to maintain and advance diversity and inclusion in academic medicine. Our recent article (1) offers an analysis of the forces that shape career development as related to underrepresented individuals in our academic medical environment. We describe extrinsic and intrinsic forces that are operative in the current environment and point out reasons for addressing these factors. Having an African American presence well-entrenched, well-represented in the academic medical profession offers important advantages. It's important that physicians in their training and development be exposed to African American role models. This educational experience is important for both the underrepresented medical students as well as for those who comprise the rest of the academic medical student bodies. 
There are educational and clinical advantages to having components of medical academic faculties including African Americans. Also, it's important to recognize that a good deal of the work that is done to improve health care in African American communities is provided by African American physicians who are more likely than other physicians to practice in those communities. 
For nearly two centuries, African American physicians have used their professional training, their expertise and the stature it affords to address challenges facing African American communities.
Traditionally, African American physicians have contributed substantially to care in underserved communities. In addition, they have contributed educational perspectives of cultural knowledge and information to the training of medical students and residents. This article recommends that the contributions of knowledge, community service, community action and community health care enrichments offered by these underrepresented physicians be viewed and recognized in the context of professional academic commitments for recognitions and for promotion within academic communities. Traditionally, academic advancement has been related to scientific contributions. However, it is imperative that the cultural, educational and community enrichment contributions offered by African American physicians, be recognized as items which merit contributions of African American physicians and constitute race-conscious professionalism. It should also be recognized that faculty can be given academic credit for the advancement of social justice and the reduction of health care disparities within the communities they serve both locally and nationally. 
There remains a dire need for more African Americans in teaching, research and leadership positions in academic medical centers in our country. Achieving the goal of more diversity and enrichment provides role models, mentors and diversity input into the research, innovation, education and health care delivery missions of academic medical centers. The employment of the concept of race-conscious professionalism provides a vehicle for recognition of unique and important contributions and achievements on the part of the African American physicians.
Considering activities and contributions in the paradigm of race-conscious professionalism, will enhance careers in academic medicine and attract more African American students to engage in academic medical careers to the overall benefit of our entire society, its patients and its health care professionals. This is a very important challenge and opportunity requires rigorous sustained efforts. 
1. Powers BW, White AA, Oriol NE, Jain SH. Race-Conscious Professionalism and African American Representation in Academic Medicine. Acad Med. 2016 Jul;91(7):913-5. doi: 10.1097/ACM.0000000000001074. PMID: 26760060 [PubMed - indexed for MEDLINE]              
To read more from the November Insights click here 
Our
Mission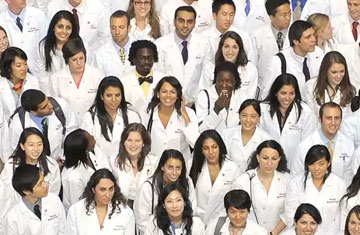 To create and nurture a diverse community of the best people committed to leadership in alleviating human suffering caused by disease.