Academy Insights
Academy Insights
HMS Academy Insights, the Academy's monthly published web-based e-newsletter, promotes and enhances faculty development of a large medical educator community across HMS and its affiliated hospitals. Through publication of the Academy Insights, we link medical educators across institutions, foster collaboration and build community, recognize our members' achievements and highlight academic scholarship in the field of medical education. Academy Insights provides direct links to useful educational resources including journal articles, books, apps, websites, presentations, and other teaching tools
---
---
Educating the Public: HMS faculty blog for Harvard Health Publication    
 Nancy Ferrari 

Harvard Health Publication (HPP) is the media and publishing division of the Harvard Medical School. The seed publication was the Harvard Health Letter founded in 1975 by Drs. Timothy Johnson and Stephan Goldfinger. Today, under the direction of Editor-in-Chief, Dr.Gregory Curfman. HPP publishes timely, evidence-based, and easy-to-understand content on health and wellness in print and digital forms, including newsletters, special health reports, web content, video, and podcasts. 
In an effort to engage medical school faculty regularly as part of our outreach to a consumer health audience, Dr.Curfman initiated that Harvard Health Blog in the fall of 2015. Posts are written by HMS clinicians and some of HHP's highly skilled health writers. Since that time, we have published a post almost every weekday. 
The face and perspective of authors is essential. We ask faculty contributors to use their "voice" and write as if they were discussing the topic with a nonprofessional (a patient, family member, friend). And we try to keep posts between 500 and 700 words. We review all pieces and edit as needed to meet the needs of our readership, however, we maintain the writer's voice. All contributors review and approve the final posts. 
HMS clinicians may pitch their ideas to the blog editor, or the editor may ask clinicians to write around certain topics or health news in their areas of expertise. Each post carries the author's name and a byline. Blog contributors are listed on our "Experts" page. If an author has a Twitter handle, we include that at the top of the post. Hospital/department affiliations with links can be included at the end of the post. 
Contributors receive a stipend for each published post. For those who have 6 articles published, we grant a certificate that counts toward academic promotion. Specifically, Harvard Medical School will honor it for credit toward the "Report of Education of Patients and Services to the Community" section of the official HMS curriculum vitae.
We are proud that the blog has a strong platform through which we can share this important information. In September 2016, health.harvard.edu attracted over 3 million unique visitors. The blog posts are responsible for 25% of the traffic to HPP's web site. We currently have 1 million Twitter followers and over 50,000 Facebook "likes." Blog posts are promoted through social media channels. If you are interested in learning more, please contact Nancy Ferrari at nferrari@hms.harvard.edu   
To read more from the January Insights click here 
Our
Mission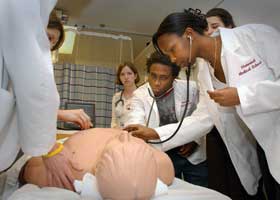 To create and nurture a diverse community of the best people committed to leadership in alleviating human suffering caused by disease