The HMS Academy Fellowship in Medical Education
APPLICATION DUE: 5 PM Monday, March 5, 2018
Fellowship Period: July 1, 2018 - June 30 2019 
---
The HMS Academy Medical Education Fellowship provides educators with dedicated time to develop the expertise and skills needed to advance academic careers in medical education and medical education research. Faculty participating in the Fellowship will:
Develop and enhance their skills as clinician educators;
Develop analytical and research skills in medical education;
Acquire the knowledge and skills to become educational leaders and change agents within their academic communities;
Join a community of clinician-educators dedicated to enriching and advancing the field of medical education;
Complete a major project focused on curriculum, faculty development, learner assessment, educational program evaluation, or educational research 
HMS Academy Medical Education Fellowship Overview
​The Director of the HMS Academy Medical Education Fellowship, David Hirsh, MD, will conduct fellowship seminars twice monthly at HMS. These seminars are required sessions during which the group discusses core medical education topics and assigned readings. Examples of sessions include developing curricula, conducting educational research and student assessment, and program evaluation, applying the learning sciences to educational design and to pedagogy, and enhancing teaching skills for active lecturing and small group teaching.
Fellows from the HMS Academy Fellowship will meet together with Fellows from the Rabkin (BIDMC) and Mount Auburn Fellowships on several occasions during the academic year in sessions that include such cross-cutting topics as medical education and issues in medical education research and study design, the latter incorporating discussion of the Fellows' projects. The HMS Academy Fellows will also have sessions with the Masters of Medical Science-Medical Education (MMSc) graduate students to advance scholarly work. 
Academic Projects
HMS's Academy Fellowship activities include completion of an academic project. Projects are focused on educational continuous quality improvement in the domains of curriculum development, faculty development, assessment of learners, program evaluation, or education research. Ideal projects:
Contribute to the education of Harvard medical students through curriculum innovation, educational research, faculty development, new and improved approaches to student assessment, new and improved approaches to student advising or enrichment opportunities. Applicants with an interest in and a project proposal that addresses an educational quality improvement issue in the medical school curriculum or one of its courses will be given preference. 
Can be completed during the fellowship year, or, if the project has multiple phases, a key phase can be completed during the fellowship year;
Can be sustained both programmatically and financially following implementation, if applicable.
Fellows are required to prepare a poster describing their projects for review at the end of the year and for presentation at HMS Medical Education Day in the fall following the fellowship year. The HMS Academy Fellowship strongly encourages that work continue on the projects so they result in publication. Substantive mentoring to support fellows in their project and their overall academic growth is a value and strength of the program.
Applicants may view Current and Past Fellows at the following links:
Current Academy Fellows and their projects
Past Academy Fellows and their projects
Expectations:
Devote 10% of time to project and Fellowship activities. Applicants must have the support of their department chair or division chief to commit to this program, free of other responsibilities, in order to achieve the objectives of the Fellowship activities.
Be committed to meeting twice monthly during the fellowship year with Fellowship Faculty and other fellows to discuss projects and share experiences. Fellowship sessions will be held at HMS in the TMEC 384 Conference Room, 260 Longwood Avenue.
Identify a project mentor who will meet with you regularly to discuss and help implement your project.
Submit an abstract of the Fellowship project for a poster presentation or technology demonstration at HMS Medical Education Day in the fall following the fellowship year.
Qualifications:
Candidates must possess an MD or PhD, be active members of the HMS faculty, and hold the academic rank of Instructor or higher and have:
A minimum of 2 years active teaching experience at HMS at the UME or GME level
Ability to devote the necessary time to the fellowship activities and academic project
Applicants with leadership roles in HMS courses/clerkships and/or GME programs are encouraged to apply and are viewed as particularly strong candidates.
Funding
Funding is available through the Morgan-Zinsser, Curtis Prout and Jackson Academy Fellowship Fund endowments. The stipend is $20,000.
The Curtis Prout Academy Fellowship
The Curtis Prout Academy Fellowship is named for Dr. Curtis Prout, HMS '41, through the generous gifts of his past and present patients, colleagues, family and friends. It is hoped that Prout Academy Fellows will help HMS students develop those qualities of character and intellect so necessary in the field of primary care, thereby shaping the future of primary care medicine in both practice and teaching.
The Jackson Academy Fellowship
The Jackson Academy Fellowship is named for Dr. James H. "Jimmy" Jackson, MD '43A through the generous gift of his wife of 57 years, Mrs. Susan M. Jackson. Dr. Jackson is remembered for his dedication to patient care and his devoted mentoring of medical students, residents and house staff. It is hoped that the Jackson Academy Fellowship will carry on Dr. Jackson's legacy of teaching and mentoring and ultimately shape the future of healthcare in both practice and teaching.
The Morgan Zinsser Fellowship
The Morgan-Zinsser Fellowship is named for Dr. Herbert Morgan and his mentor, Dr. Hans Zinsser. Dr. Morgan, a member of the HMS Class of '42, established the Fellowship to support the early career development of junior faculty who have demonstrated excellence in medical education and teaching.
---
For Complete RFA please click here 
 
Selection Process
An Academy Fellowship selection committee will review all applications, interview finalists on the evening of Thursday, March 22nd, 2018 from 5:00pm-8:00pm and announce results immediately thereafter. Applicants must be available for the interview, if invited. 
Our
Mission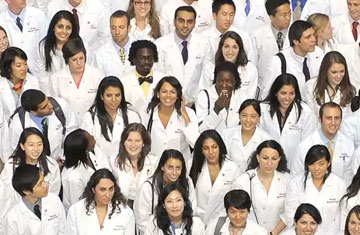 To create and nurture a diverse community of the best people committed to leadership in alleviating human suffering caused by disease.