The Academy Fellowship in Medical Education Research
APPLICATION DUE: 5 PM Monday, March 5th, 2018
Fellowship Period
1- year Fellowship for Faculty: September 1, 2018 - June 30, 2019
2- year Fellowship for Faculty, Clinical Fellows and Surgery Residents: September 1, 2018 - June 30, 2020
---
The Academy at Harvard Medical School is pleased to announce a Request for Applications (RFA) for one- or two-year fellowships for faculty and two-year fellowships for fellows and residents in medical education research for the Fellowship Period beginning September 1, 2018. The Academy Fellowship in Medical Education Research provides faculty, clinical fellows, and residents who are interested in careers as educators and opportunities to develop the expertise and skills needed to advance scholarship in medical education and medical education research. We will be accepting up to 3 fellows in the coming academic year. Faculty applicants with projects related to undergraduate medical education are encouraged to apply. 
For faculty: Fellowship positions are available for HMS faculty at any academic rank either one or two years. Faculty is required to commit to 20% time per year.
For clinical fellows and surgery residents who are beginning the research portion of their fellowship/residency: Fellowship positions are available for clinical fellows and residents with an expected commitment of two years at 60-80% time commitment.
Tuition for the fellowship is provided by the HMS Academy, but individuals must provide funding to support their time devoted to the program.
Learners participating in the Fellowship will:
Develop analytical and research skills in medical education;
Acquire working knowledge of key theories and methods to carry out rigorous research in medical education;
Complete one major group project and one individual project related to medical education.
For the complete RFA please click here
Program Director: Amy Sullivan, EdD
If you have questions about the Academy Fellowship in Medical Education Research, please contact The Academy at Academy@hms.harvard.edu
Our
Mission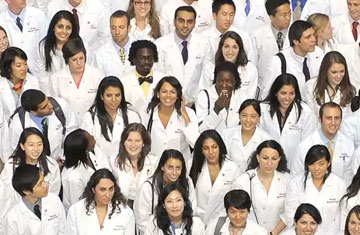 To create and nurture a diverse community of the best people committed to leadership in alleviating human suffering caused by disease.