Medical Education Day
---
Title/Topic: 

Addressing uncertainty in medical education: Helping students embrace the challenges of human health and disease  

Date/Time: 

Tuesday, October 24, 2017
11:30-6:00 PM 
 

Location: 

Harvard Medical School  - Tosteson Medical Education Center (TMEC) Amphitheater and Atrium  -  260 Longwood Ave, Boston, MA
The principles of anatomy, physiology, microbiology, pathology, and pharmacology are often interpreted by students as immutable truths. They are eager to find the "right answer" and are often frustrated by the limits of the models used to explain empirical findings. Concurrently, as the emphases on "high-value care" and shared decision-making have grown in recent years, doctors must increasingly be skilled at communicating uncertainty to their patients in discussions about what may be best for them; a central tenet of high-value care is that there is rarely a single correct path forward for all patients. Decisions must be individualized based on the priorities and values of the patient.
Steven Hatch MD MS, author of Snowball in a Blizzard, will be our keynote speaker. He will discuss his views on the nuances and pitfalls associated with the concept of uncertainty as it pertains to patient-doctor relationships, and will set the stage for our exploration about uncertainty in medicine today. Workshops will allow participants to explore methods for teaching students and residents about the importance of uncertainty in medicine; the role of uncertainty in clinical reasoning; and approaches to communicating uncertainty in a supportive manner. In addition, participants will have the option of enrolling in mentoring workshops to promote careers in medical education.
Medical students are especially encouraged to attend a workshop run for, and by, medical students addressing uncertainty and clinical medicine from a student's perspective.
Please join us on Tuesday, October 24th from 11:30-6PM to explore the challenge of uncertainty in the practice and teaching of medicine throughout the medical education continuum. 
Overall Program Learning Objectives
Upon completion of this activity, participants will be able to:
Describe the role of uncertainty in clinical reasoning;
Explain how considerations of uncertainty are critical to teaching high-value care;
Describe strategies for teaching our learners how to communicate uncertainty to patients;
Determine the developmentally appropriate use of uncertainty when teaching learners from novice to expert.
Our
Mission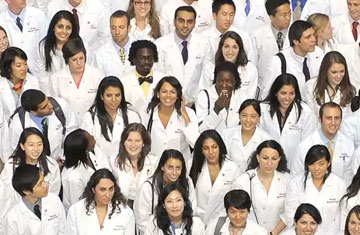 To create and nurture a diverse community of the best people committed to leadership in alleviating human suffering caused by disease.