Medical Education Day
---
Title/Topic: 
GPS: Navigating Pathways - RSVP 
Date/Time: 
Tuesday, October 25, 2016
11:30-6:00 PM 
Location: 
Harvard Medical School  -  Tosteson Medical Education Center (TMEC) Amphitheater and Atrium  -  260 Longwood Ave, Boston, MA
Click here for book of abstracts
Click here for power point presentation of introductory remarks
Click here for video of Medical Education Day introductory remark and keynote speaker    
---
The goal of medical education is to produce physicians who can provide quality care for patients, advance medical science, and train the next generation. To reach this goal, given the exponential expansion of medical knowledge, medical education can no longer simply convey information to learners, but must also impart the skills and attitudes that support learning throughout a lifetime. In August 2015, HMS launched a new curriculum called Pathways, featuring a complete transformation of the pedagogical system for pre clerkship medical students. After preparation at home with explicit assignments, students spend classroom time with faculty wholly dedicated to the , elaboration of concepts, connection of new information to prior knowledge, and practical application of newly learned content to patient cases. The goal of the new curriculum is to drive students up the pyramid of Bloom's Taxonomy from knowing to understanding, application, analysis, evaluation, synthesis, and creation of solutions to clinical problems.
Entering our second year of the curriculum, we have learned many lessons about this new format of teaching and will undoubtedly learn more as the first Pathways students enter the Principal Clinical Experience (PCE). Their clinical immersion also offers us the opportunity to consider how we might apply similar educational principles and formats to the ways in which we educate our residents and fellows.
Utilizing plenary discussions and workshops, this program will explore strategies and resources to support active self-directed learning, maintenance of a learning orientation, and the development of clinical skills and professionalism in students, residents, and fellows as they evolve from primarily classroom learners to physicians learning in the clinical arena. 
Overall Program Learning Objectives
Upon completion of this activity, participants will be able to: 
Describe the difference between a learning vs. performance orientation in education 
Utilize mechanisms to enhance professionalism and responsibility for learning 
Apply the fundamentals of effective questions to support critical thinking 
Evaluate mechanisms and resources for incorporating foundational sciences in the clinical setting 
Recognize the pressures of the hidden curriculum as students transition from the classroom setting to the hospital wards 
Implement resident-as-teacher programs to support the learning principles of the new curriculum in the PCE 
---
Schedule of Events 
---
11:30-12:00 PM: Registration and Lunch 
12:00-12:10 PM: Introductory Remarks
Richard M. Schwartzstein, MD   
Click here for video of Medical Education Day introductory remark and keynote speaker      
---
12:15- 1:05 PM 
Keynote Address: Medical School Learning Communities: Supporting Students' Arc of Development
Robert Shochet, MD, FACP
Associate Professor of Medicine
Director, Colleges Advisory Program and Clinical Foundations of Medicine
Johns Hopkins School of Medicine
Click here for video of Medical Education Day introductory remark and keynote speaker      
Over the past decade, U.S. medical schools are increasingly turning to learning community structures to enhance career advising, professional development, and student engagement, wellness and satisfaction. This presentation will cover common elements of learning communities and advances in
student learning and development afforded by
the relational continuity with faculty and students in advising, curricular and social-professional settings during medical school.  Benefits experienced by learning community faculty will also be discussed.  The potential use of elements of learning communities in alternative contexts will also be addressed.
Dr. Shochet, Founding Director of the Johns Hopkins School of Medicine's (JHSOM) Colleges Advisory Program and Founding Chair of the Learning Communities Institute, will provide a national perspective on the emergence of learning communities and share experiences from his 12 years as leader of the JHSOM program.  
---
Workshops Session I & II (Options will repeat) 
Session I : 1:15-2:25 PM 
Session II: 2:35 - 3:50 PM 
---
Option 1: Unpacking the Learning Studio in the Hospital:  Applying Pathways Pedagogy in the Clinical Arena.
Barbara Cockrill, MD; Melanie Hoenig, MD; David Cohen, MD
Cased-based Collaborative Learning (CBCL) is the pedagogical approach used in the classroom by many courses in the first year of the HMS Pathways Curriculum.  CBCL combines aspects of team-based learning, peer-teaching and the flipped classroom to effectively engage learners in a case-based format.  This session will focus on efficiently bringing CBCL to a clinical setting.  We will review the foundations of CBCL pedagogy, examine the key elements, and provide practical tips for setting up active learning experiences in the hospital and clinics
Learning Objectives:
Describe the fundamental learning principles of case based collaborative learning (CBCL)
Describe the key elements of a CBCL session
Use CBCL learning principles and practical elements to design a teaching session based in a clinical setting
---
Option 2: Asking Questions to Enhance Understanding and Critical Thinking
Richard Schwartzstein, MD; Jonathan Hausmann, MD; Jake McSparron, MD
The thoughtful and deliberate use of questions, whether in the classroom or at the bedside, can serve to elaborate knowledge and deepen understanding of important concepts. In addition, when used well, questions, can provide insight into the thinking of the learner and allow you to identify gaps in knowledge, cognitive biases, and erroneous reasoning processes. When questions are framed poorly, however, students can be intimidated and become disengaged.  In this interactive workshop, we will explore the theory and use of questions and provide opportunities for participants to practice their skills.
Learning Objectives:
Describe the educational theory supporting the use of questions that can enhance learning
Identify and create questions that move the learner to the higher elements of Bloom's taxonomy
Explain strategies for asking questions at the bedside to get beyond differential diagnosis
Click here for power point presentation 
Instructions to view password protected resources
Press CTRL+T to open a new tab
Log into eCommons in that new tab
Return to the Academy website tab and click on the resource you wish to view
If you are logged in as instructed, the article/ resource will pop up. If you are not logged in as instructed, you will receive an error message.
---
Option 3: Teaching the Physiological Basis of the Physical Exam
Daniel Kamin, MD; Lisa Breen, MD; Maria Yialamas, MD
History and physical exam can point to the cause of an illness in a majority of cases. In an age of increased use of computers, laboratory testing, and complex imaging, we should wonder whether physical exam skills can be taught and reinforced in a more relevant and engaging manner.  Indeed, physical exam has historically been taught in a rote and decontextualized fashion, and studies show that competent physical exam skills wane quickly, even amongst residents still in training.  What can be done?  
This workshop will focus on the 'reflective physical exam', a model for better maintaining and enhancing physical exam skills through hypothesis-driven examination, linking to underlying physiology and pathophysiology, and sorting through diagnostic possibilities based on explicit discussion and meaning of findings.   
Learning Objectives:
Describe challenges in teaching the physical exam
Demonstrate how to teach the reasoning behind performing a physical exam
Explain clinical frameworks to use in teaching the physical examination
---
Option 4: Flipping the Classroom: Creating your own Concept Videos
Henrike Besche, PhD; Michael Parker, MD; Vishal Punwani, BSc
In this workshop, we will introduce you to the origins of concept videos and how they can be used in the context of the flipped classroom. We will show you examples of concept videos that were created by faculty at HMS and discuss how they are similar to and different from each other, and how they might help students learn. At the end of the discussion, we will share some tips and best practices about how to create your own concept videos. 
Learning Objectives:
Describe what concept videos are and how they are used in context of the flipped classroom
Explain the different types of videos you can make to adapt your content to the flipped classroom
Identify best practices for two different styles of concept videos (narrated PowerPoint and "Khan Academy" style) 
Instructions to view password protected resources
Press CTRL+T to open a new tab
Log into eCommons in that new tab
Return to the Academy website tab and click on the resource you wish to view
If you are logged in as instructed, the article/ resource will pop up. If you are not logged in as instructed, you will receive an error message.
---
Option 5: Teaching Millennials: Bridging the Generations
Nancy Oriol, MD; Holly Gooding, MD; Jasmine Rana, BA
Much has been written about Millennials, also known as the Net Generation, Digital Natives, and Generation Y. Just who is this next generation of learners - and do they learn differently than generations before? In this workshop we will present an overview of the generations of physicians and learners currently at HMS in 2016. We will consider how societal generational effects intersect with young adult development and other cultural influences to shape individual learners. Students from the Millennial Generation will provide their perspective on these theories.  We will then break into small groups to consider scenarios of challenging learning situations with the goal of increasing our understanding of each other's perspectives, our commonalities and our differences.
Learning Objectives:
Describe common traits attributed to learners and physicians of different generations working in academic medicine in 2016
Distinguish between generational effects, adolescent/young adult developmental theories, and cultural influences on individual learner behaviors
Practice multi-generational dialogue around different viewpoints of challenging learning situations
---
Option 6: Curiosity at the Heart of Feedback
Alexandra Hovaguimian, MD; Cynthia Cooper, MD, Laura Rock, MD; Katherine Johnston, MD
"I can't believe this student/resident/fellow did THAT?!!"
How do you handle giving honest feedback in the best and worst situations? To truly help learners develop and maximize their potential, consider approaching feedback with a framework of honesty, curiosity, and respect. In this workshop, leaders will guide participants to explore observations using the clinical skills of curiosity and compassion. Participants will be guided on the use of the S.T.A.T. framework (specific, thoughtful, actionable, timely) for feedback conversations, which has recently been introduced to HMS students. The workshop will discuss issues specific to all learner groups: students, residents, fellows, and faculty. Participants will practice giving feedback as large group and in small groups using case examples. Participants are encouraged to bring their own challenging feedback concerns for discussion. 
Learning Objectives:
Describe common feedback barriers and consider how an approach of curiosity and respect could help overcome barriers
Discuss the STAT approach to feedback delivery
Using sample scenarios, practice making observations and giving feedback through the lens of curiosity and respect 
---
Option 7: Mentoring Across Differences: Addressing Unconscious Bias 
Barbara Gottlieb, MD; David Hirsh, MD; Nora Osman, MD 
We designed this workshop to improve the effectiveness and confidence of established mentors addressing issues of diversity, difference and inclusion. Much of the workshop is based on this fundamental principle - the shift from denying to taking ownership of bias, from avoiding conversation to embracing it. Although this can be challenging, we believe that thoughtful and deliberate work to improve mentoring across differences can and does lead to dramatic personal and institutional change. This results in an academic environment of diversity and inclusion where all members can thrive. 
This workshop demonstrates a case-based curriculum we have implemented at our institution. Participants will explore pitfalls of unconscious bias, and tested strategies to enhance mentoring relationships. The objective of this workshop is to provide mentors with the skills and tools to enhance communication and improve outcomes for mentees across the full spectrum of diversity. The ultimate goal is to create a flourishing workforce fully representative of the rich and vast diversity of our society. 
After a brief introduction, we will address challenges we face with mentoring across differences, and core principles of unconscious bias. We will break into small groups for facilitated discussion of a case of a mentor-protégé relationship. Participants will be provided with trigger questions to stimulate discussion. Participants will be encouraged to join tables with faculty from other institutions. The larger group will reconvene for a facilitated de-brief and wrap-up.
Participants will be provided with a teaching guide to run similar trainings at their home institutions. The guide will include the annotated case, sample trigger questions and an evaluation template. 
Learning Objectives:
Model creating a safe environment to promote self-reflection and the capacity to disclose and discuss biases; 
Recognize and implement ways to approach cross-difference mentoring relationships; 
Develop communication skills that sensitively and effectively traverse real or perceived boundaries defined by differences in race, class, culture, gender, generation. 
Participants will be provided with a teaching guide to run similar trainings at their home institutions. The guide will include the annotated case, sample trigger questions and an evaluation template. 
---
| | |
| --- | --- |
| 4:00-5:00 | Discussion, Wrap up and Awards  |
| 5:00-6:00 | Poster Session & Reception  |
---
Course Director:
Richard M. Schwartzstein, MD, Director of the Academy at Harvard Medical School
Course Planners:
Bernard Chang, MD 
Nora Osman, MD 
Accreditation Statement 
The Harvard Medical School is accredited by the Accreditation Council for Continuing Medical Education to provide continuing medical education for physicians. 
The Harvard Medical School designates this live activity for a maximum of  5.25 AMA PRA Category 1 Credits™. Physicians should claim only the credit commensurate with the extent of their participation in the activity
ABMS/ACGME Competencies
The course is designed to meet the following American Board of Medical Specialties (ABMS)/Accreditation Council for Graduate Medical Educational (ACGME) competencies: 
Interpersonal and Communication Skills 
Professionalism  
Our
Mission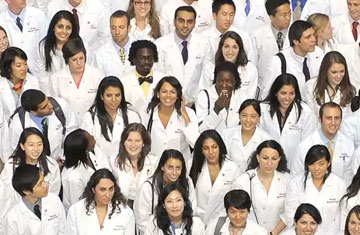 To create and nurture a diverse community of the best people committed to leadership in alleviating human suffering caused by disease.