Faculty Consultants
Faculty Consultants

Susan Frankl, MD
Dr. Frankl, a community-based general internist, graduated from SUNY, Binghamton, and Stanford Medical School, and trained in internal medicine at University of Washington and Brigham & Women's Hospital. Dr. Frankl is Deputy Director, Primary Care Clerkship, and a member of the Generalist Education and Faculty Development Leadership Group of the Association of Professors of Medicine and the Teaching for Tomorrow Initiative at U Mass Medical School. She is also involved in faculty development initiatives for ambulatory preceptors, and precepts medical students in her primary care practice. She has been a Harvard-Macy Scholar and a Rabkin Fellow in Medical Education.
James Gordon, MD MPA
Dr. Gordon graduated from Princeton, University of Virginia Medical School, and University of Michigan School of Public Policy and trained in emergency medicine at University of Michigan Medical Center. As Director of the MEC Program in Medical Simulation for medical students, he precepts simulation exercises for numerous HMS courses, including IHP, Human Systems, Pt/Dr II and III, Transition to the Wards, and the surgery and emergency medicine clerkships. He has completed the Harvard Macy Physician Educator and Leadership Programs. In 2001, he was awarded a Morgan-Zinsser Fellowship in the Academy at HMS.
Sam Kennedy, PhD
Dr. Kennedy, Lecturer on Cell Biology at Harvard Medical School, has taught as a lecturer and served as a tutor in the HMS Human Body course for more than 25 years. As a faculty member in the New Pathway curriculum, Dr. Kennedy has led sessions as a new tutor trainer for over 20 years.
Michael Parker, MD
Dr. Michael Parker is a Senior Interactive Media Architect in the Center for Educational Technology at Harvard Medical School and Assistant Professor of Medicine in the Division of Pulmonary and Critical Care Medicine at Beth Israel Deaconess Medical Center. Dr. Parker received Bachelor's and Master's degrees in Electrical Engineering and Computer Science from MIT. Before becoming a physician, he worked in the software industry and then studied exercise physiology at University of Colorado while performing biomechanical analysis of U.S. team cyclists at the Olympic Training Center. He went to medical school at University of Colorado and returned to Boston for internal medicine residency at Brigham and Women's Hospital. He now combines his computer and medical knowledge to create interactive Web-based animations and simulations to enhance medical education. He also has multiple teaching roles at HMS, including lecturer and tutor in the Human Systems course. The interactive diagrams Dr. Parker created as co-author of a respiratory physiology textbook were recently honored with the 2006 Frank Netter Award.
Our
Mission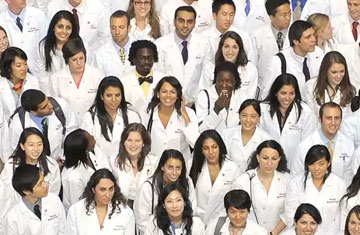 To create and nurture a diverse community of the best people committed to leadership in alleviating human suffering caused by disease.