Giving Societies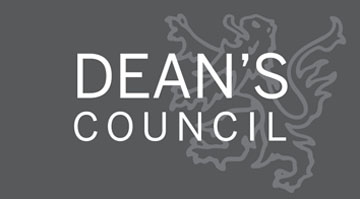 The Dean's Council is the leadership annual giving society of Harvard Medical School. Because of the extraordinarily rapid pace of progress and change in science and medicine, HMS benefits enormously from flexible funding in several core areas. Members of the Council provide ongoing support, which enables Dean Jeffrey S. Flier, MD to direct resources where they are needed most. Initiatives include student financial aid and scholarship, recruiting star faculty, and upgrading and maintaining some of the world's most advanced biomedical research labs.
Harold Amos Fellows ($2,000-$4,999)
Recognition in the Honor Roll of Donors
Invitation to and preferred seating, when available, at HMS events throughout the year
Alice Hamilton Fellows ($5,000-$9,999)
All of the previously listed benefits
Interactive conference call with HMS leadership and faculty
Benjamin Waterhouse Fellows ($10,000-$24,999)
All of the previously listed benefits
Complimentary subscription to the Harvard Health Letter, which includes expertise from more than 8,000 Harvard Physicians and researchers
Walter Channing Fellows ($25,000-$49,999)
All of the previously listed benefits
Invitation to Soma Weiss Student Research Day
John Warren Fellows ($50,000+)
All of the previously listed benefits
Invitation to Celebrate HMS events
Society Fellows ($100+)
A special membership to this prestigious group is offered to recent graduates (alumni who have graduated within the last nine years) with a contribution of $100 or more for each year since graduation. Society Fellows receive the same benefits as the Harold Amos Fellows.
Class of 2014 - $100
Class of 2013 - $200
Class of 2012 - $300
Class of 2011 - $400
Class of 2010 - $500
Class of 2009 - $600
Class of 2008 - $700
Class of 2007 - $800
Class of 2006 - $900 
Ezekiel Hersey
Council
The EHC recognizes alumni, alumnae, and friends who have created a life income gift or included HMS in their estate plans to continue the tradition of excellence.