Cheryl Gorelick
Paying tribute to a Renaissance man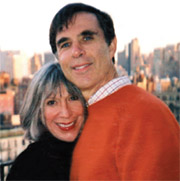 That's why, in honor of his upcoming 50th Reunion, she found it fitting to honor Harvard Medical School, his class, and his memory with a gift of more than $200,000 as an addition to her existing charitable remainder unitrust (CRUT).
Ultimately, this gift will create the Dr. Kenneth and Cheryl Gorelick Professorship in Medicine and Literary Arts. Her hope is that the eventual incumbent will incorporate the literary arts into the teaching of HMS students in an effort to enhance humanism in medicine, promote the therapeutic and instructive aspects of the arts in medicine, and help train compassionate physicians.
"Ken told me that he chose to pursue psychiatry as a specialty as a way to understand the invisible parts of life," Gorelick says. "He was a Renaissance man—an essayist and poet—and was also a pioneer in the use of literature as therapy, co-founding the National Poetry Therapy Association and using literature in his own practice and in his teaching of medical students, residents, and therapists."
"Ken valued the opportunities HMS provided to him. He believed his training opened the world of medicine and gave him the ability to think—and question—critically," Gorelick says.
Gorelick believes a professorship is a fitting tribute to Ken. She says that HMS has made it easy for her to work toward this goal by allowing her to make regular contributions to her CRUT, which offers her an opportunity to earn income at the same time.