Bob Peterson, MD '82
Spotlight Q & A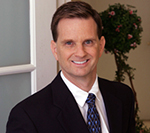 Describe the impact that Harvard Medical School has had on your career.
It is hard to overstate the impact that HMS has had on my life and career. First, of course, I am now an MD, and becoming an MD is the biggest single watershed event in the life of any doctor. Second, my classmates were the most amazing group of people that I have ever known. I have great respect for all of them, and I am very grateful to have been a member of this illustrious group. Third, I have had a chance to work in Asia a lot over the past 25 years, and my Harvard degree gives me instant credibility and opens a lot of doors. 
And last but certainly not least, HMS instills an expectation of excellence, and even though I am no longer in the Boston area, I feel an obligation to try to make a difference. This has led me to take on several projects, including making a multilingual Personal Health Record that provides instantaneous translation of relevant medical history, augmenting medical training by encouraging post-graduate, peer-to-peer case sharing, and using the internet to make pharmacokinetic information more available to optimize drug dosing. These are all works in progress and seem like worthwhile projects matching the high expectations for HMS graduates.  
You established a $25,000 deferred charitable gift annuity (DCGA)—a gift vehicle with unique benefits—to support HMS. What in particular made this vehicle attractive to you? 
I have wanted to give back to HMS, and the deferred charitable gift annuity (DCGA) made this an easier decision. I wanted to make a meaningful gift for my 35th Reunion, but I am not wealthy and live in a very expensive state (Hawaii), so, I worry about retirement income and what the future holds. With a DCGA, I fund the gift today, but elect to defer annuity income until my retirement. I enjoy a charitable income deduction this year, and the annuity payments I will receive are higher than if I had decided to receive payments this year. Now that I understand the details, I have established a second DCGA with a gift of $75,000 in celebration of my Reunion.    
Do you have any thoughts or advice for others considering a deferred gift annuity?
I think you should give a gift annuity a serious consideration if, like me, you want to support HMS but need to also plan for family and retirement. 
What impact do you hope your gift has?
I hope that by earmarking my gift to my class's fund, the 1982 Healthcare Outreach through Medical Education Endowed Scholars Fund, it will provide support to HMS students who are committed to providing health services to underserved populations and communities in Boston. I hope it will also indirectly support the work of my classmate, Jim O'Connell, MD '82, president of Boston Health Care for the Homeless, and current HMS Alumni Council president, where most students supported by this fund choose to complete their projects.