Amplifying anti-aging research
Amplifying anti-aging research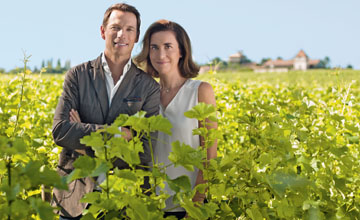 It is no surprise then that these potent genes are a primary focus of research for David Sinclair, PhD, professor of genetics and co-director of the Paul F. Glenn Laboratories for the Biological Mechanisms of Aging at Harvard Medical School. Now his work is being advanced with a $600,000 gift from Mathilde and Bertrand Thomas via the Caudalie Foundation, the philanthropic arm of their Bordeaux, France-based skincare company.
"We heard about Professor David Sinclair 10 years ago because we were both studying the benefits of resveratrol," explains Mathilde Thomas, who subsequently invited him to speak at a scientific symposium on resveratrol in Paris. "After meeting him and discussing some of his latest research on sirtuins, we knew we wanted to help further his work. We truly admire what he is doing."
With this funding, Sinclair will pursue research into a new set of molecules that activate sirtuins and may signal novel ways to reverse biological aspects of aging. This work holds considerable promise to improve human health by slowing the progression of aging and age-related diseases, such as diabetes, cardiovascular disease, and cancer.
"The cost of anti-aging molecules is extremely high at present," says Sinclair. "Without this generous support from the Thomases and the Caudalie Foundation, we would not have been able to study them on a large scale."

Through this campaign, we will address the greatest health care challenges of our time to help people live longer, healthier lives. Learn more »
The Benefactor
Partners in Education, Discovery, Service, and Leadership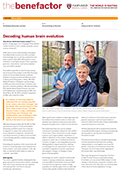 Download and read archived issues of our bi-annual publication to honor and acknowledge our most generous friends and supporters.