Alumnus propels progress
Alumnus propels progress
However, he says it would not have been possible for him to complete his MD training without the financial assistance he received.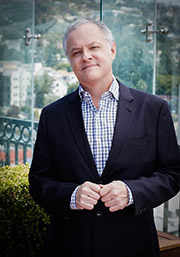 In an effort to pay it forward, Baer has given HMS $250,000 to establish an endowed scholarship fund to support an MD student who is interested in LGBTQ issues.
Baer says that when he was a student, there were only two openly gay students in his class. Fast forward to an on-campus event in early 2016, and there were 25 students who identified as LGBTQ attending his talk. Baer hopes his gift will propel progress by training future health care leaders who represent all people and, in turn, improve health care equity.
"Medical students need to learn with—and from—students who are different from themselves in order to be able to empathize with all patients," says Baer, who is a member of the HMS Board of Fellows, Campaign Steering Committee, and Advisory Council on Education.
"I'm impressed by HMS's commitment to social justice, and I'm confident that these students will help address these disparities."
Dean for Students Fidencio Saldaña, MD '01, MPH '05, couldn't agree more. "Without financial support, our student body would be less robust and less diverse, leaving our students less prepared to take care of their patients," he says.
Visit hms.harvard.edu/dreams to listen to Baer's remarks from the Spotlight on Medical Education event and hear from other alumni and students about the impact of financial aid on their ability
to come to HMS and make a difference in people's lives.

Through this campaign, we will address the greatest health care challenges of our time to help people live longer, healthier lives. Learn more »
The Benefactor
Partners in Education, Discovery, Service, and Leadership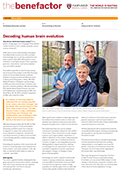 Download and read archived issues of our bi-annual publication to honor and acknowledge our most generous friends and supporters.