Alumnus pays it forward to commemorate 60th Reunion
Alumnus pays it forward to commemorate 60th Reunion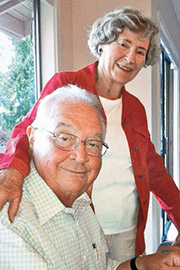 Dickerson transferred to HMS for his final two years of medical school and says being a student on the Quad was thrilling for a boy from the Midwest. "The student body was much more diverse than where I came from. I studied beside a PhD in astrophysics and an expert in Renaissance art," he recalls fondly.
"I know it was hard for my parents to financially send me to Harvard. And the price of a medical education has become prohibitive for many," says Dickerson. "It's important to both my wife and me to support the educational institutions that allow others to have the careers that they want."
Together they have established a $100,000 charitable gift annuity (CGA) to support student scholarships. Donald Dickerson says that a CGA made sense for them, adding that it's a nice way to make a gift and get income and a tax deduction.
"Support from alumni and others is critical to upholding our twin values of need-blind admissions and need-based aid," says Dean for Medical Education Edward M. Hundert, MD '84. "Gifts to financial aid assure that the world's most promising students of all backgrounds have the opportunity to attend Harvard Medical School, regardless of their financial means."

Through this campaign, we will address the greatest health care challenges of our time to help people live longer, healthier lives. Learn more »
The Benefactor
Partners in Education, Discovery, Service, and Leadership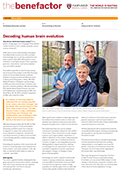 Download and read archived issues of our bi-annual publication to honor and acknowledge our most generous friends and supporters.