Regional Events
The Office of Alumni Relations hosts alumni events around the country.
Alumni Open Houses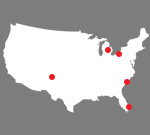 Invitations will be emailed to alumni living within a certain radius of each open house. If you are interested in attending, you can rsvp here. To host a future event, contact hmsalum@hms.harvard.edu.
March 1 at 4:30 p.m.
Ann Arbor, MI
Hosted by Gil Omenn, MD '65
March 22 at 3 p.m.
Wilmington, NC
Hosted by Burt Johnson, MD '67
April 12 at 4 p.m.
Orlando, FL
Hosted by John Schott, MD '66
April 19 at 3 p.m.
Chagrin Falls, OH
Co-hosted by Russell Hardy, MD '65 and Ed Barksdale, MD '84
April 26 at 3 p.m.
Santa Fe, NM
Hosted by Scott Nelson, MD '66
Click here to rsvp to an Alumni Open House!
Longwood Seminars
The Longwood Seminars are a free series geared toward the general public and features faculty from HMS and its affiliate hospitals presenting on a wide variety of timely topics. At the end of the seminar series, participants who attend three out of the four sessions receive a certificate of completion.
2015 Reunion:
Classes ending in 0 or 5
May 28–29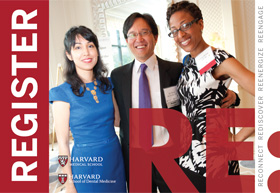 Reignite

the curiosity you enjoyed as a student. Start planning to

Reconnect

with your classmates and

Rediscover

the campus during your Reunion.
Click here to register »