Symposia
Alumni are encouraged to attend public lectures on campus.
Alumni Day Symposium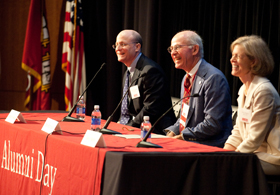 Up in Smoke: 50 Years of Policy, Perception, and the Public's Health
The 2014 symposium celebrated the impact of the first Surgeon General's Report on Smoking and Health issued 50 years ago.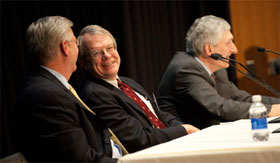 Medical Education in the Era of Health Care Reform
The 2013 symposium brought together a group of U.S. health care leaders to discuss how the nation should proceed as it attempts to cut costs and improve health care for millions.
Watch the symposium here (Click the Alumni.Harvard Login button at the bottom of the page. Username and password are required).
Faculty Symposium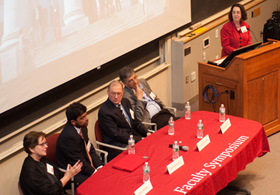 Immunity and Inflammation in Disease and Therapy
The 2014 talk focused on immunity and inflammation in disease and therapy, featuring a panel of experts who enlightened the audience on its role in obesity, bowel disease, and cancer while exploring the unexpected targets and triggers of tissue inflammation.
Watch Part I »
Inflammatory Aspects of Obesity, Diane Mathis, PhD Inflammatory Bowel Disease: Unraveling the Mystery, Ramnik Xavier, MD, PhD
Watch Part II »
Cancer Immunotherapy Comes of Age, Gordon J. Freeman, AB '73, PhD '79 Unexpected Targets and Triggers of Tissue Inflammation, Vijay K. Kuchroo, PhD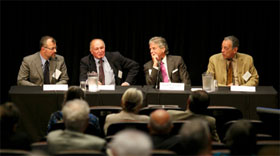 Medical Discovery at HMS: Transplantation and Organ Regeneration
Dedicated to Joseph E. Murray, MD '43, the 2013 talk explored the progress in transplantation and organ regeneration fifty-eight years after he performed the first successful organ transplant in a human.
Watch the symposium here (Click the Alumni.Harvard Login button at the bottom of the page. Username and password are required).
Additional events
Longwood Seminars
The Longwood Seminars are a free series geared toward the general public and features faculty from HMS and its affiliate hospitals presenting on a wide variety of timely topics. At the end of the seminar series, participants who attend three out of the four sessions receive a certificate of completion.
Dunham Lecture Series
The annual Dunham Lecture Series brings leaders in biomedicine, including 28 Nobel laureates, to the HMS campus. The lectures aim to advance medical sciences by "strengthening the bonds of fellowship and understanding between students and investigators in this and foreign countries.
Class of 1958
Lecture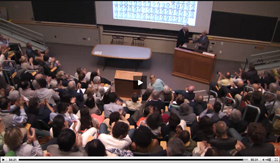 Howard Corwin, MD '58 spoke to the graduating class of 2013 about the evolution of the doctor patient relationship, the effect of corporatization of modern medicine and changes in health care policy on doctors and patients, and the changes in medical education and challenges to future practitioners. Watch the lecture here.
Science
Matters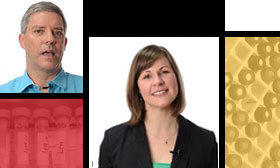 Researchers Share Their Passion for Science
Faculty members explain what they do and why it matters in this video series