Symposia
Alumni are encouraged to attend public lectures on campus.
Alumni Day Symposium
Faculty Symposium
Additional events
Hollis L. Albright, MD '31 Symposium
This annual symposium highlights new scientific initiatives at Harvard Medical School. Learn more about this symposium here.
Dunham Lecture Series
The annual Dunham Lecture Series brings leaders in biomedicine, including 28 Nobel laureates, to the HMS campus. The lectures aim to advance medical sciences by "strengthening the bonds of fellowship and understanding between students and investigators in this and foreign countries.
Longwood Seminars
The Longwood Seminars are a free series geared toward the general public and features faculty from HMS and its affiliate hospitals presenting on a wide variety of timely topics. At the end of the seminar series, participants who attend three out of the four sessions receive a certificate of completion.
Resuscitating
the Field of Medicine

Lewis First, AB '76, MD '80, SM '85, spoke to the graduating class as part of the Class of 1958 Endowed Lecture. This annual event was established by classmates in honor of their 50th Reunion as a gift to the graduating class to reinforce the idealism, humanism, and nobility of medicine. Watch the 2015 lecture here »
The Evolution of Learning

Edward M. Hundert, dean for medical education and the Daniel D. Federman, M.D. Professor in Residence of Global Health and Social Medicine and Medical Education, discusses HMS's curriculum reform and how it will serve today's students. Audio recorded as part of the 2015 Hollis L. Albright Symposium. Listen here »
Class of 1958
Lecture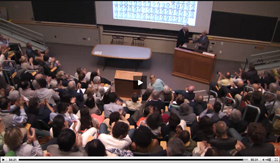 Howard Corwin, MD '58 spoke to the graduating class of 2013 about the evolution of the doctor patient relationship, the effect of corporatization of modern medicine and changes in health care policy on doctors and patients, and the changes in medical education and challenges to future practitioners. Watch the lecture here.