Updates
From A.W. Karchmer, MD '64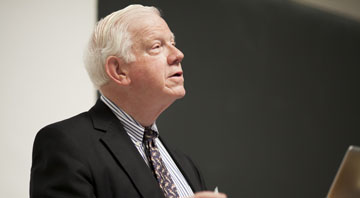 July 2, 2014
Over the past year the Alumni Council and the Office of Alumni Relations, have been brainstorming ways in which the School can be of service to alumni, specifically in the areas of keeping connected, getting involved, and lifelong learning.
Keeping Connected
Initiated by the class agents, we expanded a pilot program of listservs—electronic mailing lists—for the 2014 Reunion classes. These listservs allow users to send one email to their entire class list and provide a private environment to share information. We found these tools to be a wonderful way to build momentum before Reunion and we anticipate they will continue to be a useful way for classmates to stay in touch after the festivities. Moving forward, the Office of Alumni Relations will be rolling these out to 12 new classes each year as they start their Reunion cycle. Not only do we hope this provides useful, but we also hope it will be an incentive to keep your email address current.
Getting Involved
The recent alumni volunteer survey provided alumni the opportunity to identify areas of interest for involvement with students, peers, and the community. We appreciate the feedback, and the results will help us make informed decisions on future program development. You can see the results and learn more about our future plans here »
Lifelong Learning
I am delighted to announce that by fall of 2014 HMS will provide access to select electronic journals through the Countway Library. Your Alumni.Harvard login will link you to a collection of journals and Henry Stewart Talks on Bio Science and Medicine. We will continue to work with the library to add more collections for your use. Additional details will be announced as they become available, but in the meantime, make sure you are registered on the Alumni.Harvard.edu community.
January 2, 2014
I hope that you had a wonderful holiday season. As I welcomed the new year, I enjoyed a moment of reflection on 2013 and the many triumphs of the HMAA. I am happy to share some recent highlights of our collective success:
We have partnered with Doximity, a social networking service for physicians and health care professionals, to launch an app for HMS alumni. This tool allows you to quickly access a searchable database of published articles, lectures, and clinical trials, locate fellow alumni, and interact in an alumni-only forum.
The Alumni Council met with leaders from the HMS Center for Primary Care to discuss areas of collaboration and how to collect input from alumni on the best ways to foster the transformation of primary care practice and train the next generation of the field's leaders.
We are rethinking our preparations for the 25th and 50th Reunions by starting volunteer recruitment five months earlier and looking for more committee members to help organize the celebration events. While every Reunion at HMS is a special one, our goal is to ensure that this meaningful occasion is both unique and memorable. Learn about being a Reunion volunteer.
We are excited about these improvements and look forward to continuing to develop better connections between alumni and with HMS. I look forward to sharing more about these initiatives in the coming months.
September 13, 2013
What would you convey to medical students on their first day of medical school?  I think about that each year as I greet the incoming class just two hours into their medical school career.  This year, the venerable Dan Federman, MD '53, spoke to the Class of 2017 on my behalf. And whether you started medical school six weeks ago or 60 years ago, his words ring true.
As you know, Dan has been a consistent presence at Harvard for more than 60 years. He has spent nearly his entire professional career in the Longwood Medical Area and on the Quad, having served as the Carl W. Walter Distinguished Professor of Medicine, dean for medical education, and other key roles in the labs, classrooms, and offices at Harvard Medical School, Massachusetts General Hospital, and Brigham and Women's Hospital. His contributions to the medical field and to humanity are virtually unmatched, and there was no better person to welcome the 91 women and 76 men hailing from 32 states, 9 countries, and 72 undergraduate institutions.
"You are opening 1,000 doors by signing your registration this afternoon," Dan told the crowd. He went on to define the concept of "Doctor as Teacher," tasking students to be teachers not only to their patients, but to each other and to future generations of HMS scholars. He noted that what they will learn from each other is equally as important as what they will learn from the curriculum. In regards to patient care, he advised that while they may not know the answer every time, there is no substitute for honesty and moral commitment.
Dan concluded by asking the Class of 2017 to remember eight simple words in three areas:
1. Stick to Basics
Straying from the basics leads to mistakes.
2. Think Out Loud
Thinking out loud slows you down and helps identify flaws in your logic.
3. Be Kind
Never miss a chance to say something kind to someone else.
Thank you, Dan, for imparting your wisdom on the future leaders in medicine. I know I speak for Dan and the entire alumni body when I say that we look forward to welcoming the Class of 2017 into our community.
June 25, 2013
On Class Day 2013, I welcomed 161 graduating HMS students to our ranks. I let them know that their relationship with HMS is not over, but rather entering a new phase. As I waited my turn at the podium and watched them receive their diploma from Dean Flier, their faces revealed a mixture of emotions from excitement, anxiety, confidence, and a touch of sadness as they said goodbye to friends and mentors.
The students are dazzling in their intellect, breadth of interest, diversity, and potential to sustain and advance medicine. The number receiving multiple degrees (PhD, MBA, MPH, and MMS) was notable and reflects their broad interests and incredible talent and energy. We welcome them into the noble profession of medicine as well as into the Harvard Medical Alumni Association. They will be great colleagues and represent HMS well.
The HMAA provides linkage for alumni across the years, geographic locations, and career choices. We want our newest alumni to know that no matter where they go or what they do, the HMAA is always here to connect them to each other and to the School.
Following Class Day, we had the 2013 Reunions. They were terrific. Notable were record attendance, great social events and in addition to the 25th Reunion Class Symposium, two really eye opening symposia. The Faculty Symposium was on "Tissue Regeneration and Organ Transplantation" (dedicated to the memory of Joseph E. Murray MD '43) and the Alumni Day Symposium, moderated by George Thibault, HMS '69, focused on "Medical Education in the Era of Health Care Reform."
In two months, the cycle begins again when HMS welcomes the Class of 2017, but for now, have a restful and enjoyable summer.
January 8, 2013
I'd like to take a moment to acknowledge the recent passing of Nobel Prize co-winners Joseph Murray, MD '43 and E. Donnall Thomas, MD '46. Both men were pioneers in the field of transplantation—Murray performed the first successful organ transplant and Thomas performed the first bone marrow transplant.
Reflecting on their lives, I am reminded of the seminal contributions to medicine by HMS alumni and faculty as recognized by the Nobel Committee.
In 1990, Murray and Thomas were joint winners of the Nobel Prize in Physiology or Medicine for their groundbreaking work in successful transplantation. They ushered in the age of transplantation, giving new hope to many sick people. Murray removed a healthy kidney from a 23-year-old man and implanted it in his identical twin who was suffering from severe kidney disease. Thomas's bone marrow transplants revolutionized cancer care, resulting in an improvement in the survival rates for patients with some blood cancers from almost zero to 90%.
Selected HMS alumni and faculty Nobel winners include:
Faculty members George Minot and William P. Murphy, winners of the 1934 Physiology or Medicine prize for their research in treating pernicious anemia by feeding patients large amounts of calf's liver to deliver large amounts of B12
Alumni and faculty members John F. Enders, PhD, Thomas H. Weller, MD '40, and Frederick C. Robbins, MD '40, jointly received the Nobel Prize in Physiology or Medicine in 1954 for their discovery of the ability of poliomyelitis viruses to grow in cultures of various types of tissue, leading to the cure for polio
John Bishop, MD '62, in 1989 in Physiology or Medicine for his cancer research and discovering the cellular origin of retroviral oncogenes
Richard Chasin, MD '60, and Eric Chivian, MD '68, were deeply involved with the International Physicians for the Prevention of Nuclear War (IPPNW) when Dr. Bernard Lown and Dr. Evgueni Chazov accepted the Nobel Peace Prize in 1985 for their work with IPPNW
Linda Buck, PhD, a former faculty member who won the 2004 Physiology or Medicine prize for her landmark research on odorant receptors and the organization of the olfactory system
Faculty member Jack Szostak, PhD, winner of the 2009 Physiology or Medicine prize for the discovery of how chromosomes are protected by telomeres and the enzyme telomerase
Mostly recently, Ralph M. Steinman, MD '68, won for his discovery of the dendritic cell and its role in adaptive immunity
Below is a full list of alumni and faculty winners.
Alumni
Christian Anfinsen, MD '43,1972  Chemistry
John Bishop, MD '62, 1989 Physiology or Medicine
Richard Chasin, MD '60, 1985 Peace
Eric Chivian, MD '68, 1985 Peace
Edward Doisy, MD '20, 1943 Physiology or Medicine
John Enders, MD '30, 1954 Physiology or Medicine
Daniel Gajdusek, MD '46, 1976 Physiology or Medicine
Frederick Robbins, MD '40, 1954 Physiology or Medicine
William Murphy, MD '20, 1934 Physiology or Medicine
Joseph Murray, MD '43, 1990 Physiology or Medicine
Ralph Steinman, MD '68, 2011 Physiology or Medicine
James Batcheller Sumner, MD '14, 1946 Chemistry
Edward Thomas, MD '46, 1990 Physiology or Medicine
Thomas Weller, MD '40, 1954 Physiology or Medicine
Faculty
Henry Abraham, 1985 Peace
Herbert Abrams, 1985 Peace
Baruj Benacerraf, 1980 Physiology or Medicine
Linda Buck, 2004 Physiology or Medicine
Richard Chasin, MD '60, 1985 Peace
Eric Chivian, MD '68, 1985 Peace
Lawrence Egbert, 1985 Peace
David Hubel, 1981 Physiology or Medicine
Eric Kandel, 2000 Physiology or Medicine
Bernard Lown, 1985 Peace
Roderick Mackinnon, 2003 Chemistry
James Muller, 1985 Peace
Joseph Murray, MD '43, 1990 Physiology or Medicine
Edward Thomas, MD '46, Physiology or Medicine
Thomas Weller, MD '40, 1954 Physiology or Medicine
Torsten Wiesel, 1981 Physiology or Medicine
---
September 24, 2012
I was privileged to speak to the incoming HMS Class of 2016 on their first day of Orientation. They are an impressive group as you will read in the lead article. The overt enthusiasm and energy of the group took me back to the HMS '64 orientation and the formative experience of watching Herman Blumgart interview a patient. It is inspiring to witness this fresh start each fall!
Another area that is getting a fresh start is the HMS Class Notes in Harvard Medicine. We hope to facilitate an increase in the number and timeliness of submissions of Class Notes through email. A new email address – classnotes@hms.harvard.edu– has been created exclusively for the use of HMS alumni in submitting class notes.
Furthermore, in our efforts to keep up with new technology, we are taking fresh approaches to electronic communications.
Reunion Reports will be distributed electronically to five Reunioning classes this year
The Class of 2012's yearbook was distributed electronically on a jump-drive by the HMAA
More than 7,200 HMS alumni have provided HMS with a valid email address
Sixty-five percent of our alumni have registered for the online community at Alumni.Harvard.edu (If you haven't done so yet, please click here)
We are excited about these initiatives to increase our electronic communications and look forward to ongoing conversations this year about ways in which we can better connect alumni with one another and with the School.
---
July 6, 2012
A new tradition was introduced at the 2012 Class Day Exercises. For the first time, on behalf of all HMS Alumni, I welcomed the graduating class to our ranks. My intent was to let them know that their relationship with HMS is not over, but rather entering a new phase. As I waited my turn at the podium, it struck me that the last time I attended HMS Class Day in a cap and gown was 48 years ago.
What remained the same was the mix of excitement and anxiety as they contemplated their future. They felt the same confidence we did knowing they had been trained at the best Medical School in the world. There was also a touch of sadness as they said good-bye to friends and mentors who had helped to make Medical School memorable.
What has changed is the diversity of the class, the frequent conferring of multiple degrees, the broad array of specialty training tracks and perhaps a greater sense of humanity. Don Berwick, MD '72 in his inspiring talk clarified their challenges (click here for full coverage).
The HMAA provides a linkage for alumni across the years, geographic locations, and career choices. We want our newest alumni to know that no matter where they go or what they do, the HMAA is always here to connect them to each other and to the School. We are also working to maintain your links to one another and your interest in and knowledge of HMS. To that end a Working Group is beginning to consider how to leverage the richness of the verbal and written communications at the School and deliver that to you in a useful and interesting manner. If you have ideas about this, please share them with us.
For now, have a restful and enjoyable summer.
---
March 26, 2012
To put the Alumni Council election in context, I want to share the proceedings of the most recent Alumni Council meeting. Two weeks ago, the Council held an extended winter meeting to define its role and set goals for the next two years. It began with a presentation and discussion on fostering idealism, particularly during the formative third year of medical school.
The Alumni Council, under the leadership of Phyllis Gardner, MD '76, has a sustained interest in development and maintenance among HMS students of those qualities essential for physicians—humanism, empathy, and professionalism. To this end, during earlier Council meetings and at a retreat prior to the Council's winter meeting, faculty have presented results from extensive research examining these qualities among students participating in the Longitudinal Integrated Curriculum at the Cambridge Health Alliance and the Principal Clinical Experience—the nine month, single site-based curriculum that comprises the third year—at the tertiary medical centers. The School has focused significant efforts on development and maintenance of these essential qualities and has achieved documented success through curriculum modification and innovation. The Council has expressed to Dean Flier its enthusiasm and unqualified support for these efforts.
Again, at the pre-meeting retreat, the Council examined its raison d'etre. The Council sees idealism as a core shared value among students and alumni and is seeking ways to support and recognize that value. To this end, several specific efforts are under consideration.
Furthermore, the Council continues to look for opportunities wherein alumni and the School—including students—can reinforce each other's goals. The Council vigorously supports the efforts of the Alumni Fund, which is entirely dedicated to the relief of student indebtedness. Additionally, interactive communication between HMS, the Alumni Association, and the alumni is essential to foster our goals. The Council has formed a working group to carefully examine the "why, what, and how" of these communication efforts.
The Alumni Council wants to represent you and your interests, so please lets us hear from you and also take time before May 28 to vote for new Council members.
---
January 4, 2012
Working Group/Survey Committee on Communications
Within the last three to five years the way we communicate has changed dramatically due to advanced technology and 24/7 connectivity. Much of what we receive, even from HMS, comes electronically, as evidenced by this quarterly eNewsletter, the hundreds of emails we receive daily, and the switch to an electronic version of the HMS student yearbook. HMS has a vigorous Department of Communications, which, from an alumni perspective, is an untapped resource. The Alumni Council meeting generated a lively conversation around this topic and has appointed a Working Group/Survey Committee on Communications.
In its simplest form the committee's work might be viewed as three sequential tasks:
The committee will review current communications focusing on the broad array of HMS communication vehicles. They will examine what, when, and how alumni are receiving messages from the School.
The committee will develop a set of operating principles to guide future communication to alumni, with an emphasis on alumni preferences and potential interactivity, as well as creating value and brand identification.
Finally the committee will, through the lens of these operating principles, view the currently available communication modalities and make recommendations to adjust, subtract, or add communications that fulfill our goal that alumni receive relevant and valuable information from the HMAA and HMS, and have a vehicle to interact with one another.
I and the committee welcome your thoughts or comments. Please send your comments via email to hmsalum@hms.harvard.edu.
The Committee's recommendations will be presented to the Alumni Council at the March and May meetings. I will report on its findings both here and in upcoming quarterly eNewsletters.
---
June 9, 2011
2011 Alumni Council Election Results
I am pleased to announce the results of the 2011 Alumni Council Elections. With such a superb slate of candidates, it was a difficult choice. With more than 1,000 alumni voting—online or by paper ballot—five new members will join the Council for the next three years. Congratulations to:
President-Elect:
Laurie R. Green, MD '76
San Francisco, CA
Secretary:
Lynt B. Johnson, MD '85
McLean, VA
Councilor: First Pentad:
Nancy Wei, MD '06
Cambridge, MA
Councilor: Fourth Pentad:
Matthew M. Davis, MD '94
Ann Arbor, MI
Councilor: Seventh and Eighth Pentads:
Herman A. Taylor, MD '80
Jackson, MS
I would be remiss in welcoming the new members without thanking the outgoing Council members. We extend our gratitude for their service for the past 3-4 fours.
Immediate Past President:
Steve Weinberger, MD '73
Philadelphia, PA
Secretary:
Neil Powe, MD '80
San Francisco, CA
First Pentad:
Rahul Sakhuja, MD '03
Boston, MA
Fourth Pentad:
Eileen Reynolds, MD '90
Boston, MA
Seventh and Eighth Pentads:
Tom Aretz¸ MD '76
Boston, MA
Gil Omenn, MD '65 transitions from a successful year as President to Immediate Past President for the upcoming year.
This is your Alumni Council. The President for 2011-2012, Phyllis Gardner, MD '76 and the entire Council want to hear from you about your concerns, compliments or suggestions for ways they can help strengthen alumni connections. Please email me at hmsalum@hms.harvard.edu.
---
April 1, 2011
Reunion Working Group Findings
With Harvard's Commencement pushing HMS Reunions a week earlier and into the week leading up to Memorial Day Weekend, the Alumni Council convened a working group to discuss the timing and format of Reunions and possible scenarios for future reunions beginning with 2012.
The composition of the working group represented alumni in classes from 2000 to 1955. They considered the Reunion Gala concept involving all twelve classes, linkage to Harvard's commencement, and moving Reunion to a different time of year.
Their recommendations are as follows. It is important to keep Reunion tied to a weekend, and for that weekend not to be Memorial Day Weekend.
As a result, HMS Reunions will always be the week after Memorial Day. Some years HMS Reunion will coincide with Harvard's (and HMS's) Commencement, other years it will not When the Council was presented with these options, they agreed to endorse the findings and agreed that Reunion 2012 will be held May 31 – June 3, 2012, which does not coincide with Harvard Commencement.
For more information on the Working Group or to add your thoughts to this process, please send me an email at hmsalum@harvard.edu.
---
December 23, 2010
Continuing Medical Education
I want all alumni to be aware of a terrific CME benefit the Alumni Council and the HMS Department of Continuing Medical Education developed several years ago.
HMS CME Live Courses
The first three alumni who register for each course will receive a 15% discount. Your registration must be received at least 60 days prior to the start of the course. The discount rate applies to most but not all of the courses offered. To see if the course you are interested in qualifies, email hms-cme@hms.harvard.edu.
HMS CME Online Courses
All Alumni receive a 50% discount on tuition for most CME Online courses. There are over 70 courses available on a variety of topics. In addition, CME offers HMS alumni the opportunity to author a CME Online course in their area of expertise as long as it is co-authored by a current HMS faculty member. To learn about course development opportunities, please contact Andi Long at andrea_long@hms.harvard.edu.
Current Clinical Issues in Primary Care Conferences
Current Clinical Issues in Primary Care presented at Pri-Med Conference and Exhibition Registration is complimentary for Alumni at one or more of the seven conferences held annually in Boston, Anaheim, Chicago, Baltimore, Fort Lauderdale, Houston and New York. Alumni are welcome to join Dr. Sanjiv Chopra, Faculty Dean for Continuing Education, and the conference faculty and staff, in the HMS Speakers Lounge for breakfast and lunch. To register for a conference, please email hms-cme@hms.harvard.edu.
I encourage you to take advantage of these free, or reduced tuition rate CME activities. To learn more about CME, click here.
---
September 21, 2010
Class of 2014
September is an exciting time at HMS as the new entering class, HMS 2014, bursting with enthusiasm and talent, is just embarking on their medical career. I had the pleasure to greet them on behalf of the Alumni Association at their " Welcome to HMS" session . The excitement in the amphitheater was palpable.
This is a terrific crew to follow in your footsteps. HMS 2014 numbers 165 students. This represents a 70 % yield from the offers of admission and 4.4% of the applicant pool. The acceptance of admission offers was higher in men than women; thus , 56% of the class are men. Under-represented minorities number 34. The students hail from 74 undergraduate institutions, 32 US States or Territories, and 10 are non-US citizens. Ten already hold graduate degrees and only 52% are matriculating directly from their undergraduate studies. Their accomplishments and interests are spectacular but too numerous to mention at this time.
The Alumni Association will reach out to these and, in fact, all of the HMS students going forward. A major area of interest in the Alumni Council is to increase and strengthen the connections between students and alumni. Given the immersion of the current generation in technology, we hope to create an "e-bridge" to them. Hopefully, you will be one of those at the other end of that bridge
The Harvard University on-line directory is a tool for students (and alumni) to use to find alumni. Make sure your profile is up to date by going to alumni.harvard.edu.
How would you like to connect with students? When you were a student, how would you have liked to connect with alumni? Please send me an email at hmsalum@hms.harvard.edu and let me know. We know the students are interested and look forward to your responses
Have a wonderful and healthy fall.
---
July 14, 2010
Welcome New Alumni
We extend a warm welcome to the 146 members of the Class of 2010 who joined the Alumni Association on May 27. Whether you graduated from HMS 30 days or 30 years ago, our goal is to keep you connected to HMS and your fellow HMS alumni.
The Class of 2010 inspired me as I learned about some of their accomplishments and their hopes and dreams for the future. They will bring a refreshing energy and the knowledge and experience they gained at HMS to their professions.
As they prepared to leave HMS, we provided bright yellow disposable stethoscopes for them to wear to commencement in Cambridge. We included a message to "keep in touch".
This generation primarily keeps in touch electronically. Since April, they have been encouraged to register for alumni.harvard (the on-line community for all Harvard alumni) and I am proud to say that 75% of the class has done so. On-line is a way of life for them!
For those of us who graduated when the land-line telephone was new, and greeted such inventions as the fax machine and computer with hesitant optimism, we need to register for alumni.harvard. Click here to register (if you have not done so already) or to update your profile.
Alumni.harvard is where HMS obtains your email address and snail mail address for mailings. Keeping this information current means you receive timely and relevant information from HMS. We are increasingly going electronic with communications and I don't want you to miss a thing!
With warm wishes for an enjoyable summer.