Harvard Medicine Magazine
Since 1927, Harvard Medicine, formerly known as the Harvard Medical Alumni Bulletin, has featured doctors' voices on topics ranging from the healing power of music to the neurology of humor.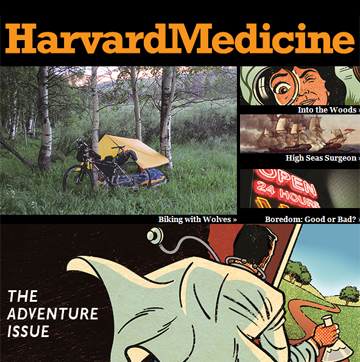 CURRENT ISSUE: The Adventure Issue
Spring 2015, Volume 88, Number 2
The new issue of Harvard Medicine magazine — The Adventure Issue — is now available online. Click here for features and web exclusive videos.
Be a part of your alumni magazine!
Alumni can submit class notes to classnotes@hms.harvard.edu. Be sure to include your full name and class year.
---
Harvard Medicine receives national awards

The Winter 2012 and Spring 2012 issues of Harvard Medicine magazine—your alumni magazine—have earned recognition in the 2013 CASE Circle of Excellence awards. Out of the 54 entries in the category of Special Constituency Magazines, the issues earned a Gold. This recognition advanced them to the competition for the Robert Sibley Award, the highest award given by CASE in this competition. The Spring 2012 ("Space Savers") won the Robert Sibley Magazine of the Year Award! In addition, the Winter 2012 issue ("The Food Issue: Diet and Health) garnered a Grand Gold.
I Am
Harvard Medicine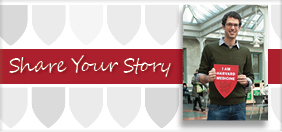 Whatever you are doing and wherever you are working around the globe, YOU are Harvard Medicine.
Whether you are a student, alumnus/a, volunteer, donor, staff member, or faculty member—on the Quad or at one of our 16 affiliated hospitals and research institutions—you represent the breadth and depth of the HMS community.  Share your story »