Alumni.Harvard
Harvard University's online community is called Alumni.Harvard.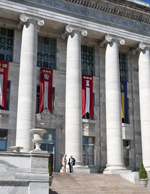 In order to receive announcements and information on alumni activities, it is important to keep your contact information current within Alumni.Harvard. Click here to register for Alumni.Harvard.
How can I get help with logging in or registering for Alumni.Harvard?
Access to many Harvard alumni services requires an Alumni.Harvard login. Please see the login help page for help logging in, or the registration help page for help registering.
Contact the HAA Help Desk
Complete an online form
Call (800) 823-2478 or (617) 496-0559 (M-F, 9 a.m. - 5 p.m. EST)